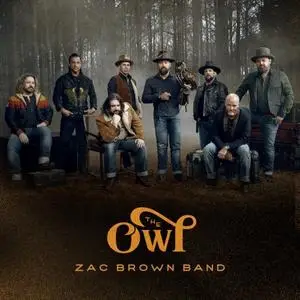 Zac Brown Band - The Owl (2019)
WEB FLAC (Tracks) - 249 MB | Cover | MP3 CBR 320 kbps - 87 MB | 00:37:37
Country | Label: BMG Rights Management
Zac Brown Band have announced the upcoming release of their sixth studio album. The superstar Southern rock group are set to release The Owl in September. The Owl marks ZBB's first new music since releasing "Someone I Used to Know" in November of 2018. The group have released a new digital single from the forthcoming album, "Leaving Love Behind." According to a press release, the album title is "inspired by the lore surrounding the great horned owl, which can see perfectly at night, making it a reliable guide, even during dark times." The group drew on that to create "their most personal album to date."
The Owl features collaborations with artists from across the musical spectrum, including Skrillex, Andrew Watt, Jason "Poo Bear" Boyd, Max Martin, Benny Blanco, Ryan Tedder and more.
"We've been working tirelessly on this album over the past couple years, ensuring every detail is perfect," Zac Brown states. "We are always pushing ourselves as musicians by blurring genre boundaries and incorporating all kinds of music we are personally inspired by, elevating what we are capable as a group. This album will have something for everyone, The Owl is exciting, raw and unexpected. We couldn't be prouder of what we've accomplished on this record and can't wait to finally share it with the fans."
TRACKLIST
1. The Woods 03:14
2. Need This 02:38
3. OMW 03:20
4. Someone I Used to Know 03:29
5. Me and the Boys in the Band 04:40
6. Finish What We Started (feat. Brandi Carlile) 03:35
7. God Given 02:51
8. Warrior 03:22
9. Shoofly Pie 03:37
10. Already On Fire 02:57
11. Leaving Love Behind 03:54
–––––––––––-
DON'T MODIFY THIS FILE
–––––––––––-
PERFORMER: auCDtect Task Manager, ver. 1.6.0 RC1 build 1.6.0.1
Copyright © 2008-2010 y-soft. All rights reserved
http://y-soft.org
ANALYZER: auCDtect: CD records authenticity detector, version 0.8.2
Copyright © 2004 Oleg Berngardt. All rights reserved.
Copyright © 2004 Alexander Djourik. All rights reserved.
FILE: 11. Leaving Love Behind.flac
Size: 19824483 Hash: C4823BFAA59596FC15F7F8734A8B3683 Accuracy: -m0
Conclusion: MPEG 95%
Signature: 0BB629742EAEBC13CE4DC8E1E4C256BF51ABE0E6
FILE: 10. Already On Fire.flac
Size: 21237165 Hash: 7396984BB8DDB5E53789D414AE3DB3CB Accuracy: -m0
Conclusion: MPEG 95%
Signature: 664F8378814E37E30C6CF3B9885A1F495B73BB56
FILE: 09. Shoofly Pie.flac
Size: 27640954 Hash: DACF2E94EA8CEBE2C9970B75D04FE8F3 Accuracy: -m0
Conclusion: MPEG 95%
Signature: 711617FF6A4BC9CB32BB325D0FEED04054F8458E
FILE: 08. Warrior.flac
Size: 23088324 Hash: 8EB65228BAD1BD544A4B983849355ABF Accuracy: -m0
Conclusion: CDDA 99%
Signature: 17B9D6A1DDF050E378DFAE216D4FAE232424F853
FILE: 07. God Given.flac
Size: 21458542 Hash: A34365B790823042EF490A5BD5CFEC44 Accuracy: -m0
Conclusion: CDDA 100%
Signature: 558A5952A7EAD2FCF63C72F4DB7EF6B1C8A1F6D8
FILE: 06. Finish What We Started (feat. Brandi Carlile).flac
Size: 25331198 Hash: 64E94E0EBB7F2AB478E9928A0CDB66B5 Accuracy: -m0
Conclusion: CDDA 100%
Signature: 084A3BCD5097DD0EB652412228F463B1D0AC4C82
FILE: 05. Me and the Boys in the Band.flac
Size: 32490567 Hash: 5CFE7409A01D983F4219C9B555F8E826 Accuracy: -m0
Conclusion: MPEG 95%
Signature: E32B32AC568821984271ADA8F9BED46104B440DC
FILE: 04. Someone I Used to Know.flac
Size: 25486005 Hash: 7DE387DBA1F6E51BBF375293F9FB72E7 Accuracy: -m0
Conclusion: CDDA 100%
Signature: 57CD69EDC01DA5EEEA792D0741FA3D4CE6A39AD2
FILE: 03. OMW.flac
Size: 23788495 Hash: 0A252929D24C0042A3FB752C5C2AA0FB Accuracy: -m0
Conclusion: CDDA 99%
Signature: 6DA015EAE2D4981F4E10EFE7548C45B2C9206F71
FILE: 02. Need This.flac
Size: 18974374 Hash: DC886677E0531F2335823144A6BB47DA Accuracy: -m0
Conclusion: CDDA 100%
Signature: C2921813379CAADC805E06C26C9694F8B279BE40
FILE: 01. The Woods.flac
Size: 22043066 Hash: 4AD1601A1D0A1EA97114E65205AC6FBF Accuracy: -m0
Conclusion: MPEG 95%
Signature: AB24EE785E7624EAA72DBC980173F89613A92381
All thanks go to the original releaser