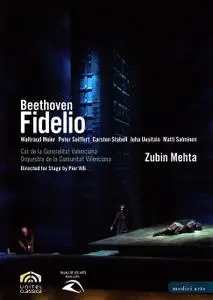 Zubin Mehta, Orquestra de la Comunitat Valenciana - Beethoven: Fidelio (2009)
NTSC 16:9 (720x480) | Deutsch (LinearPCM, 2 ch) | (Dolby AC3, 6 ch) | (DTS, 5 ch) | 148 min | 7,89 Gb (DVD9)
Classical | Label: Medici Arts | Sub.: Deutsch, English, Francais, Espanol | Recorded: 2006
Thunderous applause and loud cries of "bravo" greeted the première of Beethoven's Fidelio at the inaugural performance of the first opera season in Valencia's new Palau de les Arts. With this spectacular production directed by Pierluigi Pier'Alli, Valencia has put itself back on the map of the international opera world. Dominating the activity on stage are two of today's most distinguished German singers, Waltraud Meier (Leonore) and Peter Seiffert (Florestan), who have left their mark above all on the Wagner interpretation of our time. And the great Finnish bass Matti Salminen stamped his forceful character on his role as the jailer Rocco.
Performer:
Don Fernando - Carsten Stabell
Don Pizarro - Juha Uusitalo
Florestan - Peter Seiffert
Leonore - Waltraud Meier
Rocco - Matti Salminen
Marzelline - Ildikó Raimondi
Jaquino - Rainer Trost
First Prisoner - Javier Agulló
Second Prisoner - Nahuel di Pierro
Cor de la Generalitat Valenciana
Orquestra de la Comunitat Valenciana
Conductor - Zubin Mehta