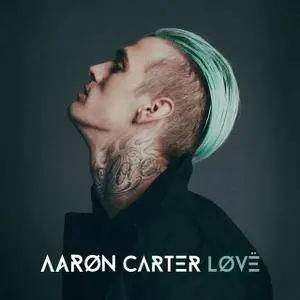 Aaron Carter - LØVË (2018)
MP3 CBR 320kbps | 00:48:38 | 113.54 Mb | Cover
Pop, Hip-Hop, Dance | Country: United States (Tampa, FL) | Label: Sony Music - 55689592
Love (stylized as LØVË) is the fifth studio album by American singer and songwriter Aaron Carter, released on February 16, 2018, by Sony Music. It is Carter's first studio album in fifteen years, since 2002's Another Earthquake. The album was preceded by an EP of the same name, released in 2017.
On April 1, 2016, Carter released "Fool's Gold" as the first single. Carter told Billboard:
"The "LØVË" and "Fool's Gold" era has been D.I.Y. hustle since day one. "Everything from the production, songwriting, mixing, photoshoots, music videos, packaging and distribution have been a collective involvement from a team I like to call 'Team Fool's Gold.'"
The second single, "Sooner or Later", was released on January 20, 2017. The song peaked at #4 on the Billboard Spotify Viral 50 chart. The third single, "Don't Say Goodbye", was released on December 8, 2017, the day after Carter's 30th birthday.
The album was formally announced on January 30, 2018, along with its release date. Carter revealed one song title per day via his Instagram account, leading up to the album's release.
To celebrate Valentine's Day and promote the album's upcoming release, Carter released a newly recorded and remixed version of his top ten hit from 2000, "I Want Candy", on February 14, 2018.
AllMusic rated the album at three and a half stars, writing that Carter does "an admirable job grasping the contemporary pop trends of 2017 and 2018 while adjusting his lyrical content from that of teen party jams to reflective heartbreak anthems."
Track List:
01. Hard To LøVë (03:34)
02. Sooner Or Later (03:32)
03. Bad 2 Good (03:57)
04. Same Way (03:06)
05. What Did You Want To Say? (03:18)
06. Fool's Gold (03:16)
07. Seattle TideZ (03:44)
08. Let Me Let You Go (03:20)
09. Don't Say Goodbye (03:16)
10. Almost There (03:24)
11. Champion (04:10)
12. Dearly Departed (03:26)
13. I Want Candy (Remix) (02:53)
14. Fool's Gold (Lindgren Remix) (03:34)