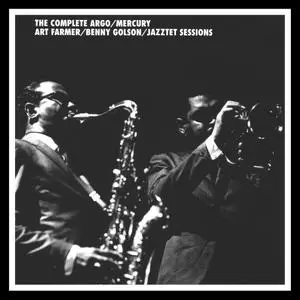 Art Farmer & Benny Golson - The Complete Argo-Mercury Jazztet Sessions (2004) {7CD Set, Mosaic MD7-225 rec 1960-1962}
EAC rip (secure mode) | FLAC (tracks)+CUE+LOG -> 2.98 Gb | MP3 @320 -> 1.10 Gb
Full Artwork @ 300 dpi (jpg) -> 67 Mb | 5% repair rar
© 1960-62, 2004 Mosaic Records | MD7-225
Jazz / Hard Bop / Trumpet / Saxophone
The Jazztet was one of the best small groups playing hard bop during the early '60s, jointly led by Art Farmer and Benny Golson. This boxed set not only includes all six albums that they recorded for Argo and Mercury, but also features three sessions apiece led separately by Farmer and Golson. Farmer was in the process of making a switch from trumpet to flügelhorn during this time frame, while Golson's solid tenor sax was overshadowed somewhat by his impressive contributions as a composer and arranger, a primary reason the group is remembered.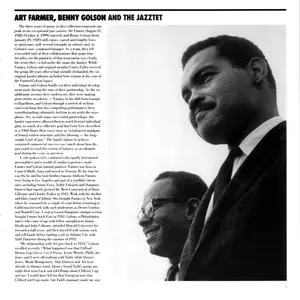 Their first session alone featured three of Golson's most lasting compositions, "I Remember Clifford" (showcasing Farmer's heartfelt solo), the exciting hard bop anthem "Blues March," and the funky, sauntering "Killer Joe." The Jazztet struggled financially and had quite a turnover among its sidemen during its two years in existence. Pianists included McCoy Tyner, Cedar Walton, and Harold Mabern; among the trombonists were Curtis Fuller, Tom McIntosh, and Grachan Moncur III. Bassists included Addison Farmer, Tommy Williams, and Herbie Lewis; the drummers were Lex Humphries, Albert Tootie Heath, and Roy McCurdy. Regardless of the edition of the group, their performances are consistently tightly knit, with numerous brilliant solos. The individually led dates are also noteworthy.





Tommy Flanagan was the anchor to Farmer's rhythm section on the quartet session Art, highlighted by his moving interpretation of "I'm a Fool to Want You." Perception is the first record date in which Farmer played flügelhorn on every selection. Harold Mabern is the pianist on this quartet session, which includes Tom McIntosh's mournful ballad "The Day After." Farmer chose Oliver Nelson to arrange his big-band date Listen to Art Farmer and the Orchestra, which also features the leader exclusively on flügelhorn. Nelson's best chart is his adventurous scoring of John Coltrane's lush ballad "Naima." Benny Golson's individual record dates merit equal praise. In the seemingly trite concept behind the making of Take a Number From 1 to 10 (featuring Golson unaccompanied, then in a duo setting, trio, then all the way up to a tentet), it turned out to be one of his most memorable releases, with Farmer joining him only on the tentet arrangement of "Time." The quartet session Turning Point borrowed Miles Davis' rhythm section (Wynton Kelly, Paul Chambers, and Jimmy Cobb), with the group sounding at its most inspired during "Three Little Words." Golson's Free is another quartet session, with Flanagan, Ron Carter, and Art Taylor in tow.





Golson's driving attack is the heart of "Just in Time," which he had previously recorded with the Jazztet. Although a few of the individual albums which make up this boxed set were reissued on CD, compilations omitted some tracks, and few of the reissues remained available for long. Mosaic has done its usual standard-setting job of putting together this limited-edition boxed set, with lots of session photographs and detailed liner notes by the very knowledgeable Bob Blumenthal, though no previously issued tracks were uncovered. Hard bop fans are advised not to tarry, even though Mosaic planned to issued 10,000 copies of this essential collection of the works of Art Farmer, Benny Golson, and the Jazztet.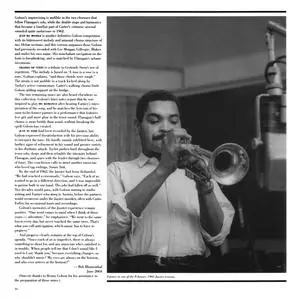 Personnel:
Art Farmer
(trumpet)
Benny Golson
(tenor saxophone)
et al.
Works on This Recordings: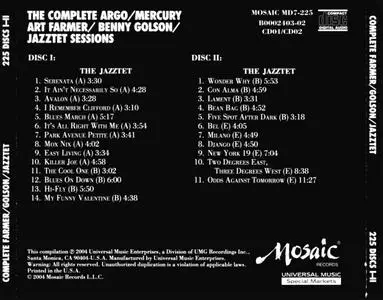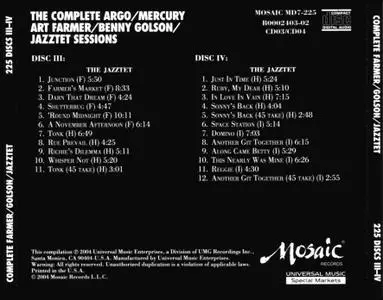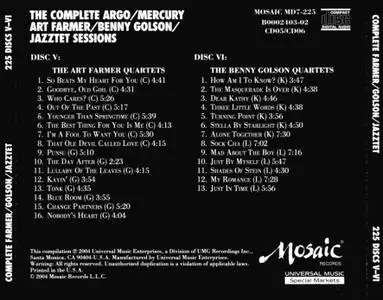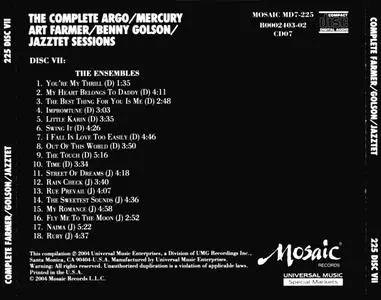 EAC extraction logfile from 7. August 2006, 23:37 for CD
Art Farmer / Benny Golson / Jazztet / The Complete Argo / Mercury / Art Farmer / Benny Golson / Jazztet Sessions (Disc 1 of 7)

Used drive : HL-DT-STDVD-ROM GDR8162B Adapter: 1 ID: 1
Read mode : Secure with NO C2, accurate stream, disable cache
Read offset correction : 102
Overread into Lead-In and Lead-Out : Yes

Used output format : C:\Programmi\EAC\flac.exe (User Defined Encoder)
320 kBit/s
Additional command line options : -T "artist=%a" -T "title=%t" -T "album=%g" -T "date=%y" -T "tracknumber=%n" -T "genre=%m" %s

Other options :
Fill up missing offset samples with silence : Yes
Delete leading and trailing silent blocks : No
Installed external ASPI interface


Track 1
Filename D:\Music\MOSAIC - Lossless\Art Farmer - Benny Golson - Mosaic MD7 225\The Complete Argo-Mercury Farmer-Golson Jazztet\CD 1\01 - Serenata (A).wav

Pre-gap length 0:00:02.00

Peak level 100.0 %
Track quality 100.0 %
Test CRC 5F09E99B
Copy CRC 5F09E99B
Copy OK

Track 2
Filename D:\Music\MOSAIC - Lossless\Art Farmer - Benny Golson - Mosaic MD7 225\The Complete Argo-Mercury Farmer-Golson Jazztet\CD 1\02 - It Ain't Necessarily So (A).wav

Peak level 89.8 %
Track quality 100.0 %
Test CRC 9675430A
Copy CRC 9675430A
Copy OK

Track 3
Filename D:\Music\MOSAIC - Lossless\Art Farmer - Benny Golson - Mosaic MD7 225\The Complete Argo-Mercury Farmer-Golson Jazztet\CD 1\03 - Avalon (A).wav

Peak level 100.0 %
Track quality 100.0 %
Test CRC 6488E2EF
Copy CRC 6488E2EF
Copy OK

Track 4
Filename D:\Music\MOSAIC - Lossless\Art Farmer - Benny Golson - Mosaic MD7 225\The Complete Argo-Mercury Farmer-Golson Jazztet\CD 1\04 - I Remember Clifford (A).wav

Peak level 100.0 %
Track quality 99.9 %
Test CRC E7648143
Copy CRC E7648143
Copy OK

Track 5
Filename D:\Music\MOSAIC - Lossless\Art Farmer - Benny Golson - Mosaic MD7 225\The Complete Argo-Mercury Farmer-Golson Jazztet\CD 1\05 - Blues March (A).wav

Peak level 100.0 %
Track quality 100.0 %
Test CRC D68A815D
Copy CRC D68A815D
Copy OK

Track 6
Filename D:\Music\MOSAIC - Lossless\Art Farmer - Benny Golson - Mosaic MD7 225\The Complete Argo-Mercury Farmer-Golson Jazztet\CD 1\06 - It's All Right With Me (A).wav

Peak level 100.0 %
Track quality 100.0 %
Test CRC 65C15714
Copy CRC 65C15714
Copy OK

Track 7
Filename D:\Music\MOSAIC - Lossless\Art Farmer - Benny Golson - Mosaic MD7 225\The Complete Argo-Mercury Farmer-Golson Jazztet\CD 1\07 - Park Avenue Petite (A).wav

Peak level 98.1 %
Track quality 100.0 %
Test CRC 4F86BBE3
Copy CRC 4F86BBE3
Copy OK

Track 8
Filename D:\Music\MOSAIC - Lossless\Art Farmer - Benny Golson - Mosaic MD7 225\The Complete Argo-Mercury Farmer-Golson Jazztet\CD 1\08 - Mox Nix (A).wav

Peak level 100.0 %
Track quality 99.9 %
Test CRC 3C7027AB
Copy CRC 3C7027AB
Copy OK

Track 9
Filename D:\Music\MOSAIC - Lossless\Art Farmer - Benny Golson - Mosaic MD7 225\The Complete Argo-Mercury Farmer-Golson Jazztet\CD 1\09 - Easy Living (A).wav

Peak level 87.8 %
Track quality 99.9 %
Test CRC 07E4865C
Copy CRC 07E4865C
Copy OK

Track 10
Filename D:\Music\MOSAIC - Lossless\Art Farmer - Benny Golson - Mosaic MD7 225\The Complete Argo-Mercury Farmer-Golson Jazztet\CD 1\10 - Killer Joe (A).wav

Peak level 91.2 %
Track quality 100.0 %
Test CRC CBFE5A17
Copy CRC CBFE5A17
Copy OK

Track 11
Filename D:\Music\MOSAIC - Lossless\Art Farmer - Benny Golson - Mosaic MD7 225\The Complete Argo-Mercury Farmer-Golson Jazztet\CD 1\11 - The Cool One (B).wav

Peak level 87.6 %
Track quality 99.9 %
Test CRC 3FE1D2E9
Copy CRC 3FE1D2E9
Copy OK

Track 12
Filename D:\Music\MOSAIC - Lossless\Art Farmer - Benny Golson - Mosaic MD7 225\The Complete Argo-Mercury Farmer-Golson Jazztet\CD 1\12 - Blues On Down (B).wav

Peak level 92.8 %
Track quality 100.0 %
Test CRC 857CBF1C
Copy CRC 857CBF1C
Copy OK

Track 13
Filename D:\Music\MOSAIC - Lossless\Art Farmer - Benny Golson - Mosaic MD7 225\The Complete Argo-Mercury Farmer-Golson Jazztet\CD 1\13 - Hi-Fly (B).wav

Peak level 100.0 %
Track quality 100.0 %
Test CRC 5673B9CF
Copy CRC 5673B9CF
Copy OK

Track 14
Filename D:\Music\MOSAIC - Lossless\Art Farmer - Benny Golson - Mosaic MD7 225\The Complete Argo-Mercury Farmer-Golson Jazztet\CD 1\14 - My Funny Valentine (B).wav

Peak level 100.0 %
Track quality 100.0 %
Test CRC 71E21896
Copy CRC 71E21896
Copy OK

No errors occured


End of status report
EAC extraction logfile from 8. August 2006, 14:37 for CD
Art Farmer / Benny Golson / Jazztet / The Complete Argo / Mercury / Art Farmer / Benny Golson / Jazztet Sessions (Disc 7 of 7)

Used drive : HL-DT-STDVD-ROM GDR8162B Adapter: 1 ID: 1
Read mode : Secure with NO C2, accurate stream, disable cache
Read offset correction : 48
Overread into Lead-In and Lead-Out : Yes

Used output format : C:\Programmi\EAC\flac.exe (User Defined Encoder)
320 kBit/s
Additional command line options : -T "artist=%a" -T "title=%t" -T "album=%g" -T "date=%y" -T "tracknumber=%n" -T "genre=%m" %s

Other options :
Fill up missing offset samples with silence : Yes
Delete leading and trailing silent blocks : No
Installed external ASPI interface


Track 1
Filename D:\Music\MOSAIC - Lossless\Art Farmer - Benny Golson - Mosaic MD7 225\The Complete Argo-Mercury Farmer-Golson Jazztet\CD 7\01 - You're My Thrill (D).wav

Pre-gap length 0:00:02.00

Peak level 92.7 %
Track quality 100.0 %
Copy CRC DAACECD7
Copy OK

Track 2
Filename D:\Music\MOSAIC - Lossless\Art Farmer - Benny Golson - Mosaic MD7 225\The Complete Argo-Mercury Farmer-Golson Jazztet\CD 7\02 - My Heart Belongs To Daddy (D).wav

Peak level 83.7 %
Track quality 100.0 %
Copy CRC F517908B
Copy OK

Track 3
Filename D:\Music\MOSAIC - Lossless\Art Farmer - Benny Golson - Mosaic MD7 225\The Complete Argo-Mercury Farmer-Golson Jazztet\CD 7\03 - The Best Thing For You Is Me (D).wav

Peak level 91.8 %
Track quality 100.0 %
Copy CRC 147EC242
Copy OK

Track 4
Filename D:\Music\MOSAIC - Lossless\Art Farmer - Benny Golson - Mosaic MD7 225\The Complete Argo-Mercury Farmer-Golson Jazztet\CD 7\04 - Impromtune (D).wav

Peak level 90.4 %
Track quality 99.9 %
Copy CRC F18EF8E3
Copy OK

Track 5
Filename D:\Music\MOSAIC - Lossless\Art Farmer - Benny Golson - Mosaic MD7 225\The Complete Argo-Mercury Farmer-Golson Jazztet\CD 7\05 - Little Karin (D).wav

Peak level 90.4 %
Track quality 100.0 %
Copy CRC DAE11CC9
Copy OK

Track 6
Filename D:\Music\MOSAIC - Lossless\Art Farmer - Benny Golson - Mosaic MD7 225\The Complete Argo-Mercury Farmer-Golson Jazztet\CD 7\06 - Swing It (D).wav

Peak level 100.0 %
Track quality 100.0 %
Copy CRC F95DA3B0
Copy OK

Track 7
Filename D:\Music\MOSAIC - Lossless\Art Farmer - Benny Golson - Mosaic MD7 225\The Complete Argo-Mercury Farmer-Golson Jazztet\CD 7\07 - I Fall In Love Too Easily (D).wav

Peak level 100.0 %
Track quality 100.0 %
Copy CRC 1B8CD213
Copy OK

Track 8
Filename D:\Music\MOSAIC - Lossless\Art Farmer - Benny Golson - Mosaic MD7 225\The Complete Argo-Mercury Farmer-Golson Jazztet\CD 7\08 - Out Of This World (D).wav

Peak level 98.6 %
Track quality 100.0 %
Copy CRC 8549F793
Copy OK

Track 9
Filename D:\Music\MOSAIC - Lossless\Art Farmer - Benny Golson - Mosaic MD7 225\The Complete Argo-Mercury Farmer-Golson Jazztet\CD 7\09 - The Touch (D).wav

Peak level 100.0 %
Track quality 100.0 %
Copy CRC 42DCCA4C
Copy OK

Track 10
Filename D:\Music\MOSAIC - Lossless\Art Farmer - Benny Golson - Mosaic MD7 225\The Complete Argo-Mercury Farmer-Golson Jazztet\CD 7\10 - Time (D).wav

Peak level 100.0 %
Track quality 99.9 %
Copy CRC 371A041B
Copy OK

Track 11
Filename D:\Music\MOSAIC - Lossless\Art Farmer - Benny Golson - Mosaic MD7 225\The Complete Argo-Mercury Farmer-Golson Jazztet\CD 7\11 - Street Of Dreams (J).wav

Peak level 92.9 %
Track quality 100.0 %
Copy CRC 94BF87AB
Copy OK

Track 12
Filename D:\Music\MOSAIC - Lossless\Art Farmer - Benny Golson - Mosaic MD7 225\The Complete Argo-Mercury Farmer-Golson Jazztet\CD 7\12 - Rain Check (J).wav

Peak level 100.0 %
Track quality 100.0 %
Copy CRC 018DD725
Copy OK

Track 13
Filename D:\Music\MOSAIC - Lossless\Art Farmer - Benny Golson - Mosaic MD7 225\The Complete Argo-Mercury Farmer-Golson Jazztet\CD 7\13 - Rue Prevail (J).wav

Peak level 100.0 %
Track quality 100.0 %
Copy CRC 4D3FDA6B
Copy OK

Track 14
Filename D:\Music\MOSAIC - Lossless\Art Farmer - Benny Golson - Mosaic MD7 225\The Complete Argo-Mercury Farmer-Golson Jazztet\CD 7\14 - The Sweetest Sounds (J).wav

Peak level 100.0 %
Track quality 100.0 %
Copy CRC DCD7B2F1
Copy OK

Track 15
Filename D:\Music\MOSAIC - Lossless\Art Farmer - Benny Golson - Mosaic MD7 225\The Complete Argo-Mercury Farmer-Golson Jazztet\CD 7\15 - My Romance (J).wav

Peak level 100.0 %
Track quality 100.0 %
Copy CRC 38686CCA
Copy OK

Track 16
Filename D:\Music\MOSAIC - Lossless\Art Farmer - Benny Golson - Mosaic MD7 225\The Complete Argo-Mercury Farmer-Golson Jazztet\CD 7\16 - Fly Me To The Moon (J).wav

Peak level 100.0 %
Track quality 100.0 %
Copy CRC 0E9897B3
Copy OK

Track 17
Filename D:\Music\MOSAIC - Lossless\Art Farmer - Benny Golson - Mosaic MD7 225\The Complete Argo-Mercury Farmer-Golson Jazztet\CD 7\17 - Naima (J).wav

Peak level 100.0 %
Track quality 100.0 %
Copy CRC CF9C2015
Copy OK

Track 18
Filename D:\Music\MOSAIC - Lossless\Art Farmer - Benny Golson - Mosaic MD7 225\The Complete Argo-Mercury Farmer-Golson Jazztet\CD 7\18 - Ruby (J).wav

Peak level 100.0 %
Track quality 100.0 %
Copy CRC 8565750D
Copy OK

No errors occured


End of status report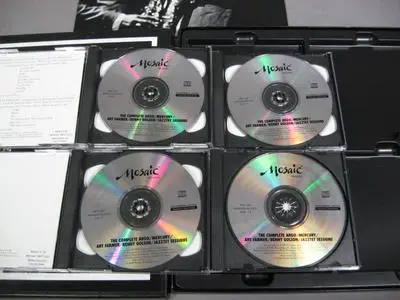 ===