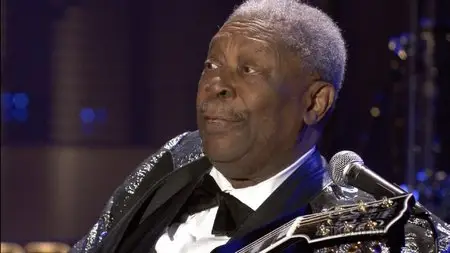 B.B. King - Live at Soundstage (2009) [HDTV 1080i]
AVC, 1920x1080i (16:9), mbps, 30 fps | AC3 384 kbps, 6 ch | 00:53:24 | 5.5 GB
Blues | thirteen HD | HDTV->TS
Recorded in January 2009 in Chicago, for the Windy City television program Soundstage. It captures King at his latter-day best, in a high-energy performance that has him sharing the stage with female R&B singer Solange, actor/musician Terrence Howard, and guitarist Richie Sambora (of the rock band Bon Jovi).
Tracklist:
1. Everyday I Have the Blues
2. See That My Grave is Kept Clean
3. How Many More Years
4. Downhearted
5. I Got Some Help I Don't Need
6. Thrill Is Gone
7. Nobody Loves Me But My Mother
8. Let the Good Times Roll
9. Key To the Highway
10. Guess Who
11. When The Saints Go Marching In
12. I Need You So