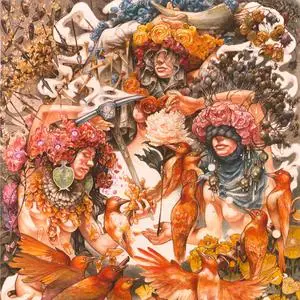 Baroness - Gold & Grey (2019)
WEB FLAC (tracks) - 402 Mb | MP3 CBR 320 kbps - 130 Mb | 01:00:36
Progressive Metal, Progressive Rock, Stoner | Label: Abraxan Hymns
After 16 years of hard rock evolution, Baroness, now more than ever, sounds fascinated with the possibility of rock and roll's future. Gold & Grey is the final entry in the band's long-running series of color-coded releases which began with The Red Album in 2007. It would have been poetic to bring the band's sound back full-circle on this release, and in some ways the group does just that. But in the course of the record's expansive 17 songs, the band members explore a palette of emotions and sonic ideas as varied as the numerous shades a painter can create with just two component colors — singer and guitarist John Baizley should know, he's an accomplished painter by trade.

In its scope, Gold & Grey feels like a callback to the heyday of the rock album as art object — that period in the late '70s when a radio-friendly rock band like Led Zeppelin released the sprawling Physical Graffiti, and their even more heady compatriots in Yes released the monolithic Tales from Topographic Oceans.

It's not the first time Baizley and company have cast their creative net as wide as it can go — in 2012, Baroness released a double album, Yellow and Green. However, the band recorded that album as a three-piece with Baizley handling all the bass duties, a process which he admits constrained him.

On Gold & Grey, with a newer, bigger backing band — returning bassist Nick Jost and drummer Sebastian Tomson are joined by new guitarist and backup vocalist Gina Gleason this time around — and a highly improvisational writing approach, Baizley had the chance to revisit the possibilities of Yellow and Green while indulging his every eccentricity. Acoustic guitars anchor the plaintive "Tourniquet," while more distorted riffs on "Throw Me an Anchor" and "Broken Halo" remind listeners that Baroness was once a heavy metal band — and on "Seasons," drummer Sebastian Thomson tastefully employs some high-speed blast beats typical of the most extreme metal bands. Interludes like "Blankets of Ash" and "Crooked Mile" evoke the stateliness of prog rock with string sections, synthesizers. In nearly every song Baizley and Gleason evoke the two part vocal harmonies of Alice in Chains — Baizley tells NPR that the band employed "an almost irresponsible amount of harmony."

"I made sure everyone understood that we didn't have to worry about things like brevity, or efficiency," Baizley says about the band's mostly off-the-cuff recording sessions with Dave Fridmann. "What we needed to do was expand."

Expand Baroness has. Like an aging star swallowing the planets which once burst from its surface, Baroness has redigested every sound of the band's career thus far and synthesized it into something greater. Gold & Grey is the sound of a band becoming a universe unto itself.
Tracklist:1.
Front Toward Enemy
(03:44)
2.
I'm Already Gone
(03:50)
3.
Seasons
(04:26)
4.
Sevens
(02:05)
5.
Tourniquet
(05:45)
6.
Anchor's Lament
(01:39)
7.
Throw Me an Anchor
(04:00)
8.
I'd Do Anything
(04:10)
9.
Blankets of Ash
(01:04)
10.
Emmet: Radiating Light
(04:12)
11.
Cold: Blooded Angels
(05:38)
12.
Crooked Mile
(00:41)
13.
Broken Halo
(04:24)
14.
Can Oscura
(02:01)
15.
Borderlines
(06:16)
16.
Assault on East Falls
(02:19)
17.
Pale Sun
(04:14)
–––––––––––-

DON'T MODIFY THIS FILE

–––––––––––-

PERFORMER: auCDtect Task Manager, ver. 1.6.0 RC1 build 1.6.0.1
Copyright © 2008-2010 y-soft. All rights reserved

ANALYZER: auCDtect: CD records authenticity detector, version 0.8.2
Copyright © 2004 Oleg Berngardt. All rights reserved.
Copyright © 2004 Alexander Djourik. All rights reserved.


FILE: 17. Pale Sun.flac
Size: 32777715 Hash: 52085F14C6839CABBCF251EF62A5A4EC Accuracy: -m0
Conclusion: CDDA 100%
Signature: C3A06683537AD24A0869819A5BA667FA8C07A67F
FILE: 16. Assault on East Falls.flac
Size: 9077252 Hash: 2928CFC4ED6E61E2AF92715396E6C548 Accuracy: -m0
Conclusion: CDDA 100%
Signature: 04C7AE47F101E68DB3D4984434B4334B971431B5
FILE: 15. Borderlines.flac
Size: 49337281 Hash: 63604C33CC290FBE2937B419E240F509 Accuracy: -m0
Conclusion: CDDA 100%
Signature: 779F5CC9681B845F571FB313A2A1C95EB5A89C1C
FILE: 14. Can Oscura.flac
Size: 15217747 Hash: C1FC6DAB06D1D303E2FC44EF9F1F62A4 Accuracy: -m0
Conclusion: CDDA 100%
Signature: B6C2F34A8A6B102E32EF09FA8C92607955088DF8
FILE: 13. Broken Halo.flac
Size: 35466058 Hash: 41FB15DAEC8A4DF0B5AC73518643DFA2 Accuracy: -m0
Conclusion: CDDA 100%
Signature: 095C4A019E0F1F4FFE60CB38F72AF2D5BD29EF29
FILE: 12. Crooked Mile.flac
Size: 2787458 Hash: FEAF4E2443005EBDB61EAA4E39D8F012 Accuracy: -m0
Conclusion: CDDA 100%
Signature: B4C0CAE0292B92AD6FBE965A51DF0FC211F7E76E
FILE: 11. Cold-Blooded Angels.flac
Size: 36676697 Hash: 5CFA5243165174857308A10911EAA118 Accuracy: -m0
Conclusion: CDDA 100%
Signature: 94878288B655BE441AED6208D98306C8A4F745EE
FILE: 10. Emmett - Radiating Light.flac
Size: 23604512 Hash: 189A25CD6169DF594D968479CB76444B Accuracy: -m0
Conclusion: CDDA 99%
Signature: 43051749D20624F78CB63D9F1EE8391D34417131
FILE: 09. Blankets of Ash.flac
Size: 5033738 Hash: 6F844AD58DC2384102088EFABD7A1AC0 Accuracy: -m0
Conclusion: CDDA 100%
Signature: 03E64B0EAF40D847E17AD5592BB1ABB1D54AAD61
FILE: 08. I'd Do Anything.flac
Size: 24892150 Hash: 3563E514EFD431E33D713E565C968E95 Accuracy: -m0
Conclusion: CDDA 100%
Signature: 1BC3E8362A386E37FEC46EB481E139CB00DB6344
FILE: 07. Throw Me an Anchor.flac
Size: 33384546 Hash: 206FCA190F9EBA357FE7F63861D998E0 Accuracy: -m0
Conclusion: CDDA 99%
Signature: 554438CFF466F70E2072F3CA600AB34951C7F306
FILE: 06. Anchor's Lament.flac
Size: 7594740 Hash: FA46640B5E63937142F55AF76DC0FA4B Accuracy: -m0
Conclusion: CDDA 86%
Signature: 0EE4849B6FAE474189F8561513F8B83D4EA51EE5
FILE: 05. Tourniquet.flac
Size: 46291691 Hash: FB12A94D497365B4A2F08D5BC24D50B6 Accuracy: -m0
Conclusion: CDDA 100%
Signature: 09993375344A734E32F631BC13F20A37F93AB091
FILE: 04. Sevens.flac
Size: 7108250 Hash: 77B4C5298CB20B291CF5A00D03C084C5 Accuracy: -m0
Conclusion: MPEG 99%
Signature: EF2D6B848FB5C7695647C692600A268CB1DB548E
FILE: 03. Seasons.flac
Size: 32999112 Hash: 5977D95E41C5309E720BB47F69EC1045 Accuracy: -m0
Conclusion: CDDA 100%
Signature: 69CCAA8450E3EB0DF5D97EFDFA7CFBE581368E94
FILE: 02. I'm Already Gone.flac
Size: 29316964 Hash: 28305AF63A2C28DE3F9D04799089FE57 Accuracy: -m0
Conclusion: CDDA 100%
Signature: 4FA3B4A15E8F66A6F5DEFADE75D92101914E0BC9
FILE: 01. Front Toward Enemy.flac
Size: 29020403 Hash: 88536A4ACA54F691666A238497E28124 Accuracy: -m0
Conclusion: CDDA 100%
Signature: BFA1AF90197A1380E2CB71FB3BEE5C16F8001CDC