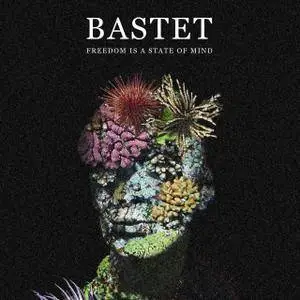 Bastet - Freedom is a State of Mind (2016)
WEB FLAC (tracks) ~ 330.41 Mb | 52:54 | Cover
Fusion, Jazz-Rock | Country: USA | Label: Bastet
The tough thing to do with a jazz trio of any kind is to make an impression. There are lots of trios out there—economically it's the best configuration if one wants to take home a little cash from the gig—and a lot of them are good. A few are great. Nearly all of them are more-than-competent, but… there's no there there. Not so Bastet, who now seem to be tottering on the ragged edge of greatness, as evidenced by the music on Freedom is a State of Mind. The last time the Bay Area-based jazzers released an album, they were a quartet.
With the departure of saxophonist Tim Lin, Bastet is now a trio. Led by guitarist / composer Justin Rock, and powered by the virtuosic rhythm tandem of Giulio Cetto and Mike Quigg, Bastet's musical thang remains intact and even gets extended somewhat with the loss of Lin's co-lead voice. If anything, Cetto steps in as the trio's other primary soloist, a role he seems to relish. And although electronics aren't listed among the band credits, someone (engineer Jamie Riotto) is judiciously adding other sounds to some of the tracks. The atmospheric, post-rock-informed "Earplugs and Ambien" has a subtle droning keyboard backdrop, while a spooky vocal effectively doubles the melody on "Broken Blinds." But the songs—and they are decidedly songs—on Freedom is a State of Mind get by on the sheer strength of Rock's thoughtfully quirky harmonic constructions and hooky melodies, and the trio's uniformly excellent soloing and ceaselessly sparkling interplay.
The decidedly leftfield stylistic slant the band displayed on their previous album, Eye of Ra (self- produced, 2015) remains intact. Bastet's music is quite friendly, but completely uncompromising. Rock stretches things out a bit further here, venturing into almost-straight-ahead jazz on the hard-swinging "Song 3," getting into some proto-mathy rock grooves on "You've Got a Hardcore Face," and letting the whole trio cut loose with some free-associative grooving on "There is No Secret." Equally comfortable rocking out (check out "Think Peace," and "You've Got a Hardcore Face"), as they are with more subtle, jazzy settings ("Transient," "Tina Tioga"), Bastet also has no problem leaving empty spaces, as on the brief opener "When it Rains" and the aforementioned "Earplugs and Ambien." In its entirety, Freedom is a State of Mind gracefully treads the same sort of terrains previously explored by Pat Metheny on Bright Size Life (ECM Records, 1976), Bill Frisell on Lookout for Hope (ECM Records, 1988), and Marc Ducret on La Theorie du Pilier (Label Bleu Records, 1987). Unmistakably part of the jazz firmament, Bastet's music draws on diverse influences in a unique way. The result is something simultaneously novel and familiar. ~
review By DAVE WAYNE
- Justin Rock / guitar
- Giulio Cetto / bass
- Mike Quiggs / drums
- Tim Lin / sax
Track List:
1. When It Rains. 2:05
2. Think Peace. 5:53
3. Broken Blinds. 6:23
4. You've Got A Hardcore Face. 6:41
5. Earplugs And Ambien. 4:11
6. Song 3. 5:06
7. Transient. 2:20
8. Freedom Is A State Of Mind. 7:31
9. Tina Tioga. 4:19
10. There Is No Secret. 8:21
–––––––––––-
DON'T MODIFY THIS FILE
–––––––––––-
PERFORMER: auCDtect Task Manager, ver. 1.6.0 RC1 build 1.6.0.1
Copyright © 2008-2010 y-soft. All rights reserved
http://y-soft.org
ANALYZER: auCDtect: CD records authenticity detector, version 0.8.2
Copyright © 2004 Oleg Berngardt. All rights reserved.
Copyright © 2004 Alexander Djourik. All rights reserved.
FILE: 01 - When it Rains.flac
Size: 11485945 Hash: 5BFCF0B4FA5284FBEB4DBC7D7A4B7E86 Accuracy: -m0
Conclusion: CDDA 100%
Signature: 60B025EC7C95AF0901EB54E61A78405CE2101592
FILE: 02 - Think Peace.flac
Size: 40731574 Hash: 7994D5421BD3936D608A1A9D5B3E66F0 Accuracy: -m0
Conclusion: CDDA 100%
Signature: E9742E6B521A89509F9AB04EF7045EA7B3E82389
FILE: 03 - Broken Blinds.flac
Size: 43604776 Hash: 53FA698EF9208910C29B8B31BE956447 Accuracy: -m0
Conclusion: CDDA 100%
Signature: 27885784E5E7680FB467F32675E1B712D240F3E2
FILE: 04 - You've Got a Hardcore Face.flac
Size: 43619465 Hash: 105B8B2D68D0D928500AF5180E6A4624 Accuracy: -m0
Conclusion: CDDA 100%
Signature: 6A3F4C6D09F391CC18FDD8F44AEC057FCA00BF1D
FILE: 05 - Earplugs and Ambien.flac
Size: 24894955 Hash: C14257A608DE517DC9DB470E6C922D32 Accuracy: -m0
Conclusion: CDDA 100%
Signature: 8A2E2F8000BCFE141155C789217AB1ADBB72F0F5
FILE: 06 - Song 3.flac
Size: 35754158 Hash: 9B35198CFCB288093E66388B1646DE57 Accuracy: -m0
Conclusion: CDDA 100%
Signature: F6E8854E22C9B7C6FEDDAD443E3E719C3CF170FF
FILE: 07 - Transient.flac
Size: 15418624 Hash: 29CEC830CC57B2BD70E2A05B83707631 Accuracy: -m0
Conclusion: CDDA 100%
Signature: BA63A5B0C127E92C7D4392804E08C54E5DDDAD76
FILE: 08 - Freedom is a State of Mind.flac
Size: 49796205 Hash: D76AF12C39483D6F6B16D223383A391D Accuracy: -m0
Conclusion: CDDA 100%
Signature: 98B19671E3F00F439694FB42DB1DAF62957CBC3A
FILE: 09 - Tina Tioga.flac
Size: 28356274 Hash: 9A5955AC7C96B0C0BC769869090AAFB0 Accuracy: -m0
Conclusion: CDDA 100%
Signature: F3004AE312C265F3781CAC3638F43F9FB70CCC68
FILE: 10 - There is No Secret.flac
Size: 51858676 Hash: DE46F5B9F05460C98CDE7A37433ED32C Accuracy: -m0
Conclusion: CDDA 100%
Signature: 67979B815BFCB1FC4F148FAEF95F9D8E9C06DDE9