Billy Eckstine - Mister B. And The Band: The Savoy Sessions (1995)
EAC Rip | FLAC (image+.cue, log) ~ 279.58 Mb | 78:26 | Scans included
Jazz, Vocal | Country: USA | Label: Savoy Records - SV-0264
Unlike other big-band singers who regarded the other musicians in the orchestra as little more than backup to their generally sugarcoated stylings, Billy Eckstine was a man with wide-ranging tastes and a musicality he brought to everything he lent his honeyed baritone voice to. When it was time for him to start his own band to capitalize on his growing fame, he didn't settle for hiring some hacks to read charts framed around his vocals. Instead, he put together what is now, in hindsight, the first big band to feature almost exclusively young, emerging bop players.
Both "Bird" and "Diz" did time in the band and, at one time or another, Eckstine featured Sonny Stitt, Dexter Gordon, Wardell Gray, Lucky Thompson, Fats Navarro, Miles Davis, and Kenny Dorham on his bandstand. The band was far, far ahead of its time, appealing more to musicians than white America, but making extraordinary music nonetheless. This single-disc collection brings together a delightful batch of tunes that band recorded for the tiny National label between 1945 and the following year. With Art Blakey, Tommy Potter, and Leo Parker also in the lineup, this is no nostalgic "remember the big bands" anthology by any stretch of the imagination, and Eckstine's vocals on "A Cottage for Sale," "Prisoner of Love," and "I'm in the Mood for Love" are every bit as fine as the band's two takes of Gillespie's "Oo Bop Sh'Bam." Originally a 32-track, two-disc vinyl album set, the compact disc configuration lops off the last five tunes from that original collection due to time restrictions. ~
AllMusic Review by Cub Koda
Alto Saxophone – Junior Williams, Budd Johnson, John Cobbs, Norris Turney, Sonny Stitt
Baritone Saxophone – Cecil Payne, Leo Parker, Tate Houston, Teddy Cypron
Bass – Bill McMahon, Tommy Potter
Drums – Art Blakey
Guitar – Connie Wainwright
Piano – Jimmy Golden, John Malachi, Linton Garner, Richard Ellington
Tenor Saxophone – Art Sammons, Dexter Gordon, Gene Ammons, Josh Jackson, Wardell Gray
Trombone – Chips Outcalt, Gerry Valentine, Howard Scott, Taswell Baird, Walter Knox
Trombone [Solos] – Billy Eckstine
Trumpet – Fats Navarro, Gail Brockman, Boonie Hazel, Miles Davis, Ray Linn, Shorty McConnel
Vocals – Billy Eckstine
Track List:
1 Lonesome Lover Blues 2:46
2 A Cottage for Sale 2:15
3 I Love the Rhythm in a Riff 2:18
4 Last Night 2:59
5 Prisoner of Love 2:52
6 It Ain't Like That No More 2:50
7 I'm in the Mood for Love 2:53
8 You Call It Madness (But I Call It Love) 2:58
9 All I Sing Is Blues 2:19
10 Long, Long Journey 3:06
11 I Only Have Eyes for You 2:34
12 You're My Everything 2:33
13 The Jitney Man 2:46
14 Blue 2:56
15 Second Balcony Jump 2:51
16 Tell Me Pretty Baby 2:55
17 Love Is the Thing 2:17
18 Without a Song 2:50
19 Cool Breeze 2:50
20 Don't Take Your Love from Me 2:53
21 Oop Bop Sh'bam 3:01
22 Oop Bop Sh'bam 2:57
23 In the Still of the Night 2:50
24 Jelly, Jelly 3:15
25 My Silent Love 2:18
26 Time on My Hands 2:50
27 All the Things You Are 2:35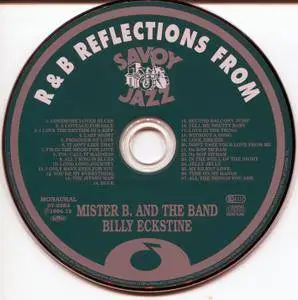 Exact Audio Copy V1.3 from 2. September 2016

Отчёт EAC об извлечении, выполненном 12. января 2018, 14:17

Billy Eckstine / Mr. B. and the Band: The Savoy Sessions

Дисковод: hp DVDRAM GT80N Adapter: 1 ID: 0

Режим чтения : Достоверность
Использование точного потока : Да
Отключение кэша аудио : Да
Использование указателей C2 : Нет

Коррекция смещения при чтении : 102
Способность читать области Lead-in и Lead-out : Нет
Заполнение пропущенных сэмплов тишиной : Да
Удаление блоков с тишиной в начале и конце : Нет
При вычислениях CRC использовались нулевые сэмплы : Да
Интерфейс : Встроенный Win32-интерфейс для Win NT/2000

Выходной формат : Пользовательский кодировщик
Выбранный битрейт : 128 kBit/s
Качество : Высокий
Добавление ID3-тега : Нет
Утилита сжатия : C:\Program Files (x86)\Exact Audio Copy\Flac\flac.exe
Дополнительные параметры : -V -8 -T "Date=%year%" -T "Genre=%genre%" %source%

TOC извлечённого CD

Трек | Старт | Длительность | Начальный сектор | Конечный сектор
––––––––––––––––––––––––––––––––––-
1 | 0:00.00 | 2:48.50 | 0 | 12649
2 | 2:48.50 | 2:48.55 | 12650 | 25304
3 | 5:37.30 | 2:51.30 | 25305 | 38159
4 | 8:28.60 | 3:02.10 | 38160 | 51819
5 | 11:30.70 | 2:55.10 | 51820 | 64954
6 | 14:26.05 | 2:53.22 | 64955 | 77951
7 | 17:19.27 | 2:56.40 | 77952 | 91191
8 | 20:15.67 | 3:03.23 | 91192 | 104939
9 | 23:19.15 | 2:50.40 | 104940 | 117729
10 | 26:09.55 | 3:08.00 | 117730 | 131829
11 | 29:17.55 | 2:33.62 | 131830 | 143366
12 | 31:51.42 | 2:45.13 | 143367 | 155754
13 | 34:36.55 | 2:44.57 | 155755 | 168111
14 | 37:21.37 | 2:58.15 | 168112 | 181476
15 | 40:19.52 | 2:52.63 | 181477 | 194439
16 | 43:12.40 | 2:59.20 | 194440 | 207884
17 | 46:11.60 | 2:50.05 | 207885 | 220639
18 | 49:01.65 | 2:53.10 | 220640 | 233624
19 | 51:55.00 | 2:53.20 | 233625 | 246619
20 | 54:48.20 | 2:56.60 | 246620 | 259879
21 | 57:45.05 | 3:04.15 | 259880 | 273694
22 | 60:49.20 | 3:02.12 | 273695 | 287356
23 | 63:51.32 | 2:54.45 | 287357 | 300451
24 | 66:46.02 | 3:19.13 | 300452 | 315389
25 | 70:05.15 | 2:51.35 | 315390 | 328249
26 | 72:56.50 | 2:53.45 | 328250 | 341269
27 | 75:50.20 | 2:36.60 | 341270 | 353029

Характеристики диапазона извлечения и сообщения об ошибках

Выбранный диапазон

Имя файла D:\Music\Billy Eckstine - Mr. B. and the Band- The Savoy Sessions.wav

Пиковый уровень 100.0 %
Скорость извлечения 4.5 X
Качество диапазона 100.0 %
CRC теста 1C62B208
CRC копии 1C62B208
Копирование… OK

Ошибок не произошло

AccurateRip: сводка

Трек 1 : извлечено точно (доверие 2) [EF9756D1] (AR v1)
Трек 2 : извлечено точно (доверие 2) [AEED63BE] (AR v1)
Трек 3 : извлечено точно (доверие 2) [3841CBAC] (AR v1)
Трек 4 : извлечено точно (доверие 2) [B64CC28A] (AR v1)
Трек 5 : извлечено точно (доверие 2) [44431715] (AR v1)
Трек 6 : извлечено точно (доверие 2) [2F4DA4FA] (AR v1)
Трек 7 : извлечено точно (доверие 2) [C5A489E7] (AR v1)
Трек 8 : извлечено точно (доверие 2) [85E1755C] (AR v1)
Трек 9 : извлечено точно (доверие 2) [4CE1BC38] (AR v1)
Трек 10 : извлечено точно (доверие 2) [18B17566] (AR v1)
Трек 11 : извлечено точно (доверие 2) [4BEC51D8] (AR v1)
Трек 12 : извлечено точно (доверие 2) [D173E43B] (AR v1)
Трек 13 : извлечено точно (доверие 2) [D1D8811F] (AR v1)
Трек 14 : извлечено точно (доверие 2) [5D4822F6] (AR v1)
Трек 15 : извлечено точно (доверие 2) [86A4F2EB] (AR v1)
Трек 16 : извлечено точно (доверие 2) [8EDF0515] (AR v1)
Трек 17 : извлечено точно (доверие 2) [CB03E8E2] (AR v1)
Трек 18 : извлечено точно (доверие 2) [2152702E] (AR v1)
Трек 19 : извлечено точно (доверие 2) [59C0F35E] (AR v1)
Трек 20 : извлечено точно (доверие 2) [E5328FB4] (AR v1)
Трек 21 : извлечено точно (доверие 2) [37F698B7] (AR v1)
Трек 22 : извлечено точно (доверие 2) [03A067D8] (AR v1)
Трек 23 : извлечено точно (доверие 2) [50B0D8B2] (AR v1)
Трек 24 : извлечено точно (доверие 2) [C6570726] (AR v1)
Трек 25 : извлечено точно (доверие 2) [3FCE5EE2] (AR v1)
Трек 26 : извлечено точно (доверие 2) [8FCF3D6B] (AR v1)
Трек 27 : извлечено точно (доверие 2) [1F4427D0] (AR v1)

Все треки извлечены точно

Конец отчёта

==== Контрольная сумма отчёта B9D4A6273A0E5597805776A9F2AD75A20283797EE264884F4A265CFBEEE14F6B ====
All thanks go to the nkomissar