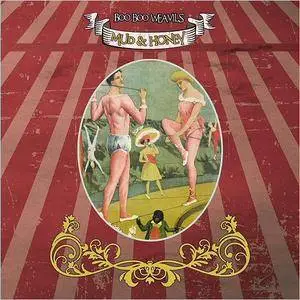 Boo Boo Weavils - Mud & Honey (2017)
WEB FLAC (tracks) ~ 251.88 Mb | 36:26 | Cover
Blues, Chicago Style | Country: Spain | Label: Boo Boo Weavils
¿Quién demonios son los Boo Boo Weavils? Boo Boo Weavils comienza a gestarse en la primavera de 2014, y como muchas de las cosas buenas que ocurren, surge a raíz de un cruce de personas y circunstancias. Por un lado Francisco Javier Gonzalo, guitarrista de la banda,banda y Chema Contreras, bajista, se conocen y comparten escena durante ocho maravillosos años con The Forty Nighters, y ante la inminente disolución de la banda deciden emprender un nuevo proyecto desde la base. Y es precisamente en uno de los últimos conciertos de esta banda donde se encuentra entre el público una invitada muy especial, Alba Castillo, nuestra cantante y frontwoman.
Una charla después del concierto sirvió para invitarla a una prueba con nosotros y, desde el primer momento supimos quién se iba a encargar del micrófono. La formación actual se ha completado recientemente con Benito Díaz, un fantástico y curtido baterista que hace caminar los temas como queremos que lo hagan.
En febrero de 2016 grabamos de forma autoproducida nuestro primer disco en Enfase Estudios, llamado "Who The Hell Are The". La producción corre a cargo de Benito Díaz y Francisco Javier Gonzalo, los cuales perfilan el sonido crudo recogido en el estudio. El álbum contiene nueve temas de composición propia donde se respira un claro amor por la música negra.
De este trabajo se ha hablado ya en programas tan prestigiosos como el de Eugenio Moirón, Blanco Y Negro, o Ruta 61, dirigido por Justin Coe en Radio Nacional de España.
Y, por supuesto, se ha presentado en algunas de las salas más prestigiosas de la capital, como son el Moe Club o el famoso Irish Rover, por citar un par de ellos.
El 20 de octubre de 2017 presentamos nuestro segundo álbum en otra de las salas con más renombre de la ciudad, El Intruso. El concierto, honestamente, fue todo un éxito, con una asistencia de más de cien personas en la sala. Un número nada desdeñable para una humilde banda como la nuestra.
El álbum lo componen nueve temas que ahondan en los estilos en los que nos movemos: grasiento Soul, lujurioso Blues o primitivo Rock & Roll. Lap steels y eléctricas enfangadas hasta el cuello. Armónicas y acústicas empapadas en miel.
Seis composiciones pertenecientes a la banda, y por primera vez para nosotros en disco, tres versiones: Koko Taylor, Ike & Tina Turner o Bob Dylan. Os lo dijimos: barro y miel.
Fieles a nuestros gustos partimos del Blues y cada uno de nosotros vamos a ir aportando la música que tenemos en el alma para llegar a la vuestra. Estad preparados porque vamos a Soulin' Your Blues!
Alba Castillo - frontwomen/vocals
Francisco Javier Gonzalo - guitar
Chema Contreras - bass
Benito Díaz - drums
Track List:
01. Deadlines 05:15
02. Three Wishes 03:58
03. Colder Than You 04:29
04. Lion 03:30
05. Voodoo Woman 04:37
06. Nutbush City Limits 02:57
07. It Ain't Me, Babe 03:55
08. If You Go 03:43
09. Getting Colder 04:00
PERFORMER: auCDtect Task Manager, ver. 1.6.0 RC1 build 1.6.0.1
Copyright © 2008-2010 y-soft. All rights reserved
http://y-soft.org
ANALYZER: auCDtect: CD records authenticity detector, version 0.8.2
Copyright © 2004 Oleg Berngardt. All rights reserved.
Copyright © 2004 Alexander Djourik. All rights reserved.
FILE: 01 - Deadlines.flac
Size: 36389034 Hash: F6644AA6FA8E084CBC4901D3E4691B67 Accuracy: -m0
Conclusion: CDDA 100%
Signature: 17D00547FD0B3449DDD0A92C01334105E50304C1
FILE: 02 - Three Wishes.flac
Size: 31003247 Hash: 84232D70E12313ABB26821D1035C86F6 Accuracy: -m0
Conclusion: CDDA 99%
Signature: 520CF285D24565053C49C5901437E4EAA908FB8E
FILE: 03 - Colder Than You.flac
Size: 31452201 Hash: D7900658CEA678E479D32DE98A6631D8 Accuracy: -m0
Conclusion: CDDA 100%
Signature: B334920C87737DD551AA2B85AE6A3734BF2799B1
FILE: 04 - Lion.flac
Size: 26916805 Hash: 53FBDCC852BA6554802A9EDA3F43A510 Accuracy: -m0
Conclusion: CDDA 100%
Signature: D405F7A6A55D9AF5E33BAB780D3719BE8FF201B4
FILE: 05 - Voodoo Woman.flac
Size: 32645036 Hash: D7E22945B190C97C3B20654CD77B1D69 Accuracy: -m0
Conclusion: CDDA 100%
Signature: F6FD52A75A9DEFA01CEFF0B5C6E9B62CB6D386FC
FILE: 06 - Nutbush City Limits.flac
Size: 23637869 Hash: 75F17A651E8322A900B0A9740E8950A5 Accuracy: -m0
Conclusion: CDDA 99%
Signature: 0395CCA55741FC7490A264AF3020B63D4909E0F0
FILE: 07 - It Ain't Me, Babe.flac
Size: 26617341 Hash: 19C10586AABE0F3BD1B1CB267D0E93A1 Accuracy: -m0
Conclusion: CDDA 99%
Signature: 9277536ED0DE38D3E29B84E21B6B8687F933D5DC
FILE: 08 - If You Go.flac
Size: 28333308 Hash: E72E0FA59E6D076A466DDA18FD7A72AB Accuracy: -m0
Conclusion: CDDA 100%
Signature: 65C83EBF159206D2587B062A85F45464C11E7214
FILE: 09 - Getting Colder.flac
Size: 26847536 Hash: F5C2883E7543BCCDC7D44119AC16269A Accuracy: -m0
Conclusion: CDDA 87%
Signature: E0750DF91D90BF540CF3722ECE210D66FF9BF386