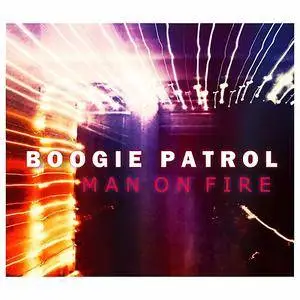 Boogie Patrol - Man on Fire (2017)
WEB FLAC (tracks) ~ 251.11 Mb | 36:42 | Cover
Modern Electric, Funky Blues | Country: Canada (Edmonton) | Label: Boogie Patrol
A high energy sonic party that harkens back to the days of classic blues and rock'n soul. The ten original tracks showcase the gritty, soulful sound they are know for while showcasing the bands tight musicianship and aptitude for songwriting.
Boogie Patrol has steadily built their reputation as one of Western Canada's premier act's and has garnered acclaim and an enthusiastic following since the groups inception in 2007. A 5 piece group that continue to create superb original music based on their collective influences. We're talking Blues and Rock'n Soul with a dose of funk all thrown into the melting pot to create what is Boogie Patrol. They are a stylistically unique group that is all about bringing loads of energy to the stage and to their music, with a goal of appealing to all walks of life.
Boogie Patrol boasts a frontman influenced by the grit gravel greats of music past and is backed by a cast of some of the most unique and well versed musicians you'll find most anywhere. Some of them even hailing from Japan to New York to of course home bred Canadian talent!
Track List:
01 Players Blues 03:52
02 Whole Lotta Gravy 03:35
03 Foolish Mind 03:41
04 Hard to Tell You 04:42
05 Shaker Down Below 03:39
06 Easy to See 03:31
07 Just Wanna 04:39
08 Got One on Ya 03:02
09 Let's Get Randy 02:54
10 Man on Fire 03:08
PERFORMER: auCDtect Task Manager, ver. 1.6.0 RC1 build 1.6.0.1
Copyright © 2008-2010 y-soft. All rights reserved
http://y-soft.org
ANALYZER: auCDtect: CD records authenticity detector, version 0.8.2
Copyright © 2004 Oleg Berngardt. All rights reserved.
Copyright © 2004 Alexander Djourik. All rights reserved.
FILE: 01 - Players Blues.flac
Size: 28995266 Hash: FB9BD4531010BF8387733798960DB6E0 Accuracy: -m0
Conclusion: CDDA 100%
Signature: 11F5864E486D9187B56F4812309DC046E0795B12
FILE: 02 - Whole Lotta Gravy.flac
Size: 26113265 Hash: 67304A416C15CCC5D5E4696F792A682F Accuracy: -m0
Conclusion: CDDA 100%
Signature: 23496CAC9C48C6D0F60A70B910197C337C6DE958
FILE: 03 - Foolish Mind.flac
Size: 26795990 Hash: E286B42B9B0D7D07534F625F54550B42 Accuracy: -m0
Conclusion: CDDA 100%
Signature: 164F6315C5EDED736FB59F43FADB53434DD3E147
FILE: 04 - Hard To Tell You.flac
Size: 30770459 Hash: EDA140B5F51F733674D483369CD61188 Accuracy: -m0
Conclusion: CDDA 100%
Signature: A8EDF24AC071ED52F78DC4E57D893C1336A9A28F
FILE: 05 - Shaker Down Below.flac
Size: 26800570 Hash: F6C5B270A988D4C7CD6C2E3F935BA944 Accuracy: -m0
Conclusion: CDDA 100%
Signature: E947B086D3CBC51BFEFFF5DEE3CEC1EEC08C4F2A
FILE: 06 - Easy To See.flac
Size: 25126566 Hash: C3840F1D98A918A1F4D8DC355482B815 Accuracy: -m0
Conclusion: CDDA 100%
Signature: F0C8CFBEF2E487E4BA8A6F7ED127EB51C643AA2A
FILE: 07 - Just Wanna.flac
Size: 29780445 Hash: CBF59F9EBF79D56F19D0E79CAC3BA43E Accuracy: -m0
Conclusion: CDDA 100%
Signature: 95E1EAE3C42CF8725CCFD4AEE8AB6222F1D76EC0
FILE: 08 - Got One On Ya.flac
Size: 22455134 Hash: 4753CBF5160D049706CDAAC518FBFDD5 Accuracy: -m0
Conclusion: CDDA 99%
Signature: EBE20E8597BA20AB8ACEB819BC7DCFBFF7574D39
FILE: 09 - Let's Get Randy.flac
Size: 21524044 Hash: B7E63624BD3E4384258FB3E9F8E31345 Accuracy: -m0
Conclusion: CDDA 100%
Signature: 8B1FE06E013223BEB8E37B65E6096CD018016850
FILE: 10 - Man On Fire.flac
Size: 24345598 Hash: F3C2542CB5CF0254DAC921E6C630919B Accuracy: -m0
Conclusion: CDDA 99%
Signature: 986C70C57B19DD5C444F8D0D317AE826461C6091