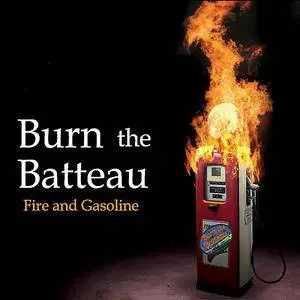 Burn the Batteau - Fire and Gasoline (2018)
MP3 CBR 320kbps ~ 109.55 Mb | WEB FLAC (tracks) ~ 280.77 Mb | 00:47:05 | | Cover
Blues-Rock, East Coast Blues | Country: USA (Halifax, VA) | Label: Gorilla Puppy Records
With gritty sophistication, this blues power trio covers all the bases: acoustic delta blues lamentations with weeping harmonica, night-club-esque grooves featuring horn sections and Hammond organ, and a defining electric guitar sound.
Initially formed for an Oktoberfest show in 2015, this collaboration brought together musicians from Southside Virginia bands Love, Peace and Chicken Grease, The Palace Dukes and Donnie Beadles and the Hot Damn Band. Following that successful show, most of the players went back to what they were doing, but one important connection had been made. Donnie Beadles and David Ellis Martin (of Love, Peace and Chicken Grease) began to collaborate on original material. Sammy Garcia, who was relatively new on the local music scene at the time, dropped by David's studio to jam and play drums on several of the original tracks. The three worked well together and re-formed Burn the Batteau as a trio, with Donnie on guitar and vocals, David on bass, organ and harmonica, and Sammy Garcia on drums. It was during the rehearsals and recording sessions for their debut album, Fire and Gasoline, that the band found its unique, yet solid sound.
The band faithfully embodies the defining characteristics of East Coast Blues, with a strength and power that is exclusive to many modern electric trios. The original compositions which appear on the album showcase the band members' versatility and multi-musicianship. Their influences include Jimi Hendrix, Stevie Ray Vaughan, BB King and Buddy Guy.
Donnie Beadles - Electric Guitar
Sammy Garcia - Drums
David Ellis Martin - Bass
Track List:
01. Jealous 04:14
02. Moanin' After Midnight 04:38
03. Nothing Like You 05:00
04. Talk to Me Baby 03:52
05. Fire and Gasoline 05:30
06. Jealous (Delta Blues) 03:52
07. Chance to Mend 03:23
08. So Tired 07:10
09. Shake These Blues 02:49
10. Blue Drops of Rain 06:36
PERFORMER: auCDtect Task Manager, ver. 1.6.0 RC1 build 1.6.0.1
Copyright © 2008-2010 y-soft. All rights reserved
http://y-soft.org
ANALYZER: auCDtect: CD records authenticity detector, version 0.8.2
Copyright © 2004 Oleg Berngardt. All rights reserved.
Copyright © 2004 Alexander Djourik. All rights reserved.
FILE: 01 - Jealous.flac
Size: 31291079 Hash: A3ACDDEE75BB2E4641E9AFC62A317524 Accuracy: -m0
Conclusion: CDDA 100%
Signature: 2E89C941E5CB98AE9198A11042D1CD71814045C3
FILE: 02 - Moanin' After Midnight.flac
Size: 29626525 Hash: 8B8A7F45E098DBFA77E5419CAF4C1EBE Accuracy: -m0
Conclusion: CDDA 100%
Signature: FAE55089A96A740176BE66C4F4862FC82529C5E6
FILE: 03 - Nothing Like You.flac
Size: 29273155 Hash: E2C7E2917C3C138944905B89744D84EC Accuracy: -m0
Conclusion: CDDA 100%
Signature: 1FCE5429FBFA9BF2420F8EAC4BEA5201B016172D
FILE: 04 - Talk To Me Baby.flac
Size: 24599554 Hash: 41E4E44BF4BF94B635B2A4A50636A8DD Accuracy: -m0
Conclusion: CDDA 100%
Signature: 48925E118BC6301DFB17D256AA909A24752BD05C
FILE: 05 - Fire And Gasoline.flac
Size: 37121867 Hash: BBEEC74C6EA925EB5CC152C845F26EC3 Accuracy: -m0
Conclusion: CDDA 100%
Signature: 400959788DC33408846414A63256E468B025808B
FILE: 06 - Jealous (Delta Blues).flac
Size: 18777129 Hash: 5BC77381D928E1BD54464D1ECC7DCE46 Accuracy: -m0
Conclusion: CDDA 100%
Signature: EECD6894B22084D3CBA75DC2088F96B10B2E6561
FILE: 07 - Chance To Mend.flac
Size: 20999758 Hash: 3B43EA38BB2F5A572BEA43C47B5298C3 Accuracy: -m0
Conclusion: CDDA 100%
Signature: 8B21A4780D83F07950E34363300993BCCEB41D93
FILE: 08 - So Tired.flac
Size: 44905365 Hash: 6D3F94FA43B6B42C2B45ED13CA710B14 Accuracy: -m0
Conclusion: CDDA 100%
Signature: 8E28381E8386D8AA24AC2CC72649676480CA09B9
FILE: 09 - Shake These Blues.flac
Size: 18258514 Hash: BF89700AEA648400DF89A852A9879AA4 Accuracy: -m0
Conclusion: CDDA 100%
Signature: B4EA7EF7CDBEA36D5CA49817320D2EE207440AB8
FILE: 10 - Blue Drops Of Rain.flac
Size: 38942462 Hash: 0390C0EAFB84C2A76E4E8D0F48A4B832 Accuracy: -m0
Conclusion: CDDA 100%
Signature: DCEE46DE1400A27A095CB4B469CB4D9C0082A367