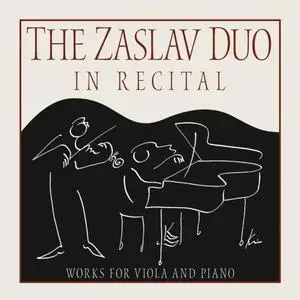 Bernard Zaslav & Naomi Zaslav - Mozart, Beethoven, Schubert & Others: Works for Viola & Piano (Live) (2019)
MP3 CBR 320 kbps | Digital booklet | 01:12:20 | 167 Mb
Classical | Label: Music and Arts Programs of America
Violists like to complain of the paucity of romantic music for their instrument, yet these two discs refute that contention. In addition to the famous two Brahms Sonatas, the discs feature unfamiliar, thoroughly Romantic works, by six of the composer's "friends." All are clearly influenced by Brahms and Schumann; indeed, the absence of the latter's "Märchenbilder" (Fairy Tale Pictures) is conspicuous and inexplicable. In a substantial set of Variations by Joseph Joachim, a lovely theme is transformed and developed in inventively contrasting ways, including a somber contrapuntal piece and a Hungarian semi-improvisation.