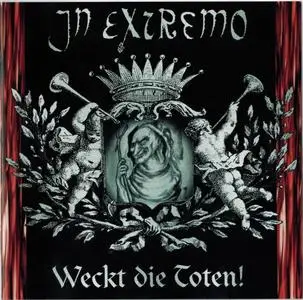 In Extremo - Weckt Die Toten! (1998)
Germany | MP3 CBR 320 Kbps | 155 MB
Medieval Folk Rock | Label : Vielklang Musikproduktion
With their first official rock album, Berlin's In Extremo have developed from an insider tip to one of the most popular metal acts in Germany. Wake up the dead! is a spontaneous, crisp and, above all, unprecedented record in this form. Guitars complement each other seamlessly with three bagpipes, brute drumming is in harmony with tender, medieval songs. In Extremo, traditional melodies mix with their own ideas and add robust rock to the original sounds. And so they sing their old tunes in old Norwegian, old French, Spanish, Latin, old German and German. The debut album includes the pieces "Ai Vis Lo Lop", "Totus Floreo" and "Villeman og Magnhild", which are played regularly by traveling musicians at medieval markets. The real highlights, however, are the "Palestinian Song", one of the oldest, traditional pieces in human history (in a gripping, cracking metal version) as well as the worn, highly independent "Before full bowls". In short: if you want to have a say in medieval music, you have to get this long player.