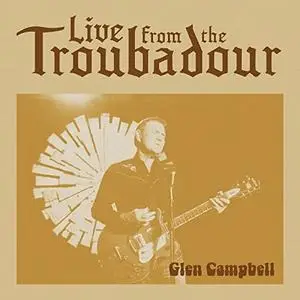 Glen Campbell - Live From The Troubadour (2021)
FLAC tracks | 57:05 | 410 Mb
Genre: Country / Label: Big Machine Records
When Glen Campbell walked onstage at the Troubadour on West Hollywood's Sunset Strip on August, 19, 2008, he was even more iconic than the legendary venue that birthed The Byrds, Buffalo Springfield, Elton John, Jackson Browne, Linda Ronstadt and the Eagles. Performing a stunning mix of songs embedded in our DNA ('Rhinestone Cowboy,' 'Galveston') and unexpected jewels from Lou Reed ('Jesus'), Foo Fighters ('Times Like These'), Tom Petty ('Walls (Circus),' 'Angel Dream'), Paul Westerberg ('Sadly Beautiful') and Green Day ('Good Riddance (Time of Your Life)'), Campbell is in fine voice and demonstrates on more than one song his dexterity, tone and emotional transparency on guitar. With a band that includes four of his children, session and live veterans from Beck, Jellyfish, Jane's Addiction, Murphy's Law, D Generation and Danzig, it was a night of music that explored the commonalities of genres, country-tinged arrangements and how good live music feels.