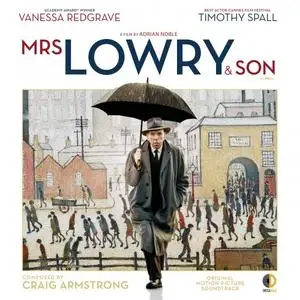 Craig Armstrong - Mrs. Lowry & Son (Original Motion Picture Score) (2019)
MP3 CBR 320kbps ~ 149.94 Mb | 01:04:21 | Cover
Score | Label: UMC - Decca Gold
Decca Gold will release a soundtrack album for the British drama Mrs. Lowry & Son. The album features the film's original music composed by Craig Armstrong (Moulin Rouge!, The Great Gatsby, The Incredible Hulk, Love Actually, Romeo + Juliet). Mrs. Lowry & Son is directed by Adrian Noble (The Importance of Being Earnest) and stars Timothy Spall and Vanessa Redgrave. The movie examines the relationship between British painter L.S. Lowry, who was famous for painting scenes of life in the industrial districts of North West England in the mid-20th century and his mother, Elizabeth. The drama is being released in British theaters this coming weekend.
Track List:
01. Lowry's Theme (02:16)
02. I'm A Man Who Paints (02:22)
03. I Dreamed Of Becoming A Concert Pianist (02:58)
04. You Mustn't Give Up Mother (02:22)
05. A Letter From London (02:20)
06. God's Tears (00:41)
07. A Woman Of Quality (00:38)
08. We Were Penniless (00:39)
09. Coming From The Mill (01:47)
10. One Solitary Star (02:34)
11. There's A Beauty In Everything (01:26)
12. The Letter (01:49)
13. You'll Never Leave Me, Will You Laurie? (02:14)
14. You Find Things Beautiful (02:41)
15. I Need To Capture A Way Of Life (02:58)
16. Crowds Can Be The Loneliest Of Places (01:38)
17. Today I Had A Lady Caller (01:05)
18. It's A Perfectly Delightful Picture (03:10)
19. Sailing Boats (02:15)
20. Childhood Games (01:42)
21. There's A Mystery In Everything (02:19)
22. Mr. Stanhope Wants To Buy A Painting (01:47)
23. Have You Never Really Liked One Of My Paintings? (01:50)
24. I'm Going To Burn Every Painting (03:02)
25. A Different World (00:51)
26. A Gift From The Past (02:57)
27. The Lowry Museum (02:43)
28. Lowry End Titles (09:33)