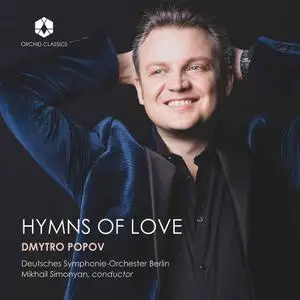 Dmytro Popov, Deutsches Symphonie-Orchester Berlin & Mikhail Simonyan - Hymns of Love (2020)
WEB FLAC (tracks) - 224 Mb | MP3 CBR 320 kbps - 128 Mb | 00:55:41
Classical | Label: Oehms Classics
Ukrainian tenor Dmytro Popov delivers a magnificent recital of operatic arias, including music he has performed to great acclaim in opera houses around the world. Dmytro Popov was the youngest opera artist to be awarded the title of 'Honoured Artist of Ukraine' in 2003, and has since dazzled audiences and critics with roles including Rodolfo in Puccini's La bohème at the Royal Opera House, Cavaradossi in Tosca with Deutsche Oper Berlin, and Vaudémont in Tchaikovsky's Iolanta with Teatro Real Madrid.

Popov reprises those roles for this album, alongside music by Gounod, Bizet, Borodin, Dvořák, Ponchielli and Léhar, whose writing for the tenor Richard Tauber produced some of the most irresistible music in the repertoire. The recital is rounded off by a folk song from Popov's native Ukraine.
Tracklist:1.
Tosca, SC 69: Recondita armonia
(02:56)
2.
Roméo et Juliette, CG 9: L'amour, l'amour!
(04:23)
3.
Manon Lescaut, SC 64: Donna non vidi mai
(02:30)
4.
Carmen, WD 31: La fleur que tu m'avais jetée
(04:27)
5.
Iolanta, Op. 69, TH 11: No! The Charming Attentions
(04:00)
6.
La Gioconda, Op. 9: Cielo e mar!
(04:49)
7.
Eugene Onegin, Op. 24, TH 5: I Love You
(02:58)
8.
Faust, CG 4: Quel trouble inconnu me pénètre?
(06:18)
9.
Prince Igor: The Day Has Slowly Faded to Peace
(04:50)
10.
La bohème, SC 67: Che gelida manina
(04:44)
11.
Rusalka, Op. 144, B. 203: Vidino divná
(06:36)
12.
Das Land des Lächelns: Dein ist mein ganzes Herz!
(03:45)
13.
Raven Black Brows, Eyes Like Hazel (Arr. for Tenor & Orchestra)
(03:18)
–––––––––––-

DON'T MODIFY THIS FILE

–––––––––––-

PERFORMER: auCDtect Task Manager, ver. 1.6.0 RC1 build 1.6.0.1
Copyright © 2008-2010 y-soft. All rights reserved

ANALYZER: auCDtect: CD records authenticity detector, version 0.8.2
Copyright © 2004 Oleg Berngardt. All rights reserved.
Copyright © 2004 Alexander Djourik. All rights reserved.


FILE: 13 Raven Black Brows Eyes Like Hazel (Arr. for Tenor & Orchestra).flac
Size: 14966868 Hash: 173A44E487B1A02341AF3650DD2376D7 Accuracy: -m8
Conclusion: CDDA 100%
Signature: 574C8AA38EDB608C389583559490A1F6F4F3B0BE
FILE: 12 Das Land des Lächelns Dein ist mein ganzes Herz!.flac
Size: 17678725 Hash: 3D6EC054B239FDE4D507E0209943D18E Accuracy: -m8
Conclusion: CDDA 100%
Signature: 3E19892D7861D2F9115E9ED25436BF99814D1094
FILE: 11 Rusalka Op. 144 B. 203 Vidino divná.flac
Size: 28295404 Hash: C26DAC5EF7657D05ABF2EB674616D21A Accuracy: -m8
Conclusion: CDDA 99%
Signature: 545773AE4F36907BBEE0B792BAB2626ADBD6E8FD
FILE: 10 La bohème SC 67 Che gelida manina.flac
Size: 20686368 Hash: 54259C309741A88A05C5E83C6BF9F9AB Accuracy: -m8
Conclusion: CDDA 100%
Signature: A9CE1E7C380F19992E4C10AE66FE23814E26B3CC
FILE: 09 Prince Igor The Day Has Slowly Faded to Peace.flac
Size: 19752363 Hash: 72D7FAD77016D8B9AD595202A209C103 Accuracy: -m8
Conclusion: CDDA 99%
Signature: 6440EB95DAF31A27ADF878A6F29817E4FF3EDEDF
FILE: 08 Faust CG 4 Quel trouble inconnu me pénètre.flac
Size: 24937672 Hash: BCCC73E201EF67F159652687223FD391 Accuracy: -m8
Conclusion: CDDA 100%
Signature: D83C90F12D0B03472A2BEF07FA16D9E7E0BAD4C1
FILE: 07 Eugene Onegin Op. 24 TH 5 I Love You.flac
Size: 12023878 Hash: 1ABC1991394547623509634A281C4740 Accuracy: -m8
Conclusion: CDDA 100%
Signature: 73FE0D1FE0A78DE68995D110319008C6AC7BCEB0
FILE: 06 La Gioconda Op. 9 Cielo e mar!.flac
Size: 19823950 Hash: 57425C900241DD4AB82088F1AE46E945 Accuracy: -m8
Conclusion: CDDA 100%
Signature: 0E58268D62DEB80513E3C36087B3FA0B914EC037
FILE: 05 Iolanta Op. 69 TH 11 No! The Charming Attentions.flac
Size: 16993964 Hash: 7C68EF933B21228574366DEAD50872EA Accuracy: -m8
Conclusion: CDDA 100%
Signature: E98F0F7B5691F5C50BB54518F1D11180899C76CD
FILE: 04 Carmen WD 31 La fleur que tu m'avais jetée.flac
Size: 17509207 Hash: 3A64188BB3E6811994206B1476BCE4B6 Accuracy: -m8
Conclusion: CDDA 99%
Signature: 3620D590180F603545B966EB9F59033049B44661
FILE: 03 Manon Lescaut SC 64 Donna non vidi mai.flac
Size: 11499916 Hash: 0DDD5C0450BD860779D58DB63F85E822 Accuracy: -m8
Conclusion: CDDA 100%
Signature: 1A81974180E0051FCBFF0A917F6C8D052E150122
FILE: 02 Roméo et Juliette CG 9 L'amour l'amour !.flac
Size: 17879092 Hash: E9EB90D3A48306D8693766C3A0DD1429 Accuracy: -m8
Conclusion: CDDA 100%
Signature: 686FD4A413399AAB2D3DC62632E02AFF19086858
FILE: 01 Tosca SC 69 Recondita armonia.flac
Size: 12448718 Hash: 82EB805847073E1F81CF50E978A3F71F Accuracy: -m8
Conclusion: CDDA 100%
Signature: 4B91B90B9595DF3B330376E43D836B61C37C8829