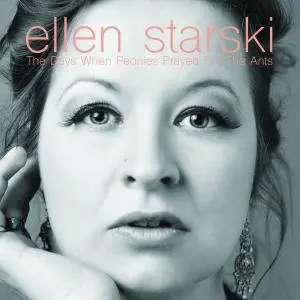 Ellen Starski - The Days When Peonies Prayed For The Ants (2018)
MP3 CBR 320kbps | 00:43:14 | 100.17 Mb | Cover
Folk, Singer-Songwriter | Country: USA | Label: Flying Machine
During the years leading up to her solo debut, The Days When Peonies Prayed for the Ants, songwriter Ellen Starski explored both her homeland and herself, traveling from the coal country of rural Pennsylvania to the roots-music hotbed of Nashville, Tennessee.
Released in May 2018, The Days When Peonies Prayed for the Ants acts as the soundtrack to that period of self-discovery. It's an autobiographical album, rooted in a lush mix of indie-folk, orchestral Americana, and organic pop. Starski wrote the songs during a span of a dozen years, tracing her trek from Reynoldsville, Pennsylvania — where she began playing guitar at 19 years old, before cutting her teeth as the singer of a bluesy bar band — to Knoxville, where she kicked off her solo career with pub gigs and open mic performances. The journey then winds its way to Nashville, Starski's adopted hometown since 2008. It was there, alongside producer Anne McCue and a handful of the town's top sideman, that she recorded The Days When Peonies Prayed for the Ants.
It's a record that's as dynamic and driven as its creator. Sonically influenced by Leonard Cohen, Bob Dylan's Desire, and the Alison Krauss/Robert Plant collaboration Raising Sand, The Days When Peonies Prayed for the Ants offers up a combination of sweeping string arrangements, stripped-down piano ballads, finger-plucked folksongs, and everything in between, all held together by a voice that's both emotional and elastic. "I've been singing in front of people since I was a child," says Starski, whose lyrics shine a light on the triumphs, missteps, and stories she's picked up along the way. "I've been writing songs for years, too, but I'd always hide them when I was singing with blues bands and funk groups. They didn't fit. Things changed once I had my daughter. It opened up a whole new world to me, and I knew I was strong enough to express how I feel."
The album's title nods to the symbiotic relationship between peony flowers and ants, who rely on one another for growth. Peonies produce nectar outside of their buds, encouraging ants to climb up the flowers' stalks in search of food. In doing so, the plants' dense flowers are opened. At the end of the process, the plant fully blooms and the ants walk away with full stomachs. Starski's writing explores similar themes of give-and-take and cause-and-effect.
"The record is about growth," she explains. "It's about all these things that have happened to me, which have helped me blossom as a human being."
There are songs about loss, heartbreak, and family, all of them filled with details from Starksi's own life. "Miss You Mary" pays tribute to her mother, who helped steer her daughter out of a dark hole as a teenager. Laced with acoustic guitars and cinematic strings arranged by McCue, "Ode to Nanny and Cookie" opens the album with a salute to Starksi's two grandmothers. Meanwhile, her own daughter inspired the lovely, lilting "Daughter of the Sea," while the country-inspired "Honey I'm Not Him" was written during a nighttime drive around along the Nashville backroads, with her infant sleeping in the backseat. Personal anecdotes are woven throughout, but The Days When Peonies Prayed for the Ants ultimately delivers a universal message: that you cannot come to grips with yourself until you come to grips with the beautiful wreckage of your past.
Raised on a wide spread of music — the Lilith Fair-era earnestness of Tori Amos and Sarah McLachlan; the heartland rock of Tom Petty; the moody, nocturnal music of Portishead; the articulate, lyric-based writing of Aimee Mann — Ellen Starski shows her full range as a writer, vocalist, and storyteller with The Days When Peonies Prayed for the Ants. The album is a team effort, with a number of music-industry heavyweights (including drummer Paul Griffith, bassist Jimmy Sullivan, pianist Carl Byron, strings Deanie Richardson, manager Erin Anderson, and producer/guitarist/mentor McCue) all pulling their weight. Starski is the captain of this ship, though, and Peonies points her toward a genre of her own making.
Track List:
01 - Ode to Nanny And Cookie (00:05:20)
02 - Honey I'm Not Him (00:04:43)
03 - Missing You (00:04:48)
04 - Slip Of Paper (00:04:27)
05 - Separated By Time (00:03:22)
06 - Taken By The Breeze (00:04:05)
07 - Miss You Mary (00:02:51)
08 - Daughter Of The Sea (00:04:35)
09 - Fairweather Friend (00:04:08)
10 - Chasing The Sun (00:03:15)
11 - The Days When Peonies Prayed For The Ants (00:01:35)