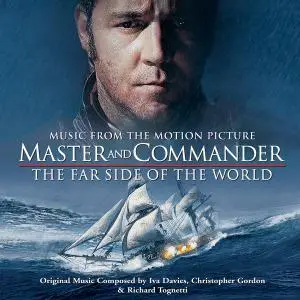 VA - Master and Commander: The Far Side of the World (Music from the Motion Picture) (2003)
WEB FLAC (tracks) - 301 MB | MP3 CBR 320 kbps - 143 MB
00:59:17 | Baroque, Score, Classical, Modern, Soundtrack | Label: Decca
Master and Commander, based on the hugely successful literary series by Patrick O' Brian, chronicles the adventures of Captain Jack Aubrey of The Royal British Navy. Musically speaking, the seafaring genre hasn't lived up to its expectations in a long, long time. For a world saturated with lore, shanties, and melodies inspired by the ocean, Hollywood remains unresponsive, uninspired, and bereft of the combination to Davy Jones' locker. One would expect a bombastic, heroic, and unforgettable motif to assist our protagonist in his exploits, but composers Iva Davies and Christopher Gordon provide nothing of the sort. The original portion of the score succeeds in riding wave upon wave of tension, but swashbuckling tales of the sea require a memorable tune, not just a storm of Taiko drums and washed-out strings. The composers fare better on a recurring folk medley, lovingly rendered by master violinist Richard Tognetti – fans of the novels on which the film is based know full well that Lucky Jack is a fiddle-slinging-bard of a captain – that captures the true spirit of being miles away from home with your mates and fending off ghostly freighters. The remainder of the soundtrack yields a tad more bounty, utilizing famous classical pieces from Mozart, Bach, and Boccherini to great effect, bailing out the brackish water intent on keeping this ship permanently docked.