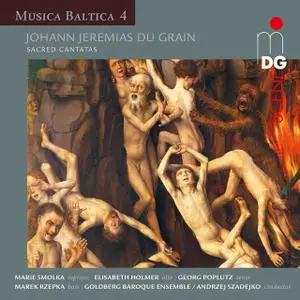 Goldberg Baroque Ensemble - Du Grain: Sacred Cantatas - Musica Baltica, Vol. 4 (2018)
WEB | FLAC (tracks) - 358 MB | 01:10:08
Genre: Classical | Label: MDG Scene
Musica Baltica Volume 4 Johann Jeremias Du Grain was on familiar terms with the musical greats of his era. He learned the musical trade from Telemann, who was already famous at the time, and he assisted the very busy Handel with the composition of a festive cantata for the five hundredth anniversary of Elbing, his chosen place of residence. One hears traces of these illustrious surroundings in Du Grain's own cantatas, which Andrzej Szadejko and the Goldberg Baroque Ensemble are now presenting for the first time on this audiophile multichannel release in the Musica Baltica series. Du Grain's cantatas not only represent the very best of their times; they are also extraordinarily appealing.