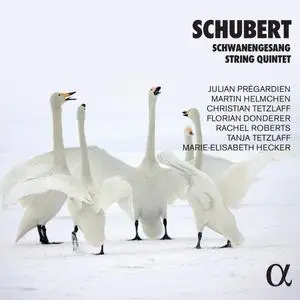 Julian Pregardien, Tanja Tetzlaff, Rachel Roberts, Florian Donderer, Martin Helmchen, Christian Tetzlaff, Marie-Elisabeth Hecker - Schubert: Schwanengesang & String Quintet (2021)
WEB FLAC (tracks) - 416 Mb | MP3 CBR 320 kbps - 259 Mb | 01:53:09
Classical, Vocal | Label: Alpha Classics, Outhere Music
Here are two works composed by Schubert at the very end of his short life. Schwanengesang (Swansong) was written in Vienna in the autumn of 1828. He died on 19 November at the age of thirty-one, and Die Taubenpost (Pigeon post), which closes the collection, is said to be his very last composition. The fourteen songs, by turns light-hearted, sombre and melancholy, are settings of poems by Ludwig Rellstab, Heinrich Heine and Johann Gabriel Seidl. In the summer of the same year he composed his String Quintet in C major, scored for two cellos, which was not premiered until 1850, at the Vienna Musikverein.