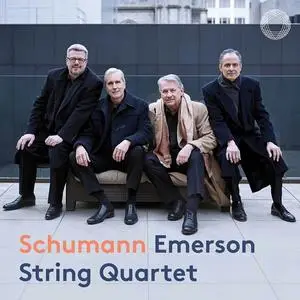 Emerson String Quartet - R. Schumann: String Quartets Nos. 1-3, Op. 41 (2020)
FLAC tracks | 01:16:38 | 338 Mb
Genre: Classical / Label: PentaTone
The Emerson String Quartet makes its Pentatone debut with a recording of Schumann's three string quartets. Penned in the summer of 1842 during an exceptional peak of creativity, these quartets formed the beginning of a six-month surge during which most of Schumann's best chamber music saw the light. Inspired by the example of Beethoven, Schumann's quartets display a mastery of traditional forms, combined with typically Schumannian fantasy and lyricism, particularly in the inner movements. As such, they underline a new level of maturity in Schumann's artistic development, surpassing the fantastical aesthetic of previous years.