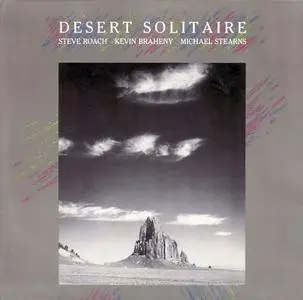 Steve Roach, Kevin Braheny, Michael Stearns - Desert Solitaire (1989)
Vinyl Rip 16/44 | Flac(Image + Cue) > 299 Mb
MP3 CBR 320Kbps > 158 Mb | Artwork(jpg) > 11 Mb
DVD-5: NTSC 4:3 (720x480) VBR | LPCM, 2 ch, 24 bit, 96 kHz > 2.33 Gb
Fortuna Records, 17070-1 | Dark Ambient, New Age, Minimal
The second of two collaborations with Kevin Braheny inspired by the desert, this album pays homage to the Edward Abbey book of the same title. It inadvertently became a memorial to that Southwestern nature writer when Abbey died shortly after the music was recorded. Featuring some powerful work by Michael Stearns, this album taps into the psychological depths of stark Southwestern landscapes through a subtle set of soundscapes depicting the hidden dangers, unseen gifts, and intoxication that the desert promises.