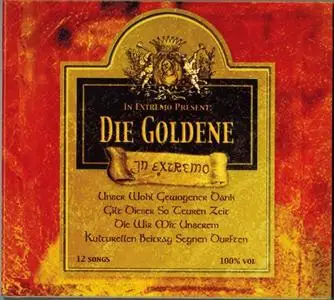 In Extremo - Die Goldene (1997) [2006 Remastered]
Germany | MP3 CBR 320 Kbps | 127 MB
Medieval Folk Rock | Label : In Extremo Records
In Extremo is a German medieval metal band originating from Berlin. The band's musical style combines metal with medieval traditional songs, blending the sound of the standard rock/metal instruments with historical instruments (such as bagpipes, harp, hurdy-gurdy and shawm). Versions of well-known traditional/medieval ballads make up the main part of their repertoire, but the band has written an increasing share of original material in recent years. Their own material is written in German, whilst the traditional songs and cover songs are in a variety of languages. In August 1996, they began work on the first In Extremo album, which already contained two tracks of the new rock project. Because the album had no official name, it became known as Gold because of the golden cover. In February 1997, like the single Der Galgen (engl. "The Gallows"), it quickly sold out in Medieval markets. The 2006 reissue, Die Goldene, contains two acoustic bonus tracks, including an alternate version of Villeman og Manhild.