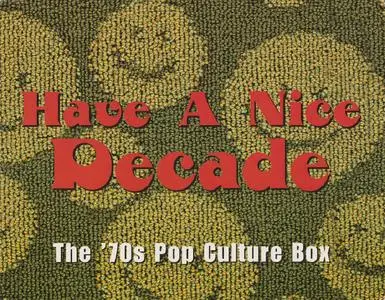 Various Artists – Have A Nice Decade – The 70's Pop Culture Box (1998)
EAC Rip | FLAC (Tracks) +CUE, LOG | 4.87 GB | Scans
Genre: Rock, R&B, Folk, Country | Label: Rhino Records | Catalog Number: R2 72919
For anyone who grew up during the last days of AM radio, anyone who remembers gas shortages, disco scarves, and feathered hair, this mammoth seven-disc box set, Have a Nice Decade: The 70s Pop Culture Box, will be a holy grail of nostalgia. First of all, the discs themselves contain a staggering 164 tracks. Basically, if you remember the song, it's probably included: from enduring chestnuts even today's teenagers can sing ("Fire and Rain," "Fly Like an Eagle") to obscure gems of kitsch like "The Night Chicago Died" and the supremely maudlin "Billy Don't Be a Hero." If you were born in the 1960s, you'll probably find this stuff enjoyable rather than embarrassing (to the degree that you can think back on your adolescence without cringing). But don't let the music distract you from the packaging, either. The box is covered in avocado-green shag carpeting (embroidered with a happy-face pattern), and the booklet contains photos of all the artists, essays on the politics and culture of the period, and capsule references to notable events, fads, and people. Only Rhino Records could have put out a reissue package of music, images, and text this perfect.