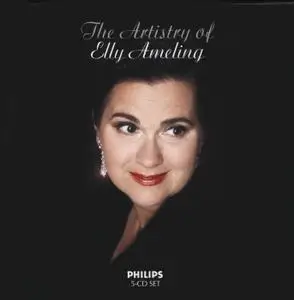 Elly Ameling - The Artistry of Elly Ameling (2003)
WEB | FLAC (tracks) - 1.7 Gb | MP3 (CBR 320 kbps) - 1 Gb | 05:33:56
Genre: Classical | Label: Philips
Ameling, one of the world's most beloved recitalists is captured here in a 5 CD collection offering some of her most beautiful recordings of song. While we are used to her perfection in songs of Bach, Mozart, Schubert, Schumann, Faure and Hahn, an added joy is her "pop" side, tackling - without a whiff of pretension, Porter, Kern, Gershwin, Ellington, et al. What an absolute joy it is listening to this amazing artist sing these songs with an almost uncanny natural ease. There is no resorting to a "pop" voice and yet most of these pop standards songs sound as though they could have been written for her. Clean attacks, sometimes a bit of the pop technique of hanging on to a consonant longer than a classical artist normally would shows an appreciation and understanding of the style. Still, there is never once a compromise of her vocal beauty.