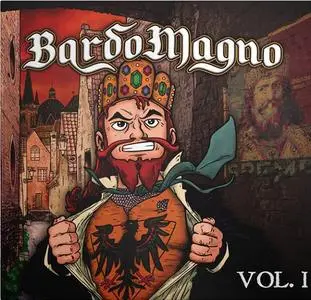 Bardomagno - Vol.1
Italy | MP3 CBR 192 Kbps | 72 MB
Folk/Pop/Rock Parody
On 19 April 2019, VOL. I the first CD of "BardoMagno", the musical project born from the minds of Feudalesimo e Libertà (FEL), a well-known Facebook page that for years has satirically proposed a return to the glories of Middle Ages. Repeating in an ironic key some famous songs from the Italian tradition and writing about them - ex manu et ex novo - own, BardoMagno - VOL. I manages to perfectly blend the irreverent texts in the language neo-vulgar of FEL to a robust folk-rock sound. BardoMagno - VOL. I, "under the pugnacious and inflexible symphonic guide of Valerio Storch (Nanowar of Steel)", made use of the participation of some important artists of the Italian music scene : Alessandro Mereu (Holy Martyr - author of Jenus); Maurizio Cardullo (Folkstone); Edoardo Sala (Folkstone); Lorenzo Marchesi (Folkstone); Maurizio Merluzzo (dubber), Vanni de Luca (mentalist and magician), and many others.