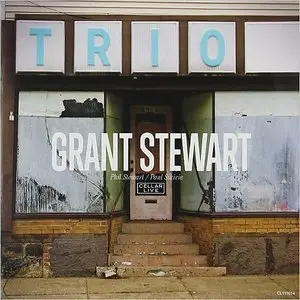 Grant Stewart - Trio (2015)
MP3 CBR 320 kbps | 9 Tracks | 54:56 | 130 MB
Genre: Jazz | Label: Cellar Live
TRIO is a varied and balanced program of material. Grant, like so many of the better musicians of his generation, has a knack for resurrecting jazz compositions from the '50s and '60s that are overlooked gems. Freddie Redd's typically sunny "A Time To Smile" from "The Connection" cover that territory here. "Everything I Love" is medium-up but joyous and swinging with a delightful danceable groove that Phil lays down on the ride cymbal. Jerry Leiber and Mike Stoller's "Is That All There Is" is their 1969 ode to ennui in a bid to be seen as more than R & B songwriters. It was recorded in "grande dame" style by Peggy Lee and became a big hit. Here the trio mercifully leaves the drama on the theatre stage and fashions the great melody in an easy, cool swing much the way Sonny Rollins made cowboy songs sound hip on "Way Out West." "Everything's Coming Up Roses," the flag waver from the musical "Gypsy" that brought out everything that's bad about Ethel Merman's singing. Grant explains, "I always picture the hospital scene in the movie "Airplane" where she comes out of nowhere and sings that song. Then I heard Zaid Nasser, the alto player who is Jamil Nasser's son, play a wild version of it live and heard it in a whole different way." Grant deconstructs the theme in true Rollins fashion and the trio cooks. Side 2 begins with "I'll Never Be The Same," and this is all about heartbreak, emptiness and regret and Grant's delivery is letter perfect. Thanks to its melody and changes, Kurt Weill's "This Is New" has been favored over the years by the likes of Kenny Drew, Chick Corea and Al Cohn among others. On this version, Grant turns out a fluid, brilliant solo that sails over the bass and drums with grace and panache.
Tracklist:
01. A Time To Smile (6:51)
02. Everything I Love (4:53)
03. I'll Never Be The Same (6:58)
04. Everything's Coming Up Roses (5:00)
05. The Thrill Is Gone (7:04)
06. This Is New (4:35)
07. I Surrender Dear (7:26)
08. Uranus (6:22)
09. Is That All There Is (5:42)