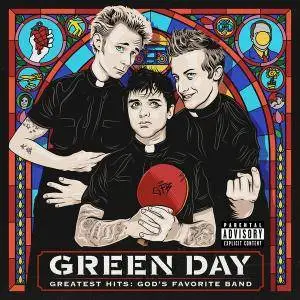 Green Day - Greatest Hits: God's Favorite Band (2017)
MP3 CBR 320 kbps | 01:15:45 | 173 Mb
Alternative Rock, Punk Rock | Label: Reprise Records
Green Day will release Greatest Hits: God's Favorite Band on Nov. 17, featuring 20 hits spanning the band's 31 years as a band, along with two new tracks. The collection marks the second "best of" set for the punk rock trio who have 12 albums under their belt. It follows 2001's International Superhits! when it comes to a singles-based compilation.

Coming on the heels of their wildly successful Revolution Radio World Tour, the new songs on God's Favorite Band include "Back in the USA" and a new duet with country music superstar Miranda Lambert on "Ordinary World." Green Day frontman Billie Joe Armstrong previously collaborated with Lambert at the 56th annual Grammy Awards back in 2014 for a live duet in tribute of the late Phil Everly of The Everly Brothers.

Physical pre-orders are available now at the band's official website. See below for a complete track listing as well as artwork for the LP, with a title that came from Stephen Colbert when the host of The Late Show with Stephen Colbert introduced Green Day as "God's favorite band" prior to their March performance on the program.

When God speaks people listen, and that day God bestowed upon Green Day the title Greatest Hits: God's Favorite Band. The collection chronicles the sonic journey of one of the most dynamic rock bands in recent history. Formed in 1986 in Berkeley, Calif., the band achieved breakout success with 1994's Dookie, which has sold over 10 million copies to date in the U.S. alone. Widely credited with popularizing and reviving mainstream interest in punk rock, Green Day would go on to release Insomniac (1995), Nimrod (1997) and Warning (2000). In 2004, they delivered the rock opera American Idiot, which captured the nation's attention and sold more than six million copies in the States. It was followed by 21st Century Breakdown (2009) and the three-album trilogy ¡Uno!, ¡Dos!, ¡Tré! in 2012.
Tracklist:
1. 2000 Light Years Away
2. Longview
3. Welcome To Paradise
4. Basket Case
5. When I Come Around
6. She
7. Brain Stew
8. Hitchin' A Ride
9. Good Riddance (Time of Your Life)
10. Minority
11. Warning
12. American Idiot
13. Holiday
14. Boulevard Of Broken Dreams
15. Wake Me Up When September Ends
16. Know Your Enemy
17. 21 Guns
18. Oh Love
19. Bang Bang
20. Still Breathing
21. Ordinary World [feat. Miranda Lambert]
22. Back In The USA