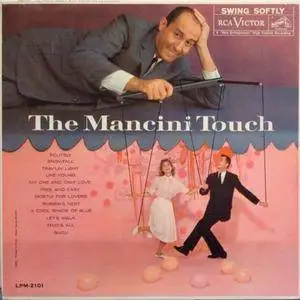 Henry Mancini - The Mancini Touch (1959)
Mp3 CBR320 kbps | 38:57 min | 93 Mb (5% Rec.)
Jazz, Instrumental Pop, Easy Listening| Label: RCA Victor Records
An entry in RCA's Living Stereo series, The Mancini Touch is said to be Henry Mancini's attempt to combine "modern jazz ideas" with big-band swing. The result is a carefully arranged album on which the soloists occasionally improvise. Mancini wrote "Free and Easy" for the Sal Mineo film "Rock, Pretty Baby," which speaks to his popular focus in spite of the jazz trappings. Some numbers are moody and not at all dance-oriented, such as "Snowfall," a meditation on acoustic guitar and vibes that grows into a subtle swell of soft strings and horns. "Bijou" is a whimsical piece that anticipates the sound of "Baby Elephant Walk" and "The Pink Panther Theme." The cover of The Mancini Touch depicts Mancini as a puppeteer controlling a pair of dancers, suggesting a belief in the power of music to manipulate mood and action similar to that which led to the development of Muzak in the late '60s.
- Greg Adams
Tracklist:
01. Bijou 3:07
02. Mostly For Lovers 3:02
03. Like Young 3:12
04. My One And Only Love 3:14
05. Politely 3:15
06. Trav'lin' Light 3:00
07. Let's Walk 3:05
08. Snowfall 3:38
09. A Cool Shade Of Blue 3:45
10. Robbin's Nest 3:37
11. Free And Easy 2:45
12. That's All 3:05