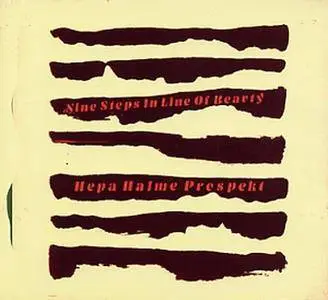 Hepa Halme Prospekt - Nine Steps In Line Of Beauty (2003)
XLD Rip | FLAC (tracks+.cue, log) ~ 213.91 Mb | 45:18 | Cover
Avant-Garde Jazz, Experimental | Country: Finland | Label: Silence (SLC 013)
The origins of the group go back to the Living Room Ambient sessions performed at the Soup and Mother restaurants in Helsinki in 1999. Halme Prospekt became a regularly performing group and assumed its current line-up soon after the release of Hepa Halme's second album as leader, Prospektor, in 2008, which already had most of the members of Halme Prospekt among the featured musicians.
Halme Prospekt has performed, for example, at the Tampere Jazz Happening and the Rytmihäiriöklubi in Helsinki but received its most extensive run of performances in 2009/10 with the monthly Prospektor Club at Helsinki´s Club Liberté, where the group also featured visiting artists, such as Asa, Pentti Dassum, Seppo Kantonen, Pekko Käppi, Olavi Louhivuori, Jarmo Saari and Roi Vaara.
Halme Prospect is currently in the process of completing its first recording as a group. Halme Prospekt combines the carefully designed structure of Hepa Halme´s compositions with the unexpected bursts of improvisation by its members. This gives the group its distinctive sound enriched by the very different musical backgrounds of its members.
Hepa Halme - flute, alto saxophone, bass clarinet, producer
Heikki Savolainen - percussion, producer, mixing, mastering, recording engineer
Teho Majamäki - percussion
Jarmo Saari - guitar, theremin, programming
Teppo Mäkynen - programming, scratches
Toppo Isopuro - koto, percussion, tampura, synthesizer, recording engineer
Miikka Paatelainen - guitar, bass
Janne Haavisto - percussion, synthesizer, recording engineer
Abdissa Assefa - percussion
Seppo Kantonen - piano
Samuli Kosminen - samples, percussion
Karri Koivukoski - viola
Track List:
01 Step I (05:37)
02 Step II (06:03)
03 Step III (01:53)
04 Step IV (09:37)
05 Step V (04:08)
06 Step VI (09:06)
07 Step VII (05:28)
08 Step VIII (01:10)
09 Step IX (02:16)
X Lossless Decoder version 20110515 (133.1)

XLD extraction logfile from 2011-05-25 23:17:50 +0300

Hepa Halme Prospekt / Nine Steps in Line of Beauty

Used drive : MATSHITA DVD-R UJ-868 (revision KB19)

Ripper mode : XLD Secure Ripper
Disable audio cache : OK for the drive with a cache less than 1375KiB
Make use of C2 pointers : NO
Read offset correction : 102
Max retry count : 100
Gap status : Analyzed, Appended

TOC of the extracted CD
Track | Start | Length | Start sector | End sector
––––––––––––––––––––––––––––-
1 | 00:00:00 | 05:37:61 | 0 | 25335
2 | 05:37:61 | 06:03:57 | 25336 | 52617
3 | 11:41:43 | 01:53:01 | 52618 | 61093
4 | 13:34:44 | 09:37:71 | 61094 | 104439
5 | 23:12:40 | 04:08:57 | 104440 | 123096
6 | 27:21:22 | 09:06:57 | 123097 | 164103
7 | 36:28:04 | 05:28:25 | 164104 | 188728
8 | 41:56:29 | 01:10:72 | 188729 | 194050
9 | 43:07:26 | 02:16:22 | 194051 | 204272

AccurateRip Summary
Disc not found in AccurateRip DB.

All Tracks
Album gain : -3.96 dB
Peak : 1.000000
Statistics
Read error : 0
Jitter error (maybe fixed) : 0
Retry sector count : 0
Damaged sector count : 0

Track 01
Filename : /Users/timebomb/Downloads/Hepa Halme Prospekt - Nine Steps in Line of Beauty (2001) (FLAC)/01 Step I.flac
Pre-gap length : 00:02:00

Track gain : -3.86 dB
Peak : 0.878174
CRC32 hash (test run) : CB3F0574
CRC32 hash : CB3F0574
CRC32 hash (skip zero) : 9CDD7130
AccurateRip signature : B2988DCB
->Track not present in AccurateRip database.
Statistics
Read error : 0
Jitter error (maybe fixed) : 0
Retry sector count : 0
Damaged sector count : 0

Track 02
Filename : /Users/timebomb/Downloads/Hepa Halme Prospekt - Nine Steps in Line of Beauty (2001) (FLAC)/02 Step II.flac

Track gain : -3.12 dB
Peak : 1.000000
CRC32 hash (test run) : A1C361D2
CRC32 hash : A1C361D2
CRC32 hash (skip zero) : 2492B468
AccurateRip signature : 3C4AE80F
->Track not present in AccurateRip database.
Statistics
Read error : 0
Jitter error (maybe fixed) : 0
Retry sector count : 0
Damaged sector count : 0

Track 03
Filename : /Users/timebomb/Downloads/Hepa Halme Prospekt - Nine Steps in Line of Beauty (2001) (FLAC)/03 Step III.flac

Track gain : -0.59 dB
Peak : 1.000000
CRC32 hash (test run) : 229234C9
CRC32 hash : 229234C9
CRC32 hash (skip zero) : 5C813647
AccurateRip signature : 85B13064
->Track not present in AccurateRip database.
Statistics
Read error : 0
Jitter error (maybe fixed) : 0
Retry sector count : 0
Damaged sector count : 0

Track 04
Filename : /Users/timebomb/Downloads/Hepa Halme Prospekt - Nine Steps in Line of Beauty (2001) (FLAC)/04 Step IV.flac

Track gain : -4.15 dB
Peak : 0.980743
CRC32 hash (test run) : ACDB163A
CRC32 hash : ACDB163A
CRC32 hash (skip zero) : CBCCB588
AccurateRip signature : AF7D074C
->Track not present in AccurateRip database.
Statistics
Read error : 0
Jitter error (maybe fixed) : 0
Retry sector count : 0
Damaged sector count : 0

Track 05
Filename : /Users/timebomb/Downloads/Hepa Halme Prospekt - Nine Steps in Line of Beauty (2001) (FLAC)/05 Step V.flac

Track gain : 2.19 dB
Peak : 0.998840
CRC32 hash (test run) : 0177D0F7
CRC32 hash : 0177D0F7
CRC32 hash (skip zero) : DCA9ACEB
AccurateRip signature : 843262E9
->Track not present in AccurateRip database.
Statistics
Read error : 0
Jitter error (maybe fixed) : 0
Retry sector count : 0
Damaged sector count : 0

Track 06
Filename : /Users/timebomb/Downloads/Hepa Halme Prospekt - Nine Steps in Line of Beauty (2001) (FLAC)/06 Step VI.flac

Track gain : -5.05 dB
Peak : 0.984344
CRC32 hash (test run) : C0D4278F
CRC32 hash : C0D4278F
CRC32 hash (skip zero) : 8C6120AD
AccurateRip signature : A6998D76
->Track not present in AccurateRip database.
Statistics
Read error : 0
Jitter error (maybe fixed) : 0
Retry sector count : 0
Damaged sector count : 0

Track 07
Filename : /Users/timebomb/Downloads/Hepa Halme Prospekt - Nine Steps in Line of Beauty (2001) (FLAC)/07 Step VII.flac
Pre-gap length : 00:01:00

Track gain : -4.67 dB
Peak : 0.999939
CRC32 hash (test run) : 80C79122
CRC32 hash : 80C79122
CRC32 hash (skip zero) : 26A7560C
AccurateRip signature : 9A856B7C
->Track not present in AccurateRip database.
Statistics
Read error : 0
Jitter error (maybe fixed) : 0
Retry sector count : 0
Damaged sector count : 0

Track 08
Filename : /Users/timebomb/Downloads/Hepa Halme Prospekt - Nine Steps in Line of Beauty (2001) (FLAC)/08 Step VIII.flac
Pre-gap length : 00:01:00

Track gain : -2.69 dB
Peak : 0.847137
CRC32 hash (test run) : B4229675
CRC32 hash : B4229675
CRC32 hash (skip zero) : C874059A
AccurateRip signature : CF1E7DDD
->Track not present in AccurateRip database.
Statistics
Read error : 0
Jitter error (maybe fixed) : 0
Retry sector count : 0
Damaged sector count : 0

Track 09
Filename : /Users/timebomb/Downloads/Hepa Halme Prospekt - Nine Steps in Line of Beauty (2001) (FLAC)/09 Step IX.flac

Track gain : -2.31 dB
Peak : 0.999969
CRC32 hash (test run) : 525EBC5C
CRC32 hash : 525EBC5C
CRC32 hash (skip zero) : 4C361C92
AccurateRip signature : CA359840
->Track not present in AccurateRip database.
Statistics
Read error : 0
Jitter error (maybe fixed) : 0
Retry sector count : 0
Damaged sector count : 0

No errors occurred

End of status report
All thanks go to the what.cd