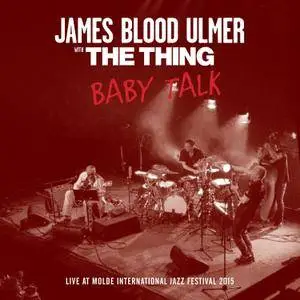 James Blood Ulmer & The Thing - Baby Talk (Live At Molde International Jazz Festival 2015) (2017)
WEB FLAC (tracks) ~ 209.95 Mb | 33:30 | Cover
Free Jazz, Avant-Garde Jazz | Country: Europe | Label: The Thing Records - TTR006CD
It was a predestined meeting. This collaboration between the legendary guitarist James Blood Ulmer and the band The Thing. Ulmer, who cut his teeth with the soul jazz organists Hank Marr, Larry Young and Big John Patton before collaborating with Ornette Coleman's electric free jazz/funk harmolodic music, expanded upon Coleman's ideas, incorporating rock music with players like Ronald Shannon Jackson, Jamaaladeen Tacuma, and Calvin Weston. His more recent work like Birthright (Hyena, 2005) and No Escape From The Blues: The Electric Lady Sessions (Hyena, 2003) conjure the roots tradition of the blues. In any context though, his guitar sound is distinctive.
Saxophonist Mats Gustafsson and his partners in The Thing, bassist Ingebrigt Håker Flaten and drummer Paal Nilssen-Love covered the Ulmer piece "Baby Talk" along with compositions by Don Cherry, Frank Wright, Joe McPhee, Ornette Coleman and PJ Harvey on their first album She Knows… (Crazy Wisdom, 2001). At the time, what was probably thought of as a one off session, has turned into an in-demand outfit. The Thing have produced more than a dozen sessions, often collaborating with their contemporaries and heroes like McPhee, Barry Guy, Ken Vandermark, Otomo Yoshihide, Jim O'Rourke, Neneh Cherry, and Thurston Moore. Their brand of self-described garage rock/free jazz music has the spark of that much of modern jazz eschews—a DIY punk aesthetic.
In the context of The Thing's development as a band, and their often scorched earth sets, it is quite remarkable how Ulmer's music is treated with such appreciation here. The spotlight rarely departs from his guitar, even when Gustafsson is exorcising demons with his tenor saxophone on "High Yellow," and Nilssen-Love is trashing out beats on his drum set. Ulmer's picked notes spring (or are sprung) almost unimpeded by the Scandinavian trio. Yes, Blood Ulmer hasn't lost the harmolodic lessons learned from Ornette Coleman. It leaks out everywhere. The title track plays like a child's nursery rhyme, expanding on repeated patterns upon which each player gets an opportunity to build. Any extraordinary recording. ~
Review by MARK CORROTO
James Blood Ulmer: guitar
Mats Gustafsson: tenor & baritone saxophone
Ingebrigt Håker Flaten: electric & double bass
Paal Nilssen-Love: drums, percussion
Track List:
1. Interview 08:08
2. High Yellow 10:29
3. Baby Talk 05:54
4. Proof 08:58
fooCDtect - foobar2000 + auCDtect, baralgin.

auCDtect: CD records authenticity detector, version 0.8.2
Copyright © 2004 Oleg Berngardt. All rights reserved.
Copyright © 2004 Alexander Djourik. All rights reserved.

mode: 0

===========================================
Track: 01. Interview
Quality: CDDA 100%
===========================================
Track: 02. High Yellow
Quality: CDDA 100%
===========================================
Track: 03. Baby Talk
Quality: CDDA 100%
===========================================
Track: 04. Proof
Quality: CDDA 100%
===========================================