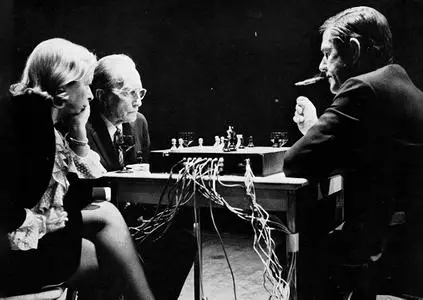 John Cage & Marcel Duchamp - Reunion (1968) {LP Takeyoshi Miyazawa} (Released on VINYL but not CD)
FLAC (tracks) - 16bit/44.1kHz - VINYL RIP -> 57 Mb | MP3 @320 -> 38 Mb
Complete Art Book @ 600 dpi (jpg) -> 808 Mb | 5% repair rar
© 1968 Takeyoshi Miyazawa | [none]
Electronic / Non-Music / Fluxus / Avant-Garde / Spoken Word
The year 2008 marked the fortieth anniversary of Reunion, a performance in which games of chess determined the form and acoustical ambience of a musical event. The concert – held at the Ryerson Theatre in Toronto, Canada – began shortly after 8:30 on the evening of March 5, 1968, and concluded at approximately 1:00 a.m. the next morning. Principal players were John Cage, who conceived (but did not actually "compose") the work; Marcel Duchamp and his wife Alexina (Teeny); and composers David Behrman, Gordon Mumma, David Tudor, and Lowell Cross. Except for a brief curtain call with Merce Cunningham and Dance Company in Buffalo, NY five days later (March 10, 1968), Duchamp made his last public stage appearance – in the role of chess master – in Reunion.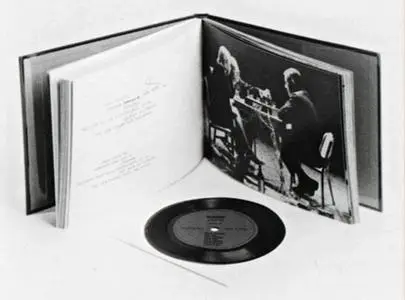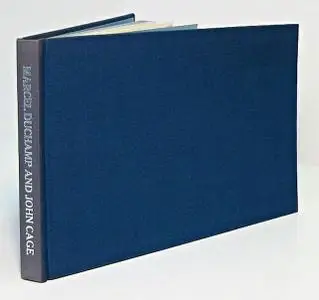 Cage told me that he was naming the piece Reunion because he wanted to bring together artists with whom he had been affiliated in the past in a homey but theatrical setting. He and Duchamp would play chess at center stage, and the moves of the game would result in the selection of sound sources and their spatial distribution around the audience. Duchamp would sit in a comfortable easy chair (Cage would be content with an ordinary kitchen chair); Teeny would sit close by and watch; my "oscilloscopic" TV sets, on stage, should be in operation; and the chess aficionados at center stage would drink wine and smoke – Duchamp, cigars; Teeny and Cage, cigarettes. All the while, Cage's composer-collaborators Behrman, Mumma, Tudor, and I would provide the electronic and electroacoustical sounds of the concert experience. Clearly, Reunion was to be a public celebration of Cage's delight in living everyday life as an art form.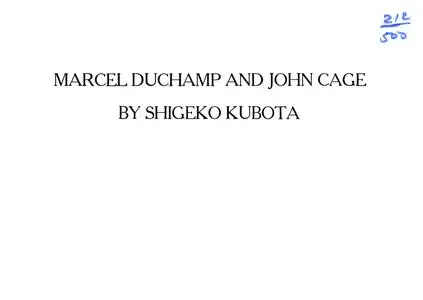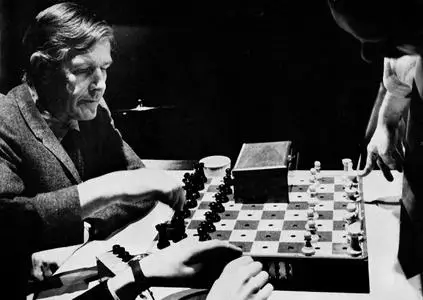 This release by Shigeko Kubota represents the only publicly-released recording of this event, and is merely a taste of what occurred. Kubota's book, included in this post, contains a series of photographs from the event and a 7-inch flexidisc record. The book is paired with text by John Cage, titled "36 Acrostics re and not re Duchamp," with the instruction "A given letter capitalized does not occur among the letters between it and the preceding capitalized letter." The book was printed in an edition of 500.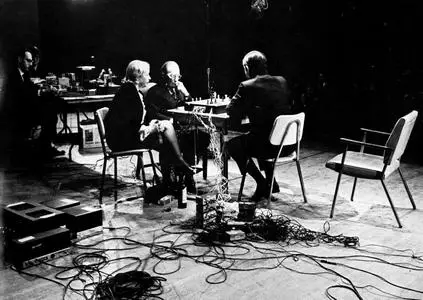 johncage.org INFO
johncage.org more INFOPerformers
John Cage
Marcel Duchamp
with
David Behrman
David Tudor
Gordon Mumma
Lowell Cross
Teeny Duchamp
Recorded in 1968 but published in 1970 in 500 numbered copies,photobook with pictures by Shigeo Kubota
Book title: Marcel Duchamp and John Cage by Shigeo Kubota,slipcased.
Recording location: Ryerson Theatre,TorontoTracklist
1. Reunion: Part 1 (3:54)
2. Reunion: Part 2 (3:41)
Total length: 7:35
Lineage:
Flac 44,1kHz 16bit

Recording chain:
Cartridge: Denon DL-103
Tone arm: SME 3012
Turntable: Garrard 401
Phono Pre amp: Trichord Dino Mk2 & Dino+ PSU
Pre amp: SPL Phonitor 2
Converter: Mytek ADC 96

Software:
Reaper 4.78 Recording
Audition 3.0.1 Normalizing per album, splitting, manual click removal
DenoiseLF 2.8.2 Lo cut <20 Hz -60dB
NO NOISE REMOVAL!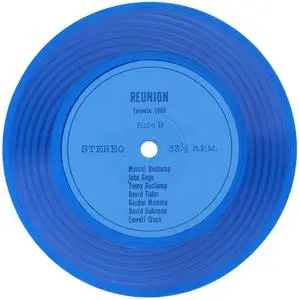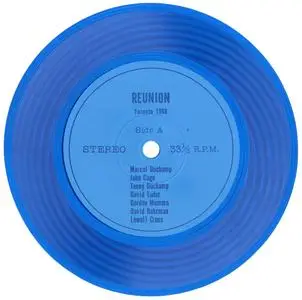 ===