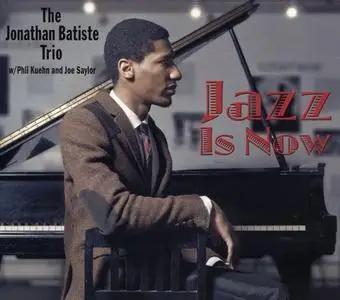 Jon Batiste - Jazz Is Now (2013)
XLD Rip | FLAC (tracks+.cue, log) ~ 278.28 Mb | 55:20 | Covers
Post-Bop, Contemporary Jazz | Country: USA | Label: Naht Jona LLC
Jonathan Michael Batiste (born November 11, 1986) is an American musician, bandleader, and television personality. He has recorded and performed with artists in various genres of music (Stevie Wonder, Prince, Willie Nelson, Lenny Kravitz, Ed Sheeran, and Mavis Staples), released his own recordings, and performed in more than 40 countries. Batiste regularly tours with his band Stay Human, and appears with them nightly as bandleader and musical director on The Late Show with Stephen Colbert. Batiste also serves as the Music Director of The Atlantic and the Creative Director of the National Jazz Museum in Harlem.
Track List:
01. Creative (6:27)
02. In the Night (6:45)
03. Ask Me Now (5:32)
04. Road Life (4:18)
05. Moon River (5:25)
06. The Entertainer (5:29)
07. Sunny Side of the Street (4:59)
08. Memories of You (5:06)
09. Thunder (4:04)
10. Bunkman Shoes Blues (7:15)
Arranged By, Producer, Piano, Vocals, Other [Harmonabord] – Jonathan Batiste
Artwork – John Starnes
Backing Vocals – Eddie Barbash (tracks: 9)
Bass – Phil Kuehn
Drums, Tambourine – Joe Saylor
Engineer [Assistant Engineer] – Aki Nishimura
Engineer [Recording Engineer] – Rich Hilton*
Mastered By – John Fischbach
Mixed By – Mark Bingham
Photography By – Zack DeZon
Producer – John Snyder
Tuba – Ibanda Ruhumbika (tracks: 9)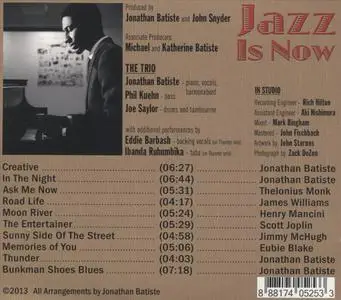 X Lossless Decoder version 20161007 (149.3)

XLD extraction logfile from 2020-02-08 11:55:32 -0600

Jon Batiste / Jazz Is Now

Used drive : HL-DT-ST DVDRAM GP75N (revision 1.00)
Media type : Pressed CD

Ripper mode : XLD Secure Ripper
Disable audio cache : OK for the drive with a cache less than 1375KiB
Make use of C2 pointers : NO
Read offset correction : 102
Max retry count : 20
Gap status : Analyzed, Appended (except HTOA)

TOC of the extracted CD
Track | Start | Length | Start sector | End sector
––––––––––––––––––––––––––––-
1 | 00:00:00 | 06:26:55 | 0 | 29004
2 | 06:26:55 | 06:45:01 | 29005 | 59380
3 | 13:11:56 | 05:31:64 | 59381 | 84269
4 | 18:43:45 | 04:18:24 | 84270 | 103643
5 | 23:01:69 | 05:24:73 | 103644 | 128016
6 | 28:26:67 | 05:29:23 | 128017 | 152714
7 | 33:56:15 | 04:58:46 | 152715 | 175110
8 | 38:54:61 | 05:05:53 | 175111 | 198038
9 | 44:00:39 | 04:04:20 | 198039 | 216358
10 | 48:04:59 | 07:14:38 | 216359 | 248946

List of alternate offset correction values
# | Absolute | Relative | Confidence
–––––––––––––––––––––
1 | 6 | -96 | 3

AccurateRip Summary (DiscID: 00154b20-00a80eaf-910cf70a)
Track 01 : OK (v2, confidence 3/3, with different offset)
Track 02 : OK (v2, confidence 3/3, with different offset)
Track 03 : OK (v2, confidence 3/3, with different offset)
Track 04 : OK (v2, confidence 3/3, with different offset)
Track 05 : OK (v2, confidence 3/3, with different offset)
Track 06 : OK (v2, confidence 3/3, with different offset)
Track 07 : OK (v2, confidence 3/3, with different offset)
Track 08 : OK (v2, confidence 3/3, with different offset)
Track 09 : OK (v2, confidence 3/3, with different offset)
Track 10 : OK (v2, confidence 3/3, with different offset)
->All tracks accurately ripped.

All Tracks
Album gain : -3.60 dB
Peak : 0.944122
Statistics
Read error : 0
Jitter error (maybe fixed) : 0
Retry sector count : 0
Damaged sector count : 0

Track 01
Filename : /Users/davincisbrush/Downloads/Jon Batiste - Jazz Is Now (2013) [FLAC]/01 Creative.flac
Pre-gap length : 00:02:00

Track gain : -3.06 dB
Peak : 0.944092
CRC32 hash (test run) : 28329E62
CRC32 hash : 28329E62
CRC32 hash (skip zero) : C4E3E7A2
AccurateRip v1 signature : B58088CA
AccurateRip v2 signature : 62DF6538 (EB5D8195 w/correction)
->Accurately ripped with different offset (v2, confidence 3/3, offset -96)
Statistics
Read error : 0
Jitter error (maybe fixed) : 0
Retry sector count : 0
Damaged sector count : 0

Track 02
Filename : /Users/davincisbrush/Downloads/Jon Batiste - Jazz Is Now (2013) [FLAC]/02 In The Night.flac
Pre-gap length : 00:01:14

Track gain : -2.64 dB
Peak : 0.944122
CRC32 hash (test run) : F0A2BEE4
CRC32 hash : F0A2BEE4
CRC32 hash (skip zero) : B6385FAC
AccurateRip v1 signature : 5EBC16D0
AccurateRip v2 signature : 41E5ADCA (46743041 w/correction)
->Accurately ripped with different offset (v2, confidence 3/3, offset -96)
Statistics
Read error : 0
Jitter error (maybe fixed) : 0
Retry sector count : 0
Damaged sector count : 0

Track 03
Filename : /Users/davincisbrush/Downloads/Jon Batiste - Jazz Is Now (2013) [FLAC]/03 Ask Me Now.flac
Pre-gap length : 00:01:48

Track gain : -3.38 dB
Peak : 0.944061
CRC32 hash (test run) : 80BE385F
CRC32 hash : 80BE385F
CRC32 hash (skip zero) : B78C5A86
AccurateRip v1 signature : B1DA3D1F
AccurateRip v2 signature : 1E278763 (00112F88 w/correction)
->Accurately ripped with different offset (v2, confidence 3/3, offset -96)
Statistics
Read error : 0
Jitter error (maybe fixed) : 0
Retry sector count : 0
Damaged sector count : 0

Track 04
Filename : /Users/davincisbrush/Downloads/Jon Batiste - Jazz Is Now (2013) [FLAC]/04 Road Life.flac
Pre-gap length : 00:01:69

Track gain : -2.39 dB
Peak : 0.944092
CRC32 hash (test run) : 089E8335
CRC32 hash : 089E8335
CRC32 hash (skip zero) : E7B49425
AccurateRip v1 signature : 337A6BFC
AccurateRip v2 signature : 54CA346F (D5E8EB3A w/correction)
->Accurately ripped with different offset (v2, confidence 3/3, offset -96)
Statistics
Read error : 0
Jitter error (maybe fixed) : 0
Retry sector count : 0
Damaged sector count : 0

Track 05
Filename : /Users/davincisbrush/Downloads/Jon Batiste - Jazz Is Now (2013) [FLAC]/05 Moon River.flac
Pre-gap length : 00:03:09

Track gain : -2.85 dB
Peak : 0.944092
CRC32 hash (test run) : E5F5D8F2
CRC32 hash : E5F5D8F2
CRC32 hash (skip zero) : C7B54B92
AccurateRip v1 signature : E83AB87F
AccurateRip v2 signature : 44718BD5 (B2499242 w/correction)
->Accurately ripped with different offset (v2, confidence 3/3, offset -96)
Statistics
Read error : 0
Jitter error (maybe fixed) : 0
Retry sector count : 0
Damaged sector count : 0

Track 06
Filename : /Users/davincisbrush/Downloads/Jon Batiste - Jazz Is Now (2013) [FLAC]/06 Entertainer.flac
Pre-gap length : 00:03:27

Track gain : -2.00 dB
Peak : 0.944092
CRC32 hash (test run) : BB1C8A73
CRC32 hash : BB1C8A73
CRC32 hash (skip zero) : 79E8C585
AccurateRip v1 signature : 04D2A76A
AccurateRip v2 signature : 5CD7EE70 (F6742387 w/correction)
->Accurately ripped with different offset (v2, confidence 3/3, offset -96)
Statistics
Read error : 0
Jitter error (maybe fixed) : 0
Retry sector count : 0
Damaged sector count : 0

Track 07
Filename : /Users/davincisbrush/Downloads/Jon Batiste - Jazz Is Now (2013) [FLAC]/07 Sunny Side Of The Street.flac
Pre-gap length : 00:03:07

Track gain : -3.18 dB
Peak : 0.944122
CRC32 hash (test run) : 01AFF97F
CRC32 hash : 01AFF97F
CRC32 hash (skip zero) : 95BC06CE
AccurateRip v1 signature : B986C1B6
AccurateRip v2 signature : E2400188 (09FCA3C8 w/correction)
->Accurately ripped with different offset (v2, confidence 3/3, offset -96)
Statistics
Read error : 0
Jitter error (maybe fixed) : 0
Retry sector count : 0
Damaged sector count : 0

Track 08
Filename : /Users/davincisbrush/Downloads/Jon Batiste - Jazz Is Now (2013) [FLAC]/08 Memories Of You.flac
Pre-gap length : 00:03:17

Track gain : -1.28 dB
Peak : 0.944092
CRC32 hash (test run) : 63969553
CRC32 hash : 63969553
CRC32 hash (skip zero) : EE5CA94E
AccurateRip v1 signature : 879E3542
AccurateRip v2 signature : 8E645515 (B9925E89 w/correction)
->Accurately ripped with different offset (v2, confidence 3/3, offset -96)
Statistics
Read error : 0
Jitter error (maybe fixed) : 0
Retry sector count : 0
Damaged sector count : 0

Track 09
Filename : /Users/davincisbrush/Downloads/Jon Batiste - Jazz Is Now (2013) [FLAC]/09 Thunder.flac
Pre-gap length : 00:02:68

Track gain : -5.41 dB
Peak : 0.944122
CRC32 hash (test run) : D4D4ADEB
CRC32 hash : D4D4ADEB
CRC32 hash (skip zero) : EB03341A
AccurateRip v1 signature : 64E5415F
AccurateRip v2 signature : 3DE45C08 (DA8BCA1A w/correction)
->Accurately ripped with different offset (v2, confidence 3/3, offset -96)
Statistics
Read error : 0
Jitter error (maybe fixed) : 0
Retry sector count : 0
Damaged sector count : 0

Track 10
Filename : /Users/davincisbrush/Downloads/Jon Batiste - Jazz Is Now (2013) [FLAC]/10 Bunkman Shoes Blues.flac
Pre-gap length : 00:03:62

Track gain : -5.47 dB
Peak : 0.944122
CRC32 hash (test run) : 5BF84FCE
CRC32 hash : 5BF84FCE
CRC32 hash (skip zero) : 31E1280B
AccurateRip v1 signature : 4C816B20
AccurateRip v2 signature : B8FA827E (3CDAE869 w/correction)
->Accurately ripped with different offset (v2, confidence 3/3, offset -96)
Statistics
Read error : 0
Jitter error (maybe fixed) : 0
Retry sector count : 0
Damaged sector count : 0

No errors occurred

End of status report

––-BEGIN XLD SIGNATURE––-
5hQ3LDuIAIwVLAmgAmalFS_bfFuO6we3QBntIyxjgVrQDa9tbBnqad84ntk6PoFwlsfE0c4ZrLLsvwyK7atfC9GTUvZ1.eR0At.v4FW
––-END XLD SIGNATURE––-
All thanks go to the Primrose99