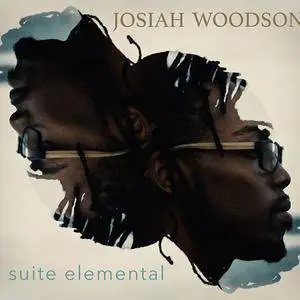 Josiah Woodson - Suite Elemental (2017)
WEB FLAC (tracks) ~ 280.30 Mb | 45:20 | Cover
World Fusion, Contemporary Jazz | Country: France | Label: Josiah Woodson
On his debut album titled 'Suite Elemental,' multi-instrumentalist Josiah Woodson weaves an epic story of a prince on a journey to become a king. Over the course of six tracks, Woodson creates a sound sculpture (suite) inspired by the elements – Air, Water, Fire, and Earth – and universal themes that revolve around inheritance, ascendance, struggle, adversity, and eventual triumph.
"In reading the story and listening to the music," says Woodson, "I hope to spark something in people and they take away a message that is pertinent to them in their lives, whoever they might be."
"AIR" represents energy, movement transcendence.
"EAU" (Water) was composed by Woodson during a difficult time in his life. He likens it to a "soothing musical balm."
"FEU" (Fire) states that there is no triumph without trial; there is no temperance without a test. The tune moves through sections of intense "reds" and "oranges" and a temporary respite rest in "purples" and "yellows."
"TERRE" (Earth) is a journey. It is the uneasy yet the steady calm before the storm that provides solace for the body but not the mind. Also, it conjures up images of a vast forest and the epic story of "The Prince of Soro."
"SOLSTICE" is the culmination of the story.
"(rep)RISE" is where the composer comes to terms with forging his path, mind and name. Also, Woodson reveals the story – literally and figuratively – is his.
Released April 28, 2017
Josiah Woodson: composition, trumpet, flugelhorn, guitar, flute
Ricardo Izquierdo: tenor sax (3)
Daniel Gassin: piano (2-6)
Zacharie Abraham: upright bass (1-3, 5, 6)
Laurent-Emmanuel "Tilo" Bertholo: drums
Special Guests
Lovell Bradford: Rhodes (1)
Peter Giron: upright bass (4)
Ralph Lavital: guitar (5)
Philippe Makaia: Gwo Ka (5)
Track List:
1. Air. 7:56
2. Eau. 8:36
3. Feu. 9:18
4. Terre. 9:08
5. Solstice. 8:51
6. [rep]Rise. 1:30
–––––––––––-
DON'T MODIFY THIS FILE
–––––––––––-
PERFORMER: auCDtect Task Manager, ver. 1.6.0 RC1 build 1.6.0.1
Copyright © 2008-2010 y-soft. All rights reserved
http://y-soft.org
ANALYZER: auCDtect: CD records authenticity detector, version 0.8.2
Copyright © 2004 Oleg Berngardt. All rights reserved.
Copyright © 2004 Alexander Djourik. All rights reserved.
FILE: 01 Air.flac
Size: 52457045 Hash: 1C35C29DE77232C35C6DD989DA19D906 Accuracy: -m0
Conclusion: CDDA 100%
Signature: 68255B73798BF86B29DA014BF526499D549A6F00
FILE: 02 Eau.flac
Size: 53705423 Hash: 023AE00512F0A2E86D159F2183F16724 Accuracy: -m0
Conclusion: CDDA 100%
Signature: 8CE8D0F4BDB4AC549B39878CAD4CD3B5AB8C7B48
FILE: 03 Feu.flac
Size: 60969451 Hash: D0A4FC229B471A4A273846D879043D52 Accuracy: -m0
Conclusion: CDDA 100%
Signature: 43A72CB9C507A2796A90C61C61687F4A3FAA19C4
FILE: 04 Terre.flac
Size: 53392015 Hash: 18816B8C62AF81B844E1AA520685743A Accuracy: -m0
Conclusion: CDDA 100%
Signature: FE35203291631D8F6F251080D6BFE7E65A963AF1
FILE: 05 Solstice.flac
Size: 56552781 Hash: A2C394D24B040A0F81F7EAC66490D948 Accuracy: -m0
Conclusion: CDDA 99%
Signature: 81528338F7F3B0D3325E23928E8B33EC089E05F6
FILE: 06 -rep-Rise.flac
Size: 10334057 Hash: F1EAEB11D8BA03C933DE749FCDA3A990 Accuracy: -m0
Conclusion: CDDA 100%
Signature: 36B22BBD2E3285E71E9DC07BB218D0D2CA02B6ED