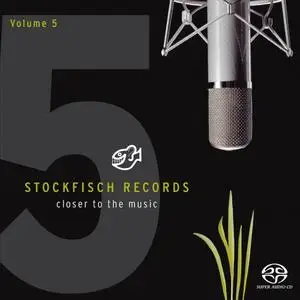 VA - Stockfisch Records Closer To The Music Vol.5 (2019)
FLAC tracks +booklet / MP3 320 kbps | 01:19:25 | 182 Mb / 435 Mb
Genre: Folk, Rock, Country / Label: Stockfisch Records
The Norwegian singer/songwriter/guitarist KERSTIN BLODIG presents her debut-album on Stockfisch. The recordings took place in a clearing in one of Germany's largest forest areas - in Solling. The rich natural atmosphere - including birdsong & sounds from the vegetation - fits wonderfully to Kerstin's haunting Norwegian songs and soulful acoustic-guitar playing. We have already had the pleasure of experiencing guitar legend DON ROSS as accompanist for Brooke Miller in Northeim, and now he has played in his own solo-CD. This is virtuoso guitar music coupled with a warm voice, including a cover of Sting's "If You Love Somebody". Stockfisch is particularly proud and happy to welcome the famous American singer-songwriter CARRIE NEWCOMER to the fold. Her rich velvety voice and heartfelt songs captivate audiences world-wide. A further international star was in Northeim: TONY CHRISTIE - yes the Tony Christie! He came to the Stockfisch studios together with the musicians from RANAGRI to make an album of Irish songs. Tony has strong Irish roots and interprets the songs with his very individual voice supported by wonderful acoustic arrangements.