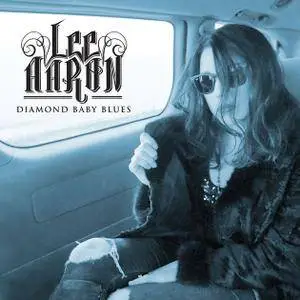 Lee Aaron - Diamond Baby Blues (2018)
WEB FLAC (tracks) - 357 Mb | MP3 CBR 320 kbps - 117 Mb | 00:51:03
Blues Rock, Female Vocal | Label: Big Sister Records
Multiple platinum winner, hit songwriter and producer Lee Aaron presents her new album "Diamond Baby Blues". The classic hard rock and heavy blues album features 12 new recordings anchored in the tradition of the musical giants of the late 60s and 70s. The heavy riff "Diamond Baby", the epic ballad "The Best Thing" and the glam rock pounding "American High" mix effortlessly with the creative reinterpretations of Deep Purple's "Mistreated", the Koko Taylor hymn "I'm a woman "and a surprising Rolling Stonesmoderate interpretation of Janet Jackson's" Black Cat. " The album, recorded together with the canadian rock legend John Webster, is a prime example of ther signature mix of powerhouse vocals, great guitars, organic keyboards and a rhythm section that rocks as hard as it rocks. If there is one line from "Diamond Baby Blues" that could best describe the artist, vocalist, songwriter, producer, creator and interpreter the world has come to know and love as Lee Aaron, it might be "I'm a Woman…I can cut stone with a pin".
Tracklist:
01 Diamond Baby
02 Mistreated
03 American High
04 I'm a woman
05 Miss Mercy
06 The Best Thing
07 Black Cat
08 Hard Road
09 In The Bedroom
10 Cut Way Back
11 You're No Good
–––––––––––-

DON'T MODIFY THIS FILE

–––––––––––-

PERFORMER: auCDtect Task Manager, ver. 1.6.0 RC1 build 1.6.0.1
Copyright © 2008-2010 y-soft. All rights reserved

ANALYZER: auCDtect: CD records authenticity detector, version 0.8.2
Copyright © 2004 Oleg Berngardt. All rights reserved.
Copyright © 2004 Alexander Djourik. All rights reserved.


FILE: 9 In The Bedroom.flac
Size: 24918630 Hash: 50B1B1F8B7A48F3535C6BBA5281DAB51 Accuracy: -m0
Conclusion: CDDA 100%
Signature: BB35467061049D521CD4D14A81B2630421D715A0
FILE: 8 Hard Road.flac
Size: 31109854 Hash: 4ADD0AE299000BAA29DE58C8B7710652 Accuracy: -m0
Conclusion: CDDA 100%
Signature: A0C2E2C4A94C99B299707F980AB4EE8D1363EAAB
FILE: 7 Black Cat.flac
Size: 35265201 Hash: BD4F0A19B06A48E7442FBD7FB8497D92 Accuracy: -m0
Conclusion: CDDA 99%
Signature: 8A8B70AA31A2A113CAA5A8B364602D66CC93EA26
FILE: 6 The Best Thing.flac
Size: 47202325 Hash: 5A7AD4CFEB8A3F0ADBA4876B137B49C5 Accuracy: -m0
Conclusion: CDDA 100%
Signature: F988288F5712873242B0E26AEC4C0E38BF72E013
FILE: 5 Miss Mercy.flac
Size: 27445499 Hash: EFCA7A8C5E1C2D484CDF6A86BDC861C3 Accuracy: -m0
Conclusion: CDDA 100%
Signature: D0E9C675A2E8270FE7E08494112A016748402501
FILE: 4 I'm A Woman.flac
Size: 31734396 Hash: 377CF4FF7A0BC0C879F5610A317CC284 Accuracy: -m0
Conclusion: CDDA 100%
Signature: 5F409264CC67D438B79F81DD49AF5D91F747FECB
FILE: 3 American High.flac
Size: 31955945 Hash: 155DD9F03F1349037E275694FA4C45DF Accuracy: -m0
Conclusion: CDDA 100%
Signature: 3EA722EB541181EAD331D2EB1D987D2A7E68C539
FILE: 2 Mistreated.flac
Size: 50692272 Hash: 5E0D65D0B782DD9B76F5FB4786F814E2 Accuracy: -m0
Conclusion: CDDA 100%
Signature: 947CFB78A6D1CD6A5799CEC2BF9DCD06A7C9BD51
FILE: 12 My Babe.flac
Size: 17032142 Hash: D32C5B0A80C92D9EDAA8501B42DE2611 Accuracy: -m0
Conclusion: CDDA 100%
Signature: AC339FA45BF07DD46B4FED206D6ADB0942E811DB
FILE: 11 You're No Good.flac
Size: 21523481 Hash: 34C7633EB70B74EFB774704B39CD6A5C Accuracy: -m0
Conclusion: CDDA 100%
Signature: 5C845DF19815E717874AA83EF4FD84A7C6182513
FILE: 10 Cut Way Back.flac
Size: 29633962 Hash: 75035B32AC8FA22FF265B724BBB5A28D Accuracy: -m0
Conclusion: CDDA 100%
Signature: 7D7396F5E8174F495784122E2450C7CCC4F49FA9
FILE: 1 Diamond Baby Blues.flac
Size: 26132760 Hash: 70578D9AD5C2E6F0069A4253AFA9836B Accuracy: -m0
Conclusion: CDDA 100%
Signature: 1EC2EE9359FD801C6361F0814CC6570455DDD971