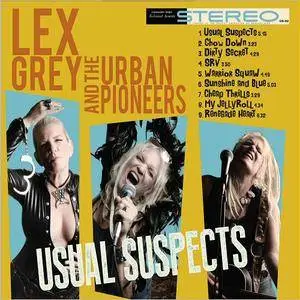 Lex Grey and the Urban Pioneers - Usual Suspects (2018)
MP3 CBR 320kbps | 00:41:34 | 102.67 Mb | Covers
Rockin' Blues | Country: USA | Label: Pioneer Productions
Lex Grey and The Urban Pioneers are a legendary live band and award-winning recording artists. Fusing old school blues and classic rock, the soul of the band is Lex Grey, whose power and passion blaze a primal fire. Lex Grey and The Urban Pioneers emerge from the dark corners with a passion, rowdiness and a sense of abandon that makes you feel like you are doing something wrong just by listening.
Track List:
1. Usual Suspects (5:15)
2. Chow Down (3:23)
3. Dirty Secret (4:30)
4. SRV (3:51)
5. Warrior Squaw (4:51)
6. Sunshine And Blue (5:03)
7. Cheap Thrills (3:31)
8. My Jelly Roll (4:34)
9. Renegade Heart (6:32)