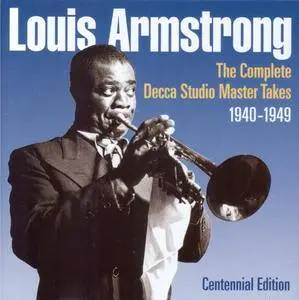 Louis Armstrong - The Complete Decca Studio Master Takes 1940-1949 (2000) {2CD Definitive Records DRCD11166}
EAC rip (secure mode) | FLAC (tracks)+CUE+LOG -> 529 Mb | MP3 @320 -> 293 Mb
Full Artwork @ 300 dpi (jpg) -> 32 Mb | 5% repair rar
© 1940-49, 2000 Definitive Records / Disconforme | DRCD11166 / DRCD11172
Jazz / Early Jazz / Big Band / Swing / Vocal Jazz / Trumpet
The 43 tracks that make up the first part of the The Complete Decca Studio Master Takes 1940-1949 of Louis Armstrong are remarkable not only for the outstanding performances they reflect, but for the many settings Armstrong recorded in during the era. While none of this material will come as a surprise to collectors, those who are starting to check out Armstrong's post-New Orleans period would do themselves a favor in scoping this collection because the Decca years, even more so than his long tenure with Verve, showcase Armstrong at the pinnacle of American popular music, and that that music happens to be jazz is even more revelatory.

Here are Satchmo sides with the Mills Brothers, Ella Fitzgerald, Billie Holiday, Sy Oliver, George Jenkins, and many others, as well as with the many bands he led during the period, with collaborators such as John Higinbotham, Cozy Cole, George Washington, Shelton Hemphill, Luis Russell, Joe Garland, and dozens of others. The sound on these transfers is 24-bit and the price is right.
tracklist:
CD1
01 - Hep Cats' Ball
02 - You've Got Me Voodoo'd
03 - Harlem Stomp
04 - Wolverine Blues
05 - Lazy 'Sippi Steamer
06 - W.P.A.
07 - Boog It
08 - Cherry
09 - Marie
10 - Sweethearts On Parade
11 - You Run Your Mouth, I'll Run My Business
12 - Cut Off My Legs And Call Me 'Shorty'
13 - Cain and Abel
14 - Perdido Street Blues
15 - 2.19 Blues
16 - Down In Honky Tonk Town
17 - Coal Cart Blues
18 - Ev'rything's Been Done Before
19 - I Cover The Waterfront
20 - In The Gloaming
21 - Long, Long Ago
CD2
01 - Hey Lawdy Mama
02 - I'll Get Mine Bye And Bye
03 - Now Do You Call That A Buddy
04 - Yes Suh!
05 - When It's Sleepy Time Down South
06 - Leap Frog
07 - I Used To Love You (But It's All Over Now)
08 - I'll Be Glad When You're Dead, You Rascal You
09 - (Get Some) Cash For You Trash
10 - Among My Souvenirs
11 - Coquette
12 - I Never Knew
13 - Jodie Man
14 - I Wonder
15 - You Won't Be Satisfied
16 - The Frim Fram Sauce
17 - Maybe It's Becouse
18 - I'll Keep The Lovelight Burning (In My Heart)
19 - That Lucky Old Sun
20 - Blueberry Hill
21 - You Can't Lose A Broken Heart
22 - My Sweet Hunk O' Trash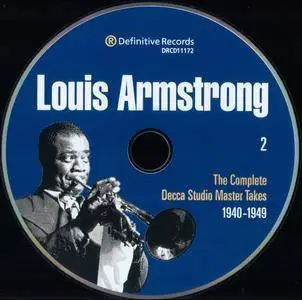 EAC extraction logfile from 26. May 2008, 14:23 for CD
Louis Armstrong / The Complete Decca Studio Master Takes 1940-1949 (disc 1)

Used drive : PLEXTOR DVDR PX-810SA Adapter: 3 ID: 1
Read mode : Secure with NO C2, accurate stream, disable cache
Read offset correction : 48
Overread into Lead-In and Lead-Out : No

Used output format : C:\Archivos de programa\FLAC\flac.exe (User Defined Encoder)
128 kBit/s
Additional command line options : -V -8 -T "artist=%a" -T "title=%t" -T "album=%g" -T "date=%y" -T "tracknumber=%n" -T "genre=%m" %s

Other options :
Fill up missing offset samples with silence : Yes
Delete leading and trailing silent blocks : No
Installed external ASPI interface


Track 1
Filename C:\audio-rips\01 - Hep Cats' Ball.wav

Pre-gap length 0:00:02.00

Peak level 99.8 %
Track quality 100.0 %
Test CRC 3CCE536C
Copy CRC 3CCE536C
Copy OK

Track 2
Filename C:\audio-rips\02 - You've Got Me Voodoo'd.wav

Pre-gap length 0:00:02.98

Peak level 99.9 %
Track quality 100.0 %
Test CRC BAED8420
Copy CRC BAED8420
Copy OK

Track 3
Filename C:\audio-rips\03 - Harlem Stomp.wav

Pre-gap length 0:00:02.98

Peak level 99.9 %
Track quality 100.0 %
Test CRC 8651F62B
Copy CRC 8651F62B
Copy OK

Track 4
Filename C:\audio-rips\04 - Wolverine Blues.wav

Pre-gap length 0:00:02.98

Peak level 99.9 %
Track quality 99.9 %
Test CRC ECBE6973
Copy CRC ECBE6973
Copy OK

Track 5
Filename C:\audio-rips\05 - Lazy 'Sippi Steamer.wav

Pre-gap length 0:00:02.98

Peak level 99.9 %
Track quality 100.0 %
Test CRC 74827E8B
Copy CRC 74827E8B
Copy OK

Track 6
Filename C:\audio-rips\06 - W.P.A..wav

Pre-gap length 0:00:02.98

Peak level 100.0 %
Track quality 100.0 %
Test CRC AD2D5724
Copy CRC AD2D5724
Copy OK

Track 7
Filename C:\audio-rips\07 - Boog It.wav

Pre-gap length 0:00:02.98

Peak level 99.9 %
Track quality 100.0 %
Test CRC 321972CE
Copy CRC 321972CE
Copy OK

Track 8
Filename C:\audio-rips\08 - Cherry.wav

Pre-gap length 0:00:03.00

Peak level 99.9 %
Track quality 100.0 %
Test CRC 239CFF36
Copy CRC 239CFF36
Copy OK

Track 9
Filename C:\audio-rips\09 - Marie.wav

Pre-gap length 0:00:03.00

Peak level 99.9 %
Track quality 100.0 %
Test CRC 3AA7DEF5
Copy CRC 3AA7DEF5
Copy OK

Track 10
Filename C:\audio-rips\10 - Sweethearts On Parade.wav

Pre-gap length 0:00:03.00

Peak level 99.9 %
Track quality 100.0 %
Test CRC 823AB1DF
Copy CRC 823AB1DF
Copy OK

Track 11
Filename C:\audio-rips\11 - You Run Your Mouth, I'll Run My Business.wav

Pre-gap length 0:00:03.00

Peak level 99.9 %
Track quality 100.0 %
Test CRC 761302AB
Copy CRC 761302AB
Copy OK

Track 12
Filename C:\audio-rips\12 - Cut Off My Legs And Call Me 'Shorty'.wav

Pre-gap length 0:00:02.98

Peak level 99.9 %
Track quality 100.0 %
Test CRC 3988430E
Copy CRC 3988430E
Copy OK

Track 13
Filename C:\audio-rips\13 - Cain and Abel.wav

Pre-gap length 0:00:03.00

Peak level 99.9 %
Track quality 100.0 %
Test CRC 19AC2152
Copy CRC 19AC2152
Copy OK

Track 14
Filename C:\audio-rips\14 - Perdido Street Blues.wav

Pre-gap length 0:00:03.00

Peak level 99.9 %
Track quality 99.9 %
Test CRC 57F5514C
Copy CRC 57F5514C
Copy OK

Track 15
Filename C:\audio-rips\15 - 2.19 Blues.wav

Pre-gap length 0:00:03.00

Peak level 99.9 %
Track quality 99.9 %
Test CRC BCD3111A
Copy CRC BCD3111A
Copy OK

Track 16
Filename C:\audio-rips\16 - Down In Honky Tonk Town.wav

Pre-gap length 0:00:02.98

Peak level 99.9 %
Track quality 100.0 %
Test CRC 8DF40FF8
Copy CRC 8DF40FF8
Copy OK

Track 17
Filename C:\audio-rips\17 - Coal Cart Blues.wav

Pre-gap length 0:00:03.00

Peak level 99.6 %
Track quality 100.0 %
Test CRC 0F6C1487
Copy CRC 0F6C1487
Copy OK

Track 18
Filename C:\audio-rips\18 - Ev'rything's Been Done Before.wav

Pre-gap length 0:00:03.00

Peak level 99.9 %
Track quality 100.0 %
Test CRC 19F0C6A8
Copy CRC 19F0C6A8
Copy OK

Track 19
Filename C:\audio-rips\19 - I Cover The Waterfront.wav

Pre-gap length 0:00:03.00

Peak level 99.9 %
Track quality 100.0 %
Test CRC 7ECBC10A
Copy CRC 7ECBC10A
Copy OK

Track 20
Filename C:\audio-rips\20 - In The Gloaming.wav

Pre-gap length 0:00:03.00

Peak level 99.9 %
Track quality 100.0 %
Test CRC 3619124A
Copy CRC 3619124A
Copy OK

Track 21
Filename C:\audio-rips\21 - Long, Long Ago.wav

Pre-gap length 0:00:02.98

Peak level 100.0 %
Track quality 100.0 %
Test CRC 26516A8C
Copy CRC 26516A8C
Copy OK

No errors occured


End of status report

EAC extraction logfile from 26. May 2008, 16:01 for CD
Louis Armstrong / The Complete Decca Studio Master Takes 1940-1949 (disc 2)

Used drive : PLEXTOR DVDR PX-810SA Adapter: 3 ID: 1
Read mode : Secure with NO C2, accurate stream, disable cache
Read offset correction : 48
Overread into Lead-In and Lead-Out : No

Used output format : C:\Archivos de programa\FLAC\flac.exe (User Defined Encoder)
128 kBit/s
Additional command line options : -V -8 -T "artist=%a" -T "title=%t" -T "album=%g" -T "date=%y" -T "tracknumber=%n" -T "genre=%m" %s

Other options :
Fill up missing offset samples with silence : Yes
Delete leading and trailing silent blocks : No
Installed external ASPI interface


Track 1
Filename C:\audio-rips\01 - Hey Lawdy Mama.wav

Pre-gap length 0:00:02.00

Peak level 99.9 %
Track quality 100.0 %
Test CRC 14257913
Copy CRC 14257913
Copy OK

Track 2
Filename C:\audio-rips\02 - I'll Get Mine Bye And Bye.wav

Pre-gap length 0:00:01.98

Peak level 99.9 %
Track quality 99.9 %
Test CRC 2E88360D
Copy CRC 2E88360D
Copy OK

Track 3
Filename C:\audio-rips\03 - Now Do You Call That A Buddy.wav

Pre-gap length 0:00:01.98

Peak level 99.9 %
Track quality 100.0 %
Test CRC E08FDEA9
Copy CRC E08FDEA9
Copy OK

Track 4
Filename C:\audio-rips\04 - Yes Suh!.wav

Pre-gap length 0:00:02.00

Peak level 99.9 %
Track quality 100.0 %
Test CRC A4EB17F8
Copy CRC A4EB17F8
Copy OK

Track 5
Filename C:\audio-rips\05 - When It's Sleepy Time Down South.wav

Pre-gap length 0:00:02.00

Peak level 96.5 %
Track quality 100.0 %
Test CRC AB492187
Copy CRC AB492187
Copy OK

Track 6
Filename C:\audio-rips\06 - Leap Frog.wav

Pre-gap length 0:00:01.98

Peak level 99.9 %
Track quality 99.9 %
Test CRC B5B55646
Copy CRC B5B55646
Copy OK

Track 7
Filename C:\audio-rips\07 - I Used To Love You (But It's All Over Now).wav

Pre-gap length 0:00:01.98

Peak level 99.9 %
Track quality 100.0 %
Test CRC EA999870
Copy CRC EA999870
Copy OK

Track 8
Filename C:\audio-rips\08 - I'll Be Glad When You're Dead, You Rascal You.wav

Pre-gap length 0:00:02.00

Peak level 99.9 %
Track quality 100.0 %
Test CRC 2DCF6645
Copy CRC 2DCF6645
Copy OK

Track 9
Filename C:\audio-rips\09 - (Get Some) Cash For You Trash.wav

Pre-gap length 0:00:02.00

Peak level 99.9 %
Track quality 100.0 %
Test CRC 716C0F11
Copy CRC 716C0F11
Copy OK

Track 10
Filename C:\audio-rips\10 - Among My Souvenirs.wav

Pre-gap length 0:00:02.00

Peak level 99.9 %
Track quality 100.0 %
Test CRC F8EC4310
Copy CRC F8EC4310
Copy OK

Track 11
Filename C:\audio-rips\11 - Coquette.wav

Pre-gap length 0:00:01.98

Peak level 99.9 %
Track quality 100.0 %
Test CRC 015C78F3
Copy CRC 015C78F3
Copy OK

Track 12
Filename C:\audio-rips\12 - I Never Knew.wav

Pre-gap length 0:00:02.00

Peak level 99.9 %
Track quality 100.0 %
Test CRC 926FDE5A
Copy CRC 926FDE5A
Copy OK

Track 13
Filename C:\audio-rips\13 - Jodie Man.wav

Pre-gap length 0:00:01.98

Peak level 99.2 %
Track quality 100.0 %
Test CRC 6A22AC61
Copy CRC 6A22AC61
Copy OK

Track 14
Filename C:\audio-rips\14 - I Wonder.wav

Pre-gap length 0:00:01.98

Peak level 98.8 %
Track quality 100.0 %
Test CRC 9BF2ED41
Copy CRC 9BF2ED41
Copy OK

Track 15
Filename C:\audio-rips\15 - You Won't Be Satisfied.wav

Pre-gap length 0:00:02.00

Peak level 99.9 %
Track quality 100.0 %
Test CRC 9B0E49A5
Copy CRC 9B0E49A5
Copy OK

Track 16
Filename C:\audio-rips\16 - The Frim Fram Sauce.wav

Pre-gap length 0:00:01.98

Peak level 100.0 %
Track quality 99.9 %
Test CRC E1048927
Copy CRC E1048927
Copy OK

Track 17
Filename C:\audio-rips\17 - Maybe It's Becouse.wav

Pre-gap length 0:00:02.00

Peak level 98.9 %
Track quality 100.0 %
Test CRC 1AB63B9A
Copy CRC 1AB63B9A
Copy OK

Track 18
Filename C:\audio-rips\18 - I'll Keep The Lovelight Burning (In My Heart).wav

Pre-gap length 0:00:02.00

Peak level 99.9 %
Track quality 100.0 %
Test CRC 84587BD8
Copy CRC 84587BD8
Copy OK

Track 19
Filename C:\audio-rips\19 - That Lucky Old Sun.wav

Pre-gap length 0:00:01.98

Peak level 99.9 %
Track quality 100.0 %
Test CRC BDE009C5
Copy CRC BDE009C5
Copy OK

Track 20
Filename C:\audio-rips\20 - Blueberry Hill.wav

Pre-gap length 0:00:01.98

Peak level 99.9 %
Track quality 100.0 %
Test CRC 611E96E4
Copy CRC 611E96E4
Copy OK

Track 21
Filename C:\audio-rips\21 - You Can't Lose A Broken Heart.wav

Pre-gap length 0:00:02.00

Peak level 99.9 %
Track quality 100.0 %
Test CRC 0F1109DF
Copy CRC 0F1109DF
Copy OK

Track 22
Filename C:\audio-rips\22 - My Sweet Hunk O' Trash.wav

Pre-gap length 0:00:02.00

Peak level 99.9 %
Track quality 100.0 %
Test CRC BD42B98A
Copy CRC BD42B98A
Copy OK

No errors occured


End of status report

===