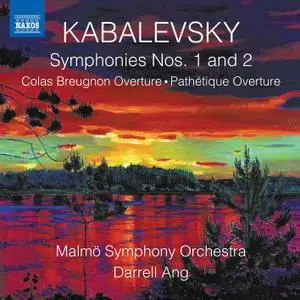 Malmö Symphony Orchestra & Darrell Ang - Kabalevsky: Works for Orchestra (2019)
WEB FLAC (tracks) - 245 Mb | MP3 CBR 320 kbps - 128 Mb | Digital booklet | 00:51:28
Classical | Label: Naxos Records
Dmitry Kabalevsky found his mature style and achieved international success with his first opera Colas Breugnon, the overture of which was soon picked up as an orchestral showpiece in the West. The Second Symphony was likewise championed by conductors such as Arturo Toscanini, its bittersweet sense of drama and lyricism comparable with Prokofiev. Dedicated to the 15th anniversary of the Bolshevik Revolution, the First Symphony illustrates progress from oppression to liberation, while the later Pathetique Overture is a rousing and highly effective reminder of Kabalevsky's skill in orchestration. Founded in 1925, the Malmo Symphony Orchestra is one of the leading major orchestras in Sweden. Performing the full breadth of the symphonic repertoire, the MSO collaborates with prominent international conductors and soloists, including its current chief conductor Marc Soustrot. Since 2015 the MSO has resided in Malmo Live Concert Hall, a state of the art facility known for its world class acoustics.
Tracklist:1.
Colas Breugnon, Op. 24: Overture
(04:58)
2.
Symphony No. 1 in C-Sharp Minor, Op. 18: I. Andante molto sostenuto
(08:21)
3.
Symphony No. 1 in C-Sharp Minor, Op. 18: II. Allegro molto agitato
(10:34)
4.
Symphony No. 2 in C Minor, Op. 19: I. Allegro quasi presto
(07:36)
5.
Symphony No. 2 in C Minor, Op. 19: II. Andante non troppo
(09:00)
6.
Symphony No. 2 in C Minor, Op. 19: III. Prestissimo scherzando
(06:45)
7.
Pathétique Overture, Op. 64
(04:12)
–––––––––––-

DON'T MODIFY THIS FILE

–––––––––––-

PERFORMER: auCDtect Task Manager, ver. 1.6.0 RC1 build 1.6.0.1
Copyright © 2008-2010 y-soft. All rights reserved

ANALYZER: auCDtect: CD records authenticity detector, version 0.8.2
Copyright © 2004 Oleg Berngardt. All rights reserved.
Copyright © 2004 Alexander Djourik. All rights reserved.


FILE: 07 Pathétique Overture Op. 64.flac
Size: 25634901 Hash: 9C5B58899B834EAB1A2BD64A4EB9F6BA Accuracy: -m0
Conclusion: CDDA 100%
Signature: 20602F525D2024039A9D41C491C2EE3EA8CAC670
FILE: 06 Symphony No. 2 in C Minor Op. 19 III. Prestissimo scherzando.flac
Size: 33844575 Hash: 7280117C9DDF56EB379E6BED73463C77 Accuracy: -m0
Conclusion: CDDA 100%
Signature: D5A853B58C0C10E4245F2045910E2BF7A86492EA
FILE: 05 Symphony No. 2 in C Minor Op. 19 II. Andante non troppo.flac
Size: 37133622 Hash: 489D4B1B1A4DE1F08C14A2330D28B017 Accuracy: -m0
Conclusion: CDDA 100%
Signature: 48EF8F5F790F43D9129C86899C63B7264B5D8CA1
FILE: 04 Symphony No. 2 in C Minor Op. 19 I. Allegro quasi presto.flac
Size: 38313294 Hash: D24B0BEBAF0908449696379E1D215AF7 Accuracy: -m0
Conclusion: CDDA 100%
Signature: 8577046DF0E693F24A7769B63C278C41071A496B
FILE: 03 Symphony No. 1 in C-Sharp Minor Op. 18 II. Allegro molto agitato.flac
Size: 51562432 Hash: 52B048BD29027E36B1813D448CC59234 Accuracy: -m0
Conclusion: CDDA 99%
Signature: 38CF00E1E407EFC62C4EA5BD4B6C45A2CF174F2F
FILE: 02 Symphony No. 1 in C-Sharp Minor Op. 18 I. Andante molto sostenuto.flac
Size: 34870327 Hash: BCCDB36F1815D467FE1396AD7E6B90F9 Accuracy: -m0
Conclusion: CDDA 100%
Signature: FD948A601BD4838283853D4264F96FC24F3663E4
FILE: 01 Colas Breugnon Op. 24 Overture.flac
Size: 25239147 Hash: 475F2F40E38213085F1EFA1210BC924B Accuracy: -m0
Conclusion: CDDA 100%
Signature: A4E86FB6777994D6C8E21A5D577018670E30CD14