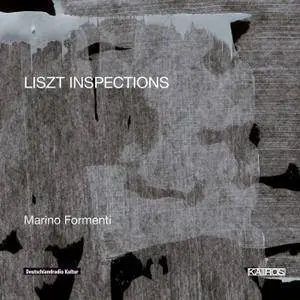 Marino Formenti - Liszt Inspections (2015)
Classical | MP3 CBR 320 kbps | 02:10:16 | 299 MB
Label: Kairos
Pianist Marino Formenti, one of the foremost performers of contemporary music, takes the listener on a dazzling and fluidly executed excursion through thirty works by thirteen composers, through three centuries and two continents all based on the mutual and deep connection to the music of Franz Liszt. Marino Formentis unusual combination of emotion and intelligence characterizes him as one of todays most interesting musicians. The Los Angeles Times has lauded him as a Glenn Gould for the 21st c. What I have attempted to do here is to project Liszt into the future, using the power and freedom of the imagination. To me, painting Liszt as a student of the Spectralists is the logical consequence of Zimmermans spherical form of timea foregone conclusion by now, in an era of YouTube, of universal simultaneity and availability.
Tracklist:
Disc 1 (01:11:15)
1. 5 Ungarische Volkslieder, S. 245: No. 5, Erdó, erdó, sürü erdó árnayában (2:55)
2. Slowakische Erinnerungen aus der Kindheit: No. 20, Knabenschwermut (1:11)
3. 5 Kleine Klavierstücke, S. 192: No. 2, Lento assai (3:00)
4. Játékok, Vol. 6: .Waiting for Susan. (1:22)
5. Bagatelle sans tonalité, S. 216a (2:48)
6. Études, Book 1: No. 3, Touches bloquées (2:09)
7. Vexierbilder II: I. Speech of Clouds (4:59)
8. Historische ungarische Bildnisse, S. 205: No. 7, Michael Mosonyi (7:41)
9. Klavierstück No. 6 "Bagatellen" (13:17)
10. Harmonies poétiques et religieuses, S. 173: No. 7, Funérailles (10:51)
11. Klavierstück No. 7 (9:21)
12. Années de pèlerinage II, S. 161: No. 2, Il pensieroso (4:04)
13. Piano Sonata No. 6 (7:37)
Disc 2 (59:01)
1. Années de pèlerinage I, S. 160: No. 2, Au lac de Wallenstadt (4:36)
2. 6 Encores for Piano: No. 3, Wasserklavier (2:19)
3. Wiegenlied, S. 198 (3:54)
4. 6 Encores for Piano: No. 1, Brin (2:01)
5. Nature Pieces: No. 4, — (1:47)
6. En rêve, S. 207 (2:04)
7. Études, Book 2: No. 11, En suspens (2:11)
8. Cloches d'adieu, et un sourire (4:11)
9. Weihnachtsbaum, S. 186: No. 9, Abendglocken (4:42)
10. China Gates (4:48)
11. In festo transfigurationis Domini nostri Jesu Christi, S. 188 (4:01)
12. Klang, Third Hour "Natürliche Dauern", Op. 83: No. 5, — (6:08)
13. Resignazione, S. 187a (2:14)
14. Polveri laterali (1:51)
15. Weihnachtsbaum, S. 186: No. 2, O heilige Nacht! (7:10)
16. Piano Piece 1964 (5:04)