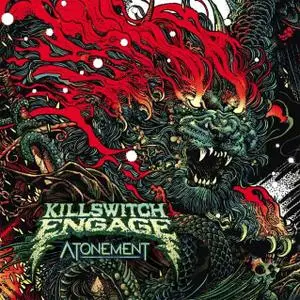 Killswitch Engage - Atonement (2019)
U.S.A. | MP3 CBR 320 Kbps | 89 MB
Metalcore | Label : Metal Blade Records
Massachusetts metallers KILLSWITCH ENGAGE will release their new album, "Atonement", on August 16 via Metal Blade Records. "'Unleashed' is about inner passion and rage coming up to the surface," said singer Jesse Leach. "We all have that wild within that often stays dormant until a tragic event triggers and awakens it. This song is about that awakening within. I feel we were able to capture something raw and intense on this song and I'm stoked for everyone to hear it! The new album 'Atonement' is a reflection of perseverance and passion through the trials and suffering of our existence." The elaborate illustration on the "Atonement" album cover was created by none other than talented U.K.-based artist Richey Beckett (METALLICA, MASTODON) with the band's own Mike D'Antonio handling art direction and layout duties. "Atonement" features guest appearances by the band's former lead singer Howard Jones and TESTAMENT frontman Chuck Billy. It marks the band's third full-length release since the return of Leach, who rejoined the group in 2012.