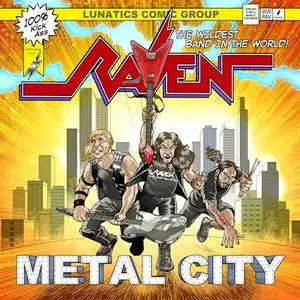 Raven - Metal City (2020)
United Kingdom | MP3 CBR 320 Kbps | 90 MB
NWOBHM, Speed Metal | Label : Steamhammer
Raven issue 14th full-length studio album Metal City on September 18th, 2020 through Steamhammer / SPV. The outing marks the first Raven studio album to feature Fear Factory drummer Mike Heller, who replaced Joe Hasselvander in 2017. Frontman John Gallagher commented: "Our initial goal was just to raise the bar once more. We did a good job on ExtermiNation [2015] and decided we just wanted more of everything next time. However, things changed once we got Mike on board. Attitude and tempos got revved up a lot! Mike is a ball of energy. He has a good ear and is a big fan of the early albums, especially the crazy feel. He's kicked us into a higher gear where we feel that we can play anything and everything we write with no restrictions." Metal City was recorded at Michael Wagner's WireWorld Studio in Nashville, Tennessee. Mixing and mastering was handled by Chris "Zeuss" Harris.