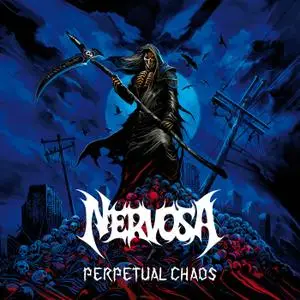 Nervosa - Perpetual Chaos (2021)
Brazil | MP3 CBR 320 Kbps | 102 MB
Thrash Metal | Label : Napalm Records
Thrash metal powerhouse NERVOSA attacks with inexorable full femme power, leaving the world in Perpetual Chaos. The newly staffed quartet showcases their ability for impetuously feral, pungently sharp riffs and aggressive vocals on 13 massive tracks. The new line up – featuring founding guitarist Prika Amaral and talented new members Diva Satanica on vocals, Mia Wallace on bass and Eleni Nota on drums – delivers a massive punch of thrash spliced with remarkable death metal assaults. The powerful new formation of NERVOSA adds a contemporary touch to this already thrashing institution of metal. Since their formation in 2010 and leading up to their latest full-length surge, 2018's groundbreaking Downfall of Mankind, NERVOSA has delivered pure brute records in consistent intervals. Their fourth full-length, Perpetual Chaos, builds upon the turbulence – adding diverse musical elements to create an infallible new standout.