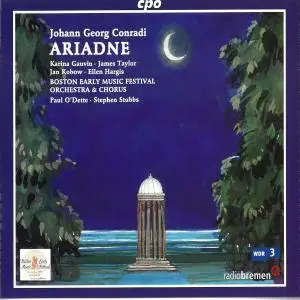 Karina Gauvin - Conradi: Ariadne (2005)
WEB FLAC (tracks) - 849 MB | Tracks: 61 | 175:01 min
Style: Classical | Label: CPO
In the wake of the establishment of the first public opera house in Venice in 1637, emulators sprang up throughout Europe. Public (as opposed to court) opera?s furthest-flung 17th-century outpost was the free city of Hamburg, where, despite opposition from church authorities, opera was established at the Gänsemarkt in 1678. As I mentioned when recently reviewing a disc of his songs, the house opened with a performance of Johann Thiele?s Adam und Eva , but the loss of this sacred drama, along with a number of other early Hamburg operas, leaves Conradi?s Ariadne of 1691 with the distinction of being the earliest extant opera composed for the Gänsemarkt.