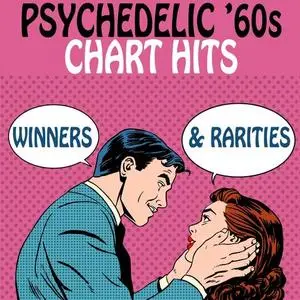 VA - Psychedelic '60s Chart Hits Winners & Rarities (2017)
Psychedelic rock, garage rock | FLAC (tracks) | Cover | 48:05 | 299 MB + 5% Recovery
Label: 45 RPM Records | Tracks: 17 | Rls.date: 2017
Psychedelic rock is a diverse style of rock music inspired, influenced, or representative of psychedelic culture, which is centred around perception-altering hallucinogenic drugs. Originating in the mid-1960s among British and American musicians, the sounds of psychedelic rock invokes three core effects of LSD: depersonalization, dechronicization, and dynamization; all of which detach the user from reality.
As a musical style, psychedelic rock attempts to replicate the effects of and enhance the mind-altering experiences of hallucinogenic drugs, incorporating new electronic sound effects and recording effects, extended solos, and improvisation.