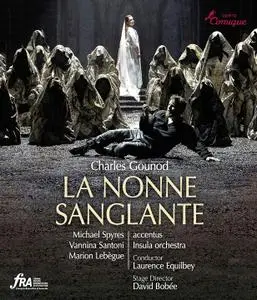 Laurence Equilbey, Insula orchestra - Gounod: La Nonne sanglante (2019) [BDRip]
BluRay-rip | AVC | MKV 1920x1080 / 6215 kbps / 29,97 fps | 139 min | 7,55 Gb
Audio: Français / DTS / 6ch / 48.0 KHz / 24 bits
Classical | Naxos | Sub: French, English, German, Japanese, Korean
The plot of Gounods opera La Nonne sanglante (The Bleeding Nun) is drawn from Matthew Lewiss once famous 1796 novel The Monk. The subject is a Gothic melodrama featuring warring families, two lovers, and the vengeful spectre of the Nun, to which Gounod responds with music that fuses Romanticism with the supernatural on the grandest scale. This ground-breaking production features memorable set pieces enhanced by the stark drama of the stage setting and brilliant cinematic lighting effects.