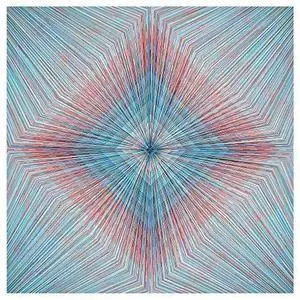 Toydrum - My Eye On You (To Reinvision) (2017)
Electronic | 1:17:24 | WEB FLAC (tracks) | 455 MB
Label: Skint Records / BMG
Toydrum - My Eye On You (To Reinvision)' is a collective interpretation of the duo's catalogue to date and runs the gamut from Nick Cave's balladry to Trentmoller's drum and base tinted electronica.
Toydrum aka Griffith and Clements met as members of UNKLE and have released two critically acclaimed albums – Distant Focus Vol. 1 and Evangelist - under the Toydrum moniker. The latter featured the late musical maverick Gavin Clark most notably on the soundtrack for Shane Meadow's This Is England '90. The duo have created film soundtracks – Detour starring Emory Cohen, Tye Sheridan and Bel Powley, Alice Lowe's Prevenge and Solitudo and as yet to be released London Fields, starring Billy Bob Thornton, Jim Sturgess and Amber Heard. Their remix catalogue includes a remix of the year for Band Of Skulls and Noel Gallagher's High Flying Birds.
Tracklist:
01. Toydrum & Gavin Clark - My Eye on You
02. Toydrum, Joel Wells & Trentemøller - Void & Form (Trentemøller Remix)
03. Toydrum & Alexander Palmestål - It Came Without Warning (Alexander Palmestål Rework)
04. Toydrum, Gavin Clark & Nick Cave & Warren Ellis - I've Got a Future (Nick Cave & Warren Ellis Rework)
05. Toydrum & M3ON - Waves Form (M3ON Rework)
06. Toydrum & Frank Wiedemann - God Song (Frank Wiedemann Remix)
07. Toydrum & Pye Corner Audio - I'm in Love Tonight (Pye Corner Audio Rework)
08. Toydrum, Steve Mason & Tom Gray - Just Like Going Home (Steve Mason & Tom Gray Rework)
09. Toydrum & Rival Consoles - Jesus Song (Rival Consoles Rework)
10. Toydrum, Joel Wells & Abi Wade - Blue Crystal Fire (Joel Wells & Abi Wade Rework)
11. Toydrum & Correlations - Oscars Theme (Correlations Rework)
12. Toydrum & Samana - It Came Without Warning (Another Man Lost) [Samana Rework]
13. Toydrum & Richard Norris - Know One Will Ever Know (Richard Norris Remix)
14. Toydrum, Gavin Clark & Mojib - I've Got a Future (Mojib's Two Litanies Remix)
fooCDtect - foobar2000 + auCDtect, baralgin.

auCDtect: CD records authenticity detector, version 0.8.2
Copyright © 2004 Oleg Berngardt. All rights reserved.
Copyright © 2004 Alexander Djourik. All rights reserved.

mode: 0

===========================================
Track: 02. Toydrum, Joel Wells & Trentemøller - Void & Form (Trentemøller Remix)

Processing file: [02. Toydrum, Joel Wells & Trentemøller - Void & Form (Trentemøller Remix).aucdtect]
Detected average hi-boundary frequency: 2.033444e+004 Hz
Detected average lo-boundary frequency: 1.416205e+004 Hz
Detected average hi-cut frequency: 2.166903e+004 Hz
Detected average lo-cut frequency: 1.426162e+004 Hz
Maximum probablis boundary frequency: 2.189100e+004 Hz
Coefficient of nonlinearity of a phase: 1.201616e-001
First order smothness: 3.935237e-001
Second order smothness: 6.901282e-001

––––––––––––––––––––––––––––––
This track looks like CDDA with probability 100%

===========================================
Track: 03. Toydrum & Alexander Palmestål - It Came Without Warning (Alexander Palmestål Rework)

Processing file: [03. Toydrum & Alexander Palmestål - It Came Without Warning (Alexander Palmestål Rework).aucdtect]
Detected average hi-boundary frequency: 2.073057e+004 Hz
Detected average lo-boundary frequency: 1.529899e+004 Hz
Detected average hi-cut frequency: 2.114743e+004 Hz
Detected average lo-cut frequency: 1.660898e+004 Hz
Maximum probablis boundary frequency: 2.093800e+004 Hz
Coefficient of nonlinearity of a phase: 5.507218e-002
First order smothness: 4.727820e-001
Second order smothness: 7.136901e-001

––––––––––––––––––––––––––––––
This track looks like CDDA with probability 100%

===========================================
Track: 01. Toydrum & Gavin Clark - My Eye on You

Processing file: [01. Toydrum & Gavin Clark - My Eye on You.aucdtect]
Detected average hi-boundary frequency: 2.016456e+004 Hz
Detected average lo-boundary frequency: 1.377107e+004 Hz
Detected average hi-cut frequency: 2.074974e+004 Hz
Detected average lo-cut frequency: 8.532196e+003 Hz
Maximum probablis boundary frequency: 2.189100e+004 Hz
Coefficient of nonlinearity of a phase: 1.954208e-001
First order smothness: 3.306333e-001
Second order smothness: 7.135493e-001


––––––––––––––––––––––––––––––
This track looks like CDDA with probability 100%

===========================================
Track: 04. Toydrum, Gavin Clark & Nick Cave & Warren Ellis - I've Got a Future (Nick Cave & Warren Ellis Rework)

Processing file: [04. Toydrum, Gavin Clark & Nick Cave & Warren Ellis - I've Got a Future (Nick Cave & Warren Ellis Rework).aucdtect]
Detected average hi-boundary frequency: 2.015790e+004 Hz
Detected average lo-boundary frequency: 1.323873e+004 Hz
Detected average hi-cut frequency: 2.080632e+004 Hz
Detected average lo-cut frequency: 7.253019e+003 Hz
Maximum probablis boundary frequency: 2.189100e+004 Hz
Coefficient of nonlinearity of a phase: 3.711846e-002
First order smothness: 3.644647e-001
Second order smothness: 6.888383e-001

––––––––––––––––––––––––––––––
This track looks like CDDA with probability 100%

===========================================
Track: 05. Toydrum & M3ON - Waves Form (M3ON Rework)

Processing file: [05. Toydrum & M3ON - Waves Form (M3ON Rework).aucdtect]
Detected average hi-boundary frequency: 2.020938e+004 Hz
Detected average lo-boundary frequency: 1.515598e+004 Hz
Detected average hi-cut frequency: 2.054689e+004 Hz
Detected average lo-cut frequency: 1.316234e+004 Hz
Maximum probablis boundary frequency: 2.061500e+004 Hz
Coefficient of nonlinearity of a phase: 8.396829e-002
First order smothness: 3.875740e-001
Second order smothness: 6.501479e-001

––––––––––––––––––––––––––––––
This track looks like CDDA with probability 100%

===========================================
Track: 06. Toydrum & Frank Wiedemann - God Song (Frank Wiedemann Remix)

Processing file: [06. Toydrum & Frank Wiedemann - God Song (Frank Wiedemann Remix).aucdtect]
Detected average hi-boundary frequency: 2.039449e+004 Hz
Detected average lo-boundary frequency: 1.396129e+004 Hz
Detected average hi-cut frequency: 2.085291e+004 Hz
Detected average lo-cut frequency: 1.126219e+004 Hz
Maximum probablis boundary frequency: 2.189100e+004 Hz
Coefficient of nonlinearity of a phase: 3.661949e-002
First order smothness: 4.968844e-001
Second order smothness: 3.951759e-001

––––––––––––––––––––––––––––––
This track looks like CDDA with probability 100%

===========================================
Track: 07. Toydrum & Pye Corner Audio - I'm in Love Tonight (Pye Corner Audio Rework)

Processing file: [07. Toydrum & Pye Corner Audio - I'm in Love Tonight (Pye Corner Audio Rework).aucdtect]
Detected average hi-boundary frequency: 2.038214e+004 Hz
Detected average lo-boundary frequency: 1.552631e+004 Hz
Detected average hi-cut frequency: 2.062941e+004 Hz
Detected average lo-cut frequency: 1.608504e+004 Hz
Maximum probablis boundary frequency: 2.189100e+004 Hz
Coefficient of nonlinearity of a phase: 2.473110e-002
First order smothness: 3.717629e-001
Second order smothness: 6.654518e-001

––––––––––––––––––––––––––––––
This track looks like CDDA with probability 100%

===========================================
Track: 08. Toydrum, Steve Mason & Tom Gray - Just Like Going Home (Steve Mason & Tom Gray Rework)

Processing file: [08. Toydrum, Steve Mason & Tom Gray - Just Like Going Home (Steve Mason & Tom Gray Rework).aucdtect]
Detected average hi-boundary frequency: 2.028512e+004 Hz
Detected average lo-boundary frequency: 1.428027e+004 Hz
Detected average hi-cut frequency: 2.091444e+004 Hz
Detected average lo-cut frequency: 1.006917e+004 Hz
Maximum probablis boundary frequency: 2.189100e+004 Hz
Coefficient of nonlinearity of a phase: 3.448869e-002
First order smothness: 3.659274e-001
Second order smothness: 6.807796e-001

––––––––––––––––––––––––––––––
This track looks like CDDA with probability 99%


===========================================
Track: 09. Toydrum & Rival Consoles - Jesus Song (Rival Consoles Rework)

Processing file: [09. Toydrum & Rival Consoles - Jesus Song (Rival Consoles Rework).aucdtect]
Detected average hi-boundary frequency: 2.060114e+004 Hz
Detected average lo-boundary frequency: 1.433205e+004 Hz
Detected average hi-cut frequency: 2.115898e+004 Hz
Detected average lo-cut frequency: 1.581655e+004 Hz
Maximum probablis boundary frequency: 2.150400e+004 Hz
Coefficient of nonlinearity of a phase: 1.663259e-002
First order smothness: 6.022857e-001
Second order smothness: 5.065143e-001

––––––––––––––––––––––––––––––
This track looks like CDDA with probability 99%

===========================================
Track: 10. Toydrum, Joel Wells & Abi Wade - Blue Crystal Fire (Joel Wells & Abi Wade Rework)

Processing file: [10. Toydrum, Joel Wells & Abi Wade - Blue Crystal Fire (Joel Wells & Abi Wade Rework).aucdtect]
Detected average hi-boundary frequency: 2.038174e+004 Hz
Detected average lo-boundary frequency: 1.465444e+004 Hz
Detected average hi-cut frequency: 2.113367e+004 Hz
Detected average lo-cut frequency: 9.845776e+003 Hz
Maximum probablis boundary frequency: 2.189100e+004 Hz
Coefficient of nonlinearity of a phase: 6.932703e-002
First order smothness: 4.548067e-001
Second order smothness: 5.485893e-001

––––––––––––––––––––––––––––––
This track looks like CDDA with probability 100%

===========================================
Track: 11. Toydrum & Correlations - Oscars Theme (Correlations Rework)

Processing file: [11. Toydrum & Correlations - Oscars Theme (Correlations Rework).aucdtect]
Detected average hi-boundary frequency: 2.068126e+004 Hz
Detected average lo-boundary frequency: 1.535852e+004 Hz
Detected average hi-cut frequency: 2.174366e+004 Hz
Detected average lo-cut frequency: 1.476572e+004 Hz
Maximum probablis boundary frequency: 2.189100e+004 Hz
Coefficient of nonlinearity of a phase: 1.249122e-001
First order smothness: 4.264968e-001
Second order smothness: 6.242038e-001

––––––––––––––––––––––––––––––
This track looks like CDDA with probability 100%

===========================================
Track: 12. Toydrum & Samana - It Came Without Warning (Another Man Lost) [Samana Rework]

Processing file: [12. Toydrum & Samana - It Came Without Warning (Another Man Lost) [Samana Rework].aucdtect]
Detected average hi-boundary frequency: 2.021651e+004 Hz
Detected average lo-boundary frequency: 1.455681e+004 Hz
Detected average hi-cut frequency: 2.115859e+004 Hz
Detected average lo-cut frequency: 1.083557e+004 Hz
Maximum probablis boundary frequency: 2.114300e+004 Hz
Coefficient of nonlinearity of a phase: 7.269218e-002
First order smothness: 3.680224e-001
Second order smothness: 6.600281e-001

––––––––––––––––––––––––––––––
This track looks like CDDA with probability 100%

===========================================
Track: 13. Toydrum & Richard Norris - Know One Will Ever Know (Richard Norris Remix)

Processing file: [13. Toydrum & Richard Norris - Know One Will Ever Know (Richard Norris Remix).aucdtect]
Detected average hi-boundary frequency: 2.048589e+004 Hz
Detected average lo-boundary frequency: 1.637758e+004 Hz
Detected average hi-cut frequency: 2.056746e+004 Hz
Detected average lo-cut frequency: 1.681262e+004 Hz
Maximum probablis boundary frequency: 1.996400e+004 Hz
Coefficient of nonlinearity of a phase: 1.276769e-002
First order smothness: 5.665536e-001
Second order smothness: 7.210138e-001

––––––––––––––––––––––––––––––
This track looks like MPEG with probability 95%

===========================================
Track: 14. Toydrum, Gavin Clark & Mojib - I've Got a Future (Mojib's Two Litanies Remix)

Processing file: [14. Toydrum, Gavin Clark & Mojib - I've Got a Future (Mojib's Two Litanies Remix).aucdtect]
Detected average hi-boundary frequency: 2.021014e+004 Hz
Detected average lo-boundary frequency: 1.352781e+004 Hz
Detected average hi-cut frequency: 2.095982e+004 Hz
Detected average lo-cut frequency: 7.220283e+003 Hz
Maximum probablis boundary frequency: 2.189100e+004 Hz
Coefficient of nonlinearity of a phase: 1.022245e-001
First order smothness: 3.402187e-001
Second order smothness: 6.889429e-001

––––––––––––––––––––––––––––––
This track looks like CDDA with probability 100%

===========================================