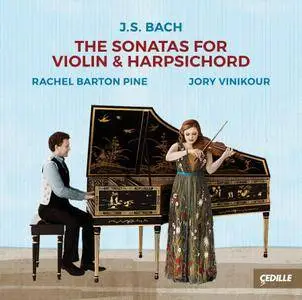 Rachel Barton Pine & Jory Vinikour - Bach: The Sonatas for Violin & Harpsichord (2018)
WEB FLAC (tracks) - 601 Mb | MP3 CBR 320 kbps - 230 Mb | 01:39:37
Classical | Label: Cedille Records
Violinist Rachel Barton Pine and harpsichordist Jory Vinikour, critically acclaimed artists of interntional renown- and also close friends-record together for the first time on this album of J.S. Bach's complete sonatas for violin and harpsichord. The artists approach these works as Bach intended: as trio sonatas with equally important roles for the violin and the harpsichord's treble and bass lines. In addition to the six Sonatas, the album offers the remarkable and ravishingly poetic Cantabile, BWV 1019a, a free-standing work that Bach originally conceived as a movement of the Sonata, BWV 1019. Cedille's audiophile engineering and the intimate acoustics of Evanston, Illinois' Nichols Hall allow the complex trio textures to blossom with detail. In all, the album sets a new standard for a body of work that Bach's son, CPE, considered among his father's finest compositions. Rachel Barton Pine is a Billboard chart-topping artist. Her 2016 album 'Testament', comprising JS Bach's Sonatas and Partitas for solo violin entered the Billboard Classical Chart in the No. 1 position, as did her 2013 Cedille album 'Violin Lullabies'. Making his Cedille label debut, Vinikour received Grammy Award nominations in the category of Best Solo Instrumental Recording for his 2013 album of modern American music for harpsichord and his 2012 release of Rameau's complete harpsichord works.
Tracklist:
Sonata for Violin & Keyboard No. 1 in B Minor, BWV 1014
I. Adagio
II. Allegro
III. Andante
IV. Allegro
Sonata for Violin & Keyboard No. 2 in A Major, BWV 1015
I. Dolce
II. Allegro
III. Andante un poco
IV. Presto
Sonata for Violin & Keyboard No. 3 in E Major, BWV 1016
I. (Adagio)
II. (Allegro)
III. Adagio ma non tanto
IV. Allegro
Sonata for Violin & Keyboard No. 4 in C Minor, BWV 1017
I. SiciliaNo. Largo
II. Allegro
III. Adagio
IV. Allegro
Sonata for Violin & Keyboard No. 5 in F Minor, BWV 1018
I. Largo
II. Allegro
III. Adagio
IV. Vivace
Sonata for Violin & Keyboard No. 6 in G Major, BWV 1019
I. Allegro
II. Largo
III. Allegro (Cembalo solo)
IV. Adagio
V. Allegro
Sonata for Violin & Keyboard No. 6 in G Major, BWV 1019a: I. Cantabile, ma un poco adagio
–––––––––––-

DON'T MODIFY THIS FILE

–––––––––––-

PERFORMER: auCDtect Task Manager, ver. 1.6.0 RC1 build 1.6.0.1
Copyright © 2008-2010 y-soft. All rights reserved

ANALYZER: auCDtect: CD records authenticity detector, version 0.8.2
Copyright © 2004 Oleg Berngardt. All rights reserved.
Copyright © 2004 Alexander Djourik. All rights reserved.


FILE: 9 - Rachel Barton Pine - Violin Sonata No. 3 in E Major, BWV 1016_ I. (Adagio).flac
Size: 25832660 Hash: D54B2ED8108DE3CD86A075E586DA0E46 Accuracy: -m0
Conclusion: CDDA 100%
Signature: D8D5BAFF2FF6AAD008228CA02936BCA6F3447662
FILE: 8 - Rachel Barton Pine - Violin Sonata No. 2 in A Major, BWV 1015_ IV. Presto.flac
Size: 27896994 Hash: BC1ECB0C8AE9785BEC84483D6730BC22 Accuracy: -m0
Conclusion: CDDA 100%
Signature: 0C74428228A3BEE86BA5AE9AF824AF4E8D3E8266
FILE: 7 - Rachel Barton Pine - Violin Sonata No. 2 in A Major, BWV 1015_ III. Andante un poco.flac
Size: 18063232 Hash: 85F8A6EAE237609D80CAAC00DEF58D41 Accuracy: -m0
Conclusion: CDDA 100%
Signature: D36E590E7B053FE9FAE7B34053B9A6F682EDCA6C
FILE: 6 - Rachel Barton Pine - Violin Sonata No. 2 in A Major, BWV 1015_ II. Allegro.flac
Size: 20152383 Hash: 417F51C6C1D9FC4B5F30C5E4E0688B7F Accuracy: -m0
Conclusion: CDDA 100%
Signature: 4224FB68E75B8732BD8F2389FA5FC19621F718A4
FILE: 5 - Rachel Barton Pine - Violin Sonata No. 2 in A Major, BWV 1015_ I. Dolce.flac
Size: 18736377 Hash: D9EAF37F33DCE3AE673620CCC3F02931 Accuracy: -m0
Conclusion: CDDA 100%
Signature: E3F74FF7D3A6EEFCF8B4CF33C4E3924086D27D04
FILE: 4 - Rachel Barton Pine - Violin Sonata No. 1 in B Minor, BWV 1014_ IV. Allegro.flac
Size: 21323971 Hash: 3771CFCA40FEA7F9B28C01073C2FD3AC Accuracy: -m0
Conclusion: CDDA 100%
Signature: 91A437BEEAA7A26ADE19647150DA380D6A8645A6
FILE: 3 - Rachel Barton Pine - Violin Sonata No. 1 in B Minor, BWV 1014_ III. Andante.flac
Size: 18492223 Hash: E827F1F33BEDDD919AF5D87732651FAB Accuracy: -m0
Conclusion: CDDA 100%
Signature: 248881971978633150D92BE39346FEB06D5AC1A5
FILE: 26 - Rachel Barton Pine - Violin Sonata No. 6 in G Major, BWV 1019a_ I. Cantabile, ma un poco adagio.flac
Size: 50070729 Hash: FABC5CD706C453A368D80BCE8BB9BC64 Accuracy: -m0
Conclusion: CDDA 100%
Signature: E211B6F447B40F1D8A93018EB0245AA834E29AB7
FILE: 25 - Rachel Barton Pine - Violin Sonata No. 6 in G Major, BWV 1019_ V. Allegro.flac
Size: 21152307 Hash: AD3A9BDB36B1139B1C00A254095FCEF4 Accuracy: -m0
Conclusion: CDDA 100%
Signature: 00DCC6C6140D184CBC7937E8AC27C72E0A63FAC8
FILE: 24 - Rachel Barton Pine - Violin Sonata No. 6 in G Major, BWV 1019_ IV. Adagio.flac
Size: 16139586 Hash: A8CF749FBFA578491FA270E2058E3AFE Accuracy: -m0
Conclusion: CDDA 100%
Signature: 99AF4440656E415F74AFD86D23B9B3AF1F10AB78
FILE: 23 - Jory Vinikour - Violin Sonata No. 6 in G Major, BWV 1019_ III. Allegro (Cembalo solo).flac
Size: 28208323 Hash: 43BAC70E866BBCF90CE83FCF73E2BCA1 Accuracy: -m0
Conclusion: CDDA 100%
Signature: BDC17B5D4425870514DEC96145134C336DEE3764
FILE: 22 - Rachel Barton Pine - Violin Sonata No. 6 in G Major, BWV 1019_ II. Largo.flac
Size: 9336739 Hash: B4C0AB4D13E33A57C09B3038AD8D287E Accuracy: -m0
Conclusion: CDDA 100%
Signature: 95482574362AA45AFF0DADEA8EFD9AC72ECFD521
FILE: 21 - Rachel Barton Pine - Violin Sonata No. 6 in G Major, BWV 1019_ I. Allegro.flac
Size: 21631441 Hash: 740BFB23F3A90D476ACDC2F206E69109 Accuracy: -m0
Conclusion: CDDA 100%
Signature: A2AAA46354FB1825BD59A30CFE8EBF8EA49289D6
FILE: 20 - Rachel Barton Pine - Violin Sonata No. 5 in F Minor, BWV 1018_ IV. Vivace.flac
Size: 16733507 Hash: 63530F6735763D50523FACBA5A5AED80 Accuracy: -m0
Conclusion: CDDA 100%
Signature: 1FAD019B4687E479360575D34D639DC74F7E4106
FILE: 2 - Rachel Barton Pine - Violin Sonata No. 1 in B Minor, BWV 1014_ II. Allegro.flac
Size: 18577504 Hash: 92D39067DCBBC2D41C9FFCA574841590 Accuracy: -m0
Conclusion: CDDA 100%
Signature: E5649731569E5027D6CF20C18A12E6561C143C67
FILE: 19 - Rachel Barton Pine - Violin Sonata No. 5 in F Minor, BWV 1018_ III. Adagio.flac
Size: 25930948 Hash: 6AE270513EA33E90B7918C81807227C1 Accuracy: -m0
Conclusion: CDDA 100%
Signature: 98BC35E04ACD514B988820DF79DC20780C63559A
FILE: 18 - Rachel Barton Pine - Violin Sonata No. 5 in F Minor, BWV 1018_ II. Allegro.flac
Size: 28230938 Hash: 10F1DCEBEF58E842E811A9D34A5F0B01 Accuracy: -m0
Conclusion: CDDA 100%
Signature: 623B7E2AC24E7B8A5DD9E6AB2254A5442564F312
FILE: 17 - Rachel Barton Pine - Violin Sonata No. 5 in F Minor, BWV 1018_ I. Largo.flac
Size: 43488572 Hash: 83C2966360AB947DE91BE7E4F70A7B8A Accuracy: -m0
Conclusion: CDDA 100%
Signature: 2FD20E6711082B4ACCF2955922BE4C965D3C4731
FILE: 16 - Rachel Barton Pine - Violin Sonata No. 4 in C Minor, BWV 1017_ IV. Allegro.flac
Size: 28909994 Hash: E3354BA769B604E496A878B52779F4E6 Accuracy: -m0
Conclusion: CDDA 100%
Signature: 9CFA6EF51BD41FDF83667C972BF6D060EA764ED9
FILE: 15 - Rachel Barton Pine - Violin Sonata No. 4 in C Minor, BWV 1017_ III. Adagio.flac
Size: 19882002 Hash: 8C26710AD822751FADE295BD3EC6ECF5 Accuracy: -m0
Conclusion: CDDA 100%
Signature: 71164F6BCE48954D5E8F9EDA7A55073C85D1F4DF
FILE: 14 - Rachel Barton Pine - Violin Sonata No. 4 in C Minor, BWV 1017_ II. Allegro.flac
Size: 28758203 Hash: 4EDDD4E060EF54A9B5B688C6B507F0EC Accuracy: -m0
Conclusion: CDDA 100%
Signature: FB4C87D899F9A4ADD12DD4914CA3F15FCE7CE59F
FILE: 13 - Rachel Barton Pine - Violin Sonata No. 4 in C Minor, BWV 1017_ I. Siciliano. Largo.flac
Size: 27891048 Hash: 3CBEDB31A3D0929C253D7C4DC9F425F9 Accuracy: -m0
Conclusion: CDDA 100%
Signature: 05DF2B8BC8F323A0FC2BB1C23E5FC9A93D762A08
FILE: 12 - Rachel Barton Pine - Violin Sonata No. 3 in E Major, BWV 1016_ IV. Allegro.flac
Size: 24745860 Hash: 1FDE20B2BB932E651261131237AAEA83 Accuracy: -m0
Conclusion: CDDA 100%
Signature: B33FA1B59A2F616B6B4570AF46DA3CB58466A9E0
FILE: 11 - Rachel Barton Pine - Violin Sonata No. 3 in E Major, BWV 1016_ III. Adagio ma non tanto.flac
Size: 27595865 Hash: 7C834B370AF34E4166370B3FA0982C51 Accuracy: -m0
Conclusion: CDDA 100%
Signature: B77831232A72504ACF1F1853622E6E3F345AB99F
FILE: 10 - Rachel Barton Pine - Violin Sonata No. 3 in E Major, BWV 1016_ II. (Allegro).flac
Size: 17854065 Hash: FA7B354154BAEDBF6C2864C6DDB925A7 Accuracy: -m0
Conclusion: CDDA 100%
Signature: 000EEB174F44D6F569E0EE6FAF4619BAFE42D596
FILE: 1 - Rachel Barton Pine - Violin Sonata No. 1 in B Minor, BWV 1014_ I. Adagio.flac
Size: 24481105 Hash: 9F6FF31FBCA2B779FA943E3260EC1D9C Accuracy: -m0
Conclusion: CDDA 100%
Signature: 096A51793470EE2094C03ACD35F290C2189B1E87