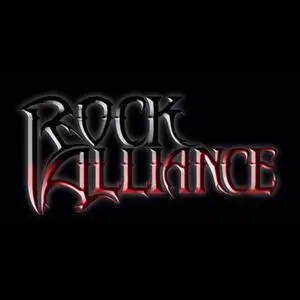 Rock Alliance - Rock Alliance (2017)
XLD Rip | FLAC (image+.cue, log) ~ 226.50 Mb | 31:06 | Scans included
Hard Rock | Country: Canada | Label: Perris Records - PERR5472
Rock Alliance which features a collaboration of musicians from all around the world have released their self-titled debut album. Perris Records' press release states (with slight edits): "Perris Records is proud to announce the worldwide release of Rock Alliance's self-titled CD. Rock Alliance was put together by song writer/musician Stewart Sutherland. Sutherland, founding member and bass player for the band Black Stone, wanted to create a high energy project featuring prominent rock musicians from around the globe. Soon to join the casting call were vocalist Eric Langlois (LIFT), Marco Bressette (Protest The Hero, Dead Tired), Kenny Aronoff (Mellencamp, Fogerty) and John Rabbit Bundrick (The Who, Johnny Nash) and Phil Robertson (Burton Cummings).
In 2015, Rock Alliance hit Jukasa Studios to cut some tracks. Production was handled by the Juno Award winning duo of Darren Jeter Magierowski and Jill Zimmerman. Two tracks from the sessions, "Bad News Travels Fast" and the aptly titled "Rock And Roll Resurrection" received airplay around the world. In fact, "Rock And Roll Resurrection" became one of the most played rock songs on digital radio. Rock Alliance soon gained traction and other musicians were invited to contribute such as Chris Moore and Jason Pierce (Our Lady Peace, Paramore). With the recent release of the hot new single "Radio", the group is ready to put together a line up for some live shows. For fans of Journey, Boston, Aerosmith, Mötley Crüe and Skid Row."
Track List:
01. Rock and Roll Resurrection (3:51)
02. Bad News Travels Fast (3:55)
03. 3 Men 3 Horses (3:45)
04. Radio (3:58)
05. Kick 17 (4:02)
06. Not On Me (3:54)
07. Bring The Fight (3:47)
08. Everything She Wants (3:54)
Eric Langlois - Vocals (LIFT)
Marco Bressette - Guitars (Protest The Hero,Dead Tired)
Kenny Aronoff - Drums (Mellencamp, Fogerty)
John Rabbit Bundrick - Keyboards (The Who, Johnny Nash)
Chris Moore - Drums (Endangered Species, Project Nfidelikah)
Jason Pierce - Drums (Our Lady Peace, Paramore)
Phil Robertson - Drums (Burton Cummings, Ray Charles)
Produсers - Darren Jeter Magierowski, Jill Zimmerman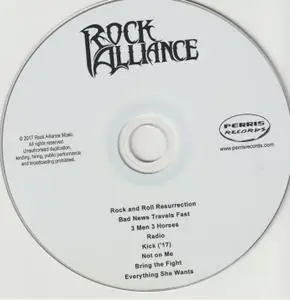 X Lossless Decoder version 20191004 (152.0)

XLD extraction logfile from 2020-06-17 10:26:52 +1000

Rock Alliance / Rock Alliance

Used drive : Optiarc DVD RW AD-7700S (revision 1.D5)
Media type : Pressed CD

Ripper mode : XLD Secure Ripper
Disable audio cache : OK for the drive with a cache less than 1375KiB
Make use of C2 pointers : NO
Read offset correction : 48
Max retry count : 20
Gap status : Analyzed, Appended

TOC of the extracted CD
Track | Start | Length | Start sector | End sector
––––––––––––––––––––––––––––-
1 | 00:00:00 | 03:51:15 | 0 | 17339
2 | 03:51:15 | 03:55:17 | 17340 | 34981
3 | 07:46:32 | 03:44:66 | 34982 | 51847
4 | 11:31:23 | 03:57:70 | 51848 | 69692
5 | 15:29:18 | 04:01:69 | 69693 | 87836
6 | 19:31:12 | 03:54:14 | 87837 | 105400
7 | 23:25:26 | 03:47:37 | 105401 | 122462
8 | 27:12:63 | 03:53:45 | 122463 | 139982

AccurateRip Summary
Disc not found in AccurateRip DB.

All Tracks
Filename : /Volumes/Seagate Backup Plus Drive/Music/1 My COLLECTION/Rock Alliance/2017 - Rock Alliance/Rock Alliance.flac
CRC32 hash (test run) : 4D115131
CRC32 hash : 4D115131
CRC32 hash (skip zero) : 9675106F
Statistics
Read error : 0
Jitter error (maybe fixed) : 0
Retry sector count : 0
Damaged sector count : 0

Track 01
Pre-gap length : 00:02:00

CRC32 hash (test run) : 5025BA25
CRC32 hash : 5025BA25
CRC32 hash (skip zero) : DE02B4A5
AccurateRip v1 signature : 050D4674
AccurateRip v2 signature : E79C8CB3
->Track not present in AccurateRip database.
Statistics
Read error : 0
Jitter error (maybe fixed) : 0
Retry sector count : 0
Damaged sector count : 0

Track 02

CRC32 hash (test run) : 6DD868D2
CRC32 hash : 6DD868D2
CRC32 hash (skip zero) : EA84F5D2
AccurateRip v1 signature : F44F78B7
AccurateRip v2 signature : E517F20D
->Track not present in AccurateRip database.
Statistics
Read error : 0
Jitter error (maybe fixed) : 0
Retry sector count : 0
Damaged sector count : 0

Track 03

CRC32 hash (test run) : F212BE41
CRC32 hash : F212BE41
CRC32 hash (skip zero) : 80B215F3
AccurateRip v1 signature : 5802CB64
AccurateRip v2 signature : 69B89C6C
->Track not present in AccurateRip database.
Statistics
Read error : 0
Jitter error (maybe fixed) : 0
Retry sector count : 0
Damaged sector count : 0

Track 04

CRC32 hash (test run) : 354210B0
CRC32 hash : 354210B0
CRC32 hash (skip zero) : 8E304E09
AccurateRip v1 signature : 90F74861
AccurateRip v2 signature : B63C5E13
->Track not present in AccurateRip database.
Statistics
Read error : 0
Jitter error (maybe fixed) : 0
Retry sector count : 0
Damaged sector count : 0

Track 05

CRC32 hash (test run) : A3C3DA7A
CRC32 hash : A3C3DA7A
CRC32 hash (skip zero) : D1C06298
AccurateRip v1 signature : 1D7F9DEE
AccurateRip v2 signature : F2461E6A
->Track not present in AccurateRip database.
Statistics
Read error : 0
Jitter error (maybe fixed) : 0
Retry sector count : 0
Damaged sector count : 0

Track 06

CRC32 hash (test run) : 2CE042FD
CRC32 hash : 2CE042FD
CRC32 hash (skip zero) : DB8C852E
AccurateRip v1 signature : EBE3D4C2
AccurateRip v2 signature : E5BD0BDB
->Track not present in AccurateRip database.
Statistics
Read error : 0
Jitter error (maybe fixed) : 0
Retry sector count : 0
Damaged sector count : 0

Track 07

CRC32 hash (test run) : F2C80D14
CRC32 hash : F2C80D14
CRC32 hash (skip zero) : 19C5BD20
AccurateRip v1 signature : 21EFC36D
AccurateRip v2 signature : 218170AD
->Track not present in AccurateRip database.
Statistics
Read error : 0
Jitter error (maybe fixed) : 0
Retry sector count : 0
Damaged sector count : 0

Track 08

CRC32 hash (test run) : 43D2CE02
CRC32 hash : 43D2CE02
CRC32 hash (skip zero) : AEAEFF82
AccurateRip v1 signature : F9F686F7
AccurateRip v2 signature : 42E285BD
->Track not present in AccurateRip database.
Statistics
Read error : 0
Jitter error (maybe fixed) : 0
Retry sector count : 0
Damaged sector count : 0

No errors occurred

End of status report
All thanks go to the anvador