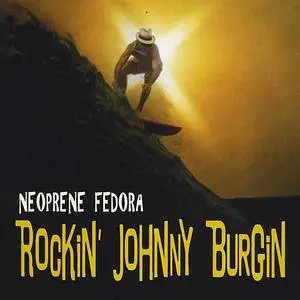 Rockin' Johnny Burgin - Neoprene Fedora (2017)
WEB FLAC (tracks) ~ 502.40 Mb | 01:17:51 | Cover
Electric Blues, Rockin' Blues | Country: United States - California - SF | Label: West Tone
Veteran guitarist Rockin Johnny Burgin's new release documents his move to California from Chicago and features guest appearances by Aki Kumar, Kid Andersen, Nancy Wright, Elvin Bishop accordion player Steve Willis, and dynamic vocalist Alabama Mike.
Since the early 90s, Rockin' Johnny Burgin has played with many of the blues greats in Chicago like Pinetop Perkins, Billy Boy Arnold and Sam Lay, and released acclaimed CDs on Delmark records. This CD features 12 originals with great guitar playing and singing and shows a big leap into new things– Zydeco, Surf, Swing and more.
Track List:
01 Neoprene Fedora 07:28
02 Guitar King 06:24
03 Won't Get Married Again 04:23
04 Give Me an Hour in Your Garden 05:05
05 Kinda Wild Woman 04:36
06 Please Tell Me 04:24
07 Our Time Is Short 03:08
08 (Let Me Be Your) Teddy Bear 04:10
09 Smoke and Mirrors 05:10
10 I Did the Best I Could 05:39
11 Self Made Man 04:46
12 My Baby's Gone 03:41
13 You Gotta Work Fast 03:28
14 I Ain't Gonna Be a Working Man No More 03:46
15 My Life's Enough for Me 05:10
16 Goodbye Chicago 06:33
PERFORMER: auCDtect Task Manager, ver. 1.6.0 RC1 build 1.6.0.1
Copyright © 2008-2010 y-soft. All rights reserved
http://y-soft.org
ANALYZER: auCDtect: CD records authenticity detector, version 0.8.2
Copyright © 2004 Oleg Berngardt. All rights reserved.
Copyright © 2004 Alexander Djourik. All rights reserved.
FILE: 01. Neoprene Fedora.flac
Size: 52816115 Hash: ADB99F4B1D9B3627A032D5FAFA68D07A Accuracy: -m0
Conclusion: CDDA 100%
Signature: F5C08A09EAA54B22BA7BDFD234191452CF080B70
FILE: 02. Guitar King.flac
Size: 43891240 Hash: 975F3F50B82E22868612C236AFE6CEC6 Accuracy: -m0
Conclusion: CDDA 100%
Signature: 37C61DCE32FBC58A073CC25DEB3505B0CA6FA527
FILE: 03. Won't Get Married Again.flac
Size: 29988040 Hash: 75B4471DED01C135F6A542536CE551CB Accuracy: -m0
Conclusion: CDDA 100%
Signature: 489D30705EB096128A9BD860F90C9321907E3E23
FILE: 04. Give Me An Hour In Your Garden.flac
Size: 32544262 Hash: 79BE45ED2812A68819BF5FC03CEFE9DE Accuracy: -m0
Conclusion: CDDA 99%
Signature: 17D33904531CD61B0539974E651E80AD09B58AA8
FILE: 05. Kinda Wild Woman.flac
Size: 35176626 Hash: 68586F6DAAEA7948E591A198B6E5AC5A Accuracy: -m0
Conclusion: CDDA 100%
Signature: D4D44AA031C91524A7C2076D0E37E18571EDA027
FILE: 06. Please Tell Me.flac
Size: 30767842 Hash: 42A2495AD3780325FED3A375357B4793 Accuracy: -m0
Conclusion: CDDA 100%
Signature: A5054258CFCC1D511D0F0CA44434695BA92C794C
FILE: 07. Our Time Is Short.flac
Size: 21566729 Hash: 1B694433719C71B7DAE1D1A4531D244C Accuracy: -m0
Conclusion: CDDA 100%
Signature: 281608B24A0A8786DD99CB8B480921A0379CDDCE
FILE: 08. (Let Me Be Your) Teddy Bear.flac
Size: 26037021 Hash: 5014A01895B33B0AF87C2E474864E535 Accuracy: -m0
Conclusion: CDDA 99%
Signature: E2E9CAF55E8FF0CAA58C03662F0914FF074C6EE0
FILE: 09. Smoke And Mirrors.flac
Size: 34786328 Hash: C98D360E04A8BD25A1E3FC5C7A50B8AF Accuracy: -m0
Conclusion: CDDA 100%
Signature: 825FBE0675C5A0F2027C8E616CE3890F38B8F280
FILE: 10. I Did The Best I Could.flac
Size: 35214777 Hash: 982B8C11B0CCBE963457B02B1AB0A965 Accuracy: -m0
Conclusion: CDDA 99%
Signature: 0E4A89F32A48F9A9E07D3343944AD273600577D8
FILE: 11. Self Made Man.flac
Size: 32326101 Hash: 9D69F58F19B725C7AE87459A2506ED0A Accuracy: -m0
Conclusion: CDDA 99%
Signature: 2128DAA6C874479F515823617D249656D3280BFA
FILE: 12. My Baby's Gone.flac
Size: 24513062 Hash: CB44EABCA3F766E52494D7130D11EDAA Accuracy: -m0
Conclusion: CDDA 100%
Signature: 16A3DCA038A5B89FA18B3ABF420625628EF3F606
FILE: 13. You Gotta Work Fast.flac
Size: 23441976 Hash: 9DBF163EA67D7E588CD95B395AAAADFF Accuracy: -m0
Conclusion: CDDA 100%
Signature: 485B6AB92F589633D36B39C1B4650B554BF9B044
FILE: 14. I Ain't Gonna Be A Working Man No More.flac
Size: 26287931 Hash: 0D95473BA27420DF1A9F90777C1A1CDA Accuracy: -m0
Conclusion: CDDA 100%
Signature: 99A178BA2CFC9D911040E3210CE9DE2337FE278C
FILE: 15. My Life's Enough For Me.flac
Size: 35109307 Hash: DA7A0405B7B38B1F1C9955F17AC7960D Accuracy: -m0
Conclusion: CDDA 100%
Signature: 3943FC3831FA3B0964B15118A44F0F30FF685703
FILE: 16. Goodbye Chicago.flac
Size: 42081092 Hash: 06F939D64E18A1A8117F07B1D106054C Accuracy: -m0
Conclusion: CDDA 100%
Signature: 800443C083FD9E6CF8E8565CFBA62635DE4BBC94