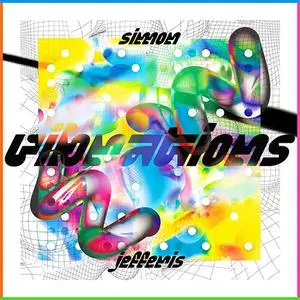 Simon Jefferis - Vibrations (2020)
WEB FLAC (tracks) ~ 230.71 Mb | 35:59 | Cover
Fusion, Jazz-Rock | Country: UK | Label: DeepMatter Records
South London based polymath Simon Jefferis has been setting mouths ajar with his expertly-crafted, atmosphere-heavy beats over the past few years. With his reputation as both a talented instrumentalist and adaptive producer steadily circulating through the city's hip hop undercurrents, 2020 sees Jefferis return to rising label DeepMatter with his debut LP 'Vibrations'.
From the golden era energies of 'Back 2 Ours' featuring Austin's Abhi The Nomad, through to the silky smooth melodies of 'White Rabbit' (featuring the incredible Rosie Lowe on vocals) and shoulder swaying rhythms of 'Something In The Water', 'Vibrations' is an expertly crafted production masterclass from start to finish. With ease, Jefferis demonstrates the breadth of his musical capabilities, turning his hand to guitar, keys, drums and bass (with a little help from his friends along the way) with incredible results. Head nod inducing beats, jazz-infused keys and interweaving textures make this a stand out record amongst the already sonically rich London jazz scene.
Track List:
1. Atlantic Road. 3:01
2. White Rabbit. 4:33
3. High Grade. 3:53
4. Don't Upset the Neighbours. 0:23
5. Back 2 Ours. 3:32
6. Don't Get wOnKy Get Funky! 2:14
7. Vibrations. 5:51
8. Hazy Days. 2:15
9. It's Pronounced 'Jeff-Riss'. 1:36
10. Soul2thepeople. 3:37
11. Something In The Water. 5:04
- Simon Jefferis | All Drums, Guitar, Bass, Percussion and Keys.
- Rosie Lowe | Vocals [2]
- Abhi The Nomad | Vocals [5]
- Shunaji | Vocals [10]
- Natty Reeves | Guitar [3]
- David Mrakpor | Vibraphone [5], Piano [7] & Electric Piano [11]
- Ben Vize | Saxophone [7,10,11]
- Ife Ogunjobi | Trumpet [7,11]
- Dylan Jones | Trumpet [3]
- Sheldon Agwu | Guitar [1]
Written, produced and mixed by Simon Jefferis
Mastered at Pink Bird Recording Co
–––––––––––-
DON'T MODIFY THIS FILE
–––––––––––-
PERFORMER: auCDtect Task Manager, ver. 1.6.0 RC1 build 1.6.0.1
Copyright © 2008-2010 y-soft. All rights reserved
http://y-soft.org
ANALYZER: auCDtect: CD records authenticity detector, version 0.8.2
Copyright © 2004 Oleg Berngardt. All rights reserved.
Copyright © 2004 Alexander Djourik. All rights reserved.
FILE: 01. Atlantic Road.flac
Size: 20407610 Hash: AD78F674179E6158EA5B2E91C68C7EE7 Accuracy: -m0
Conclusion: CDDA 100%
Signature: C0839B502B025F7C4A93D285B0C756B566F85D3D
FILE: 02. White Rabbit.flac
Size: 30316690 Hash: ED4264377E698887C57D66F8E49D27A0 Accuracy: -m0
Conclusion: CDDA 100%
Signature: C83620AFE04CD2545D8BF6E6D3AABDD71D2298D3
FILE: 03. High Grade.flac
Size: 25494030 Hash: F367D28C7F6E5A3DFE3AF1DB0F56E3DC Accuracy: -m0
Conclusion: MPEG 95%
Signature: 1F4181D2E97372C6D1145A00058E96423565F0DD
FILE: 04. Don't Upset the Neighbours (Skit).flac
Size: 2262093 Hash: 075A946E35E6A121603217F71B6CB358 Accuracy: -m0
Conclusion: CDDA 99%
Signature: 78216C7DA51E893AE8E92B3DF3151D5100075003
FILE: 05. Back 2 Ours.flac
Size: 23174412 Hash: B64272DDDE61393B3925E2B90663B81E Accuracy: -m0
Conclusion: CDDA 100%
Signature: C11DBC14430FDDECD44B4F873CA1228E0BCFC582
FILE: 06. Don't Get wOnKy Get Funky!.flac
Size: 16407304 Hash: 0F93E659FDFB37F48B3664D174DAB867 Accuracy: -m0
Conclusion: CDDA 100%
Signature: 60F72AD5B32B8C590BC2CD9E41F4515F2FDEDEB8
FILE: 07. Vibrations.flac
Size: 37315957 Hash: F8A00395BFD20FDEC1B2D09771A04BB9 Accuracy: -m0
Conclusion: CDDA 100%
Signature: 09C27E65F3B71D18675EFB8F31973872E34A25B3
FILE: 08. Hazy Days.flac
Size: 14164743 Hash: 3DA9DC6B43B6C333DCD91097B92C3840 Accuracy: -m0
Conclusion: CDDA 99%
Signature: 75DAACBC2F10DDC8854DD788C419635E5A46D4CC
FILE: 09. It's Pronounced 'Jeff-Riss' (Skit).flac
Size: 9861416 Hash: D99CB85D6FB65B349DB0DAE65FB0B0C1 Accuracy: -m0
Conclusion: CDDA 100%
Signature: 9B491CAA72084846885C9C3F0C2921CD2B40BC60
FILE: 10. Soul2thepeople.flac
Size: 25104944 Hash: 3B4AC7AC681B4DDF951069722E2D0013 Accuracy: -m0
Conclusion: CDDA 100%
Signature: AF22BA6A0911CDB7A4477A1B9DBD5B3800F2E247
FILE: 11. Something In The Water.flac
Size: 36572004 Hash: 6A24C71267C0BF22756C63F3B1DC77F7 Accuracy: -m0
Conclusion: CDDA 100%
Signature: DF2974D7303A39D4778FD1219849ADE0084A92D9
All thanks go to the vp_sunset